Diving in Riviera Maya and Costa Maya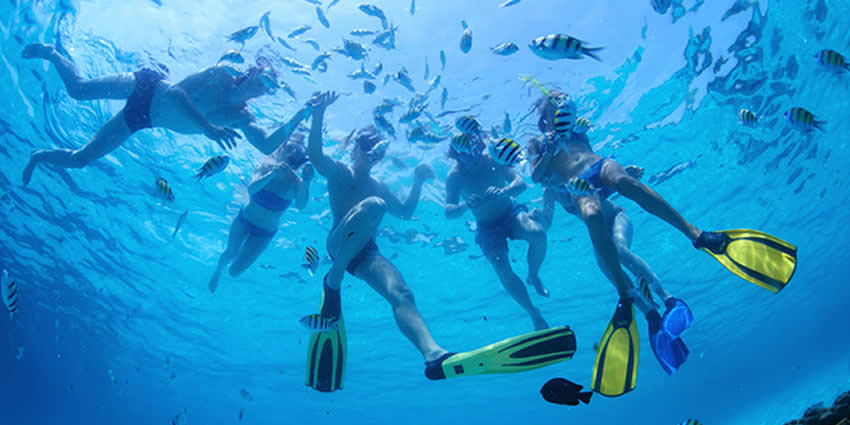 The Mesoamerican Barrier Reef is the second-largest barrier reef in the world.
This Barrier Reef begins at the top of the Yucatan Peninsula and runs south to Belize and beyond. This reef system, with over 500 fish species and 100 coral types, gives you some of the best snorkeling and diving in the Riviera Maya and Costa Maya.
The Riviera Maya is known as one of the top spots for Loggerhead and Green turtles, queen conch, and the annual migration of whale sharks. This means a great sea adventure whether you are a snorkeler or an experienced scuba diver.
The Riviera Maya also offers a unique dive experience like no other in the world: cavern diving! The freshwater of the Yucatan runs underground and the caverns & caves offer a unique and adventurous dive experience.
Diving in Mexico offers an unforgettable adventure that takes place along the Mesoamerican Barrier Reef, the world's second-largest barrier reef. This spectacular reef system stretches from the Yucatan Peninsula's top down to Belize and further.
Here, you can indulge in some of the finest snorkeling and diving experiences found in the Riviera Maya and Costa Maya, as it houses a rich diversity of marine life, including over 500 fish species and 100 types of coral.
The Riviera Maya is renowned for being a prime location to witness Loggerhead and Green turtles, queen conch, and even the awe-inspiring annual migration of whale sharks. Snorkeling here is an exciting and unforgettable sea adventure.
Ocean Diving in Riviera Maya
Riviera Maya is perfect for taking the plunge into an unforgettable underwater adventure.
Riviera Maya continues to be a favored spot for divers from all around the globe. The region offers excellent diving facilities, expert guides, tranquil waters, superb visibility, and short boat rides, making it a true diving paradise.
Prepare yourself to dive into the Mesoamerican Reef, the second-largest barrier reef in the world. No matter if you're a seasoned diver, an occasional one, or a beginner looking to learn, the Riviera Maya caters to all.
The dive centers here are well-equipped, and the international guides are passionate about their work, ensuring your dive trip in the Riviera Maya and Costa Maya is filled with excitement and joy.
Once you dip below the crystal-clear blue waters of the Mexican Caribbean, a whole new world will unfold before your eyes.
Expect to encounter turtles, stingrays, eagle rays, a variety of tropical fish, colorful barrel sponges, and beautiful coral formations. Keep an eye out for some endangered species of coral and fish, adding to the fascination of your underwater journey.
For experienced divers, there's a wealth of flora and fauna to explore with visibility often exceeding 20m. On the other hand, new divers and occasional ones will have a fantastic time in the warm and calm waters that make diving here a breeze.
Simply bring your dive card, rent gear or use your own, and connect with a dive center to embark on your diving escapades.
Keep in mind that there's no shore diving available in the Riviera Maya or Costa Maya. Instead, you'll venture to dive sites by boat, where a local guide will accompany you and reveal the best spots to explore.
It's an extra touch of service that ensures you have an incredible diving experience.
Find a dive center and sign up for the adventure of a lifetime. Happy diving!
Cenote Diving in Riviera Maya
Cenote diving in the Riviera Maya is an extraordinary and unique experience that many divers dream of having. Cenotes are crystal-clear natural pools, that serve as gateways to a mesmerizing underwater world that feels like a magical adventure.
Cenote diving allows certified divers to explore submerged caverns adorned with stunning limestone formations like stalactites and stalagmites. The Riviera Maya's cenotes attract divers due to their unparalleled beauty and captivating environment.
Cenotes are filled with fresh water, offering incredible visibility that seems infinite. In some cenotes, you might encounter a fascinating phenomenon called the halocline, where freshwater and saltwater create a distinct, oil-and-vinegar-like blur.
It's an astonishing sight rarely seen elsewhere.
Cenote diving is a type of cavern diving, where you venture from the open water pool of a cenote into the submerged cavern entrance.
The cavern zone is well-lit by sunlight, with a restriction on the distance you can travel, making it safer and less complex than cave diving, which requires extensive training.
When you embark on a cenote diving tour, a knowledgeable guide, trained in cave diving, will lead the way.
To participate in a cenote dive, you need to have Openwater Diver certification. Local dive centers may require you to demonstrate your diving skills before the tour to ensure your comfort and safety in this delicate environment.
Diving with a guide is necessary because property owners restrict access to the cenotes. Local guides have special access and training for cavern guiding, ensuring a safe and enjoyable experience for divers with open water certification.
When choosing a dive center, it's essential to find one where you feel comfortable and trust the dive guides. Visit a few dive centers to select the perfect fit for an incredible cenote diving adventure in the Riviera Maya.
The diving experience in this area is truly remarkable, with different highlights and unique features in various locations. However, it's essential to note that there are no "bad" or "better" diving areas along the coast. Each part has its own charm and offerings for divers.
The most popular places for scuba diving in Riviera Maya:
Playa del Carmen: This spot is known for its calm seas, thanks to the protection from the Island of Cozumel. Divers can enjoy the Turtle dive, explore the Mama Vina wreck, and find great beginner-friendly dive sites teeming with fish.
Puerto Morelos: The reef off the shores of Puerto Morelos is part of a protected national marine park. Divers can delight in exploring a wreck, witnessing untouched coral formations, and encountering a variety of marine life.
Akumal, Tulum, and the neighboring towns: Diving along this coast is fantastic, and the smaller towns offer excellent dive centers to explore with. For an unforgettable dive trip, consider experiencing it all!
Each location on the Mesoamerican Barrier Reef, the second-largest barrier reef globally, offers unique coral beds and fish sightings.
Cozumel: Discovered as a diving paradise by Jacques Cousteau, Cozumel is famous for its large coral walls, deep diving opportunities, and vibrant colors. It's a great place to spot the unique toadfish and easily find sea horses.
Cozumel's diving focuses more on coral formations and less on fish, making it a world-class diving destination accessible via a ferry ride.
Cancun: Recently, a reef recovery program was introduced off the shores of Cancun, featuring underwater sculpture gardens to encourage coral growth. These sculptures reflect Mexico's culture, with a special emphasis on Mayan history and contemporary Mexican culture.
Xcalak and Mahahual: The Chinchorro Banks, reachable from either of these destinations, present a dream dive trip for many. However, it's important to note that access to the Chinchorro Banks depends on specific sea conditions for optimal visibility and an easy boat ride.
With such diverse and enchanting diving opportunities, this region is a true haven for diving enthusiasts seeking unforgettable underwater adventures. Exploring these fantastic dive spots will leave you with cherished memories to last a lifetime.
Use these tags to read more related posts and reviews:
---
Let us know if this article was useful for you