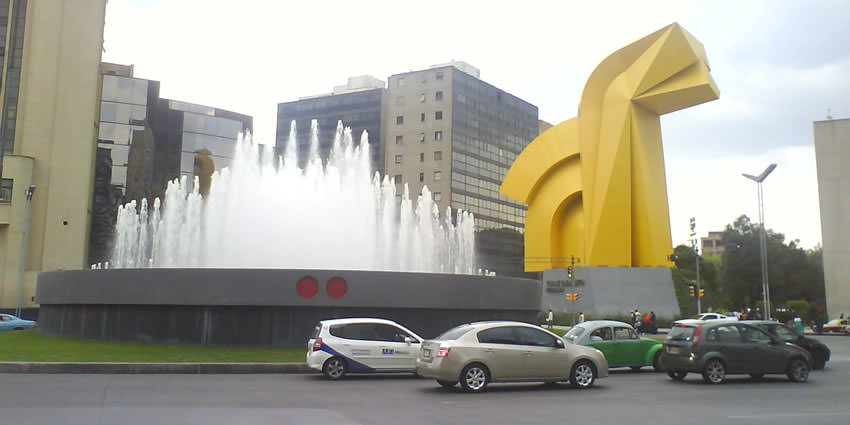 El Caballito
Although many Mexicans call it "Armastote" ("something too big, rough and heavy"), the "El Caballito" is one of the most emblematic monuments of Mexico City.
The steed head, also known as "El Caballito de Sebastián", is a steelwork created by the sculptor Enrique Carbajal, better known as Sebastián.
It was inaugurated on January 15, 1992, and had two main objectives:
The first reason was to replace "Equestrian Statue of Carlos IV", the work of Manuel Tolsá, which was installed at the same crossing in 1852 but removed and transferred to the Plaza Manuel Tolsá ("Manuel Tolsá Square") in 1979.
The second reason was using the monument that would dissipate the vapors from deep drainage but wouldn't adversely affect the image of the Paseo de la Reforma.
The owner of the Torre Caballito ("El Caballito Tower") wanted a monumental sculpture that will replace the statue of Carlos IV ("El Caballito de Tolsá"), and that would function as a vent. The monument had to be cylindrical 28 meters high by 10 in diameter to quickly dissipate the vapors from deep drainage. At that high, the vapors would be no longer as annoying or as aggressive
For Sebastian, it meant a challenge; it was significant to replace the emblematic work of Manuel Toslá, so he decided to make a parallel in the plastic concept. He told that the statue of Carlos IV means the conquest, the domination, and he doesn't like Carlos IV's horse stepping on the symbol of pre-Hispanic weapons, a quiver, the shield with the spears.
Sebastian created the El Caballito monument under the Olmec conception since the dimensions and the decision to take only the head into account is a peculiarity of this Mesoamerican civilization.
The sculpture inaugurated in January 1992 has sparked controversy since that day. It is one of the reference monuments of the capital of the country, but it is not liked by all the people who see it.
Since its installation, "Horse Head" has been a geographical and tourist reference, so it is that even in front of the work, there is the Torre del Caballito, an intelligent building 135 meters high in which the offices of the Tax Administration Service are located (SAT).
Use these tags to read more related posts and reviews:
---
Let us know if this article was useful for you