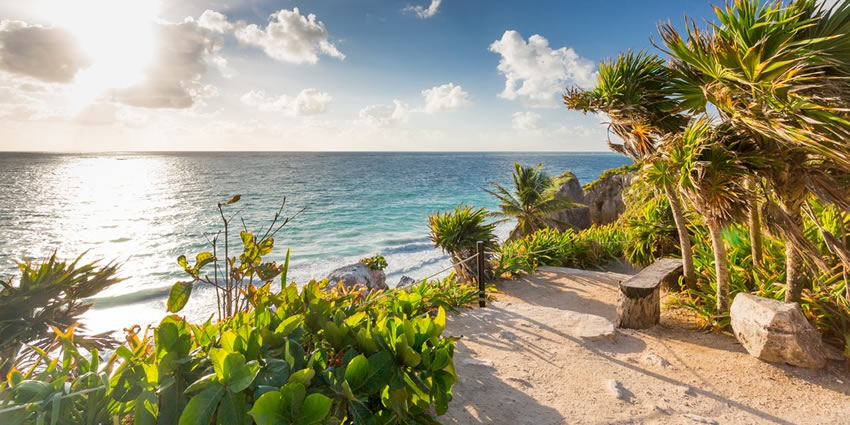 Is Riviera Maya safe?
When planning a trip, many questions come to mind. Is the Riviera Maya safe for tourists? Is public transport on the Riviera Maya safe? And is it safe to go for a walk at night in Cancun, Playa del Carmen, or Tulum?
And where to go in case of unforeseen situations and emergencies?
Riviera Maya is a popular destination for tourists from around the world. Like many other tourist destinations in Mexico, the Riviera Maya is safe and attracts millions of holidaymakers, vacationers, and tourists every year.
Safety concerns often arise when planning a foreign trip. Always remember that personal safety is a shared responsibility, and a well-prepared traveler is more likely to have a worry-free experience in Riviera Maya.
Is safety a concern in Riviera Maya?
Mexico is a big country and not all regions, or states are the same.
Yes, there are places in Mexico where crime is a problem, but none of them are typical tourist areas. The Riviera Maya, like other popular tourist destinations in Mexico, is safe and receives millions of visitors each year.
When a crime does occur, it is rarely aimed at tourists.
You might perceive a frequent occurrence of crime-related headlines, but in reality, you're simply noticing these alarming news stories more because people tend to focus more on negative rather than positive news.
Is it safe to go to Riviera Maya?
Riviera Maya offers a safe and enjoyable experience for travelers. By staying informed, following local guidelines, and exercising basic safety precautions, visitors can make the most of their time at this destination.
Use the same common sense you would use at home. No matter where you travel, be it the Riviera Maya or anywhere else in the world, it is important to use the same common sense that you would use at home.
This means avoiding traveling alone at night, especially in unfamiliar places, being cautious when interacting with strangers, refraining from buying drugs, and limiting your alcohol consumption, especially if you are alone.
Using the same common sense you use at home, you can enjoy a safe and memorable vacation. Remember to always prioritize your safety and well-being and you are sure to enjoy and enjoy your stay in the Riviera Maya.
Crime rates and safety measures in Riviera Maya
To assess the safety of any destination, it's crucial to examine crime rates. Riviera Maya generally experiences low crime rates compared to other destinations. The local authorities prioritize the safety of residents and tourists.
Popular tourist areas are well-patrolled, and there's a visible police presence to ensure a secure environment.
Health and medical facilities
Another essential aspect of safety is access to healthcare. Riviera Maya boasts modern medical facilities with well-trained staff. Travelers can find reputable hospitals and clinics in major tourist areas.
Get travel insurance that covers emergency medical expenses.
Natural disasters and safety precautions
Riviera Maya is occasionally susceptible to natural disasters, such as hurricanes.
The local government is well-prepared to handle such situations. Hotels have emergency plans in place. Following local authorities' instructions during adverse weather conditions is crucial for ensuring safety.
Transportation safety in Riviera Maya
Navigating a new destination involves using various modes of transportation.
Riviera Maya maintains well-maintained roads and reputable transportation services are available. Adhering to basic safety practices like wearing seatbelts and using licensed transportation services enhances overall safety.
Beach activity safety measures in Riviera Maya
Water safety is a paramount concern in Riviera Maya. Lifeguards always are present on many popular beaches, and it's essential to adhere to safety guidelines. Be cautious of strong currents and follow any posted warnings.
Engaging in water activities with reputable operators adds an extra layer of security.
Food and water safety
Ensuring the safety of what you consume is crucial for an enjoyable trip.
Riviera Maya's restaurants and street food vendors adhere to health and safety standards. However, it's advisable to drink bottled water and exercise caution with street food to prevent any potential health-related issues.
Apply familiar hometown common sense
Opt for all-inclusive hotels and gated resorts
Secure your valuables, cash, and credit cards
Learn basic Spanish words and phrases
Maintain a list of emergency contact numbers
Stay aware of your surroundings at all times
Use reputable transportation services
Be cautious when engaging with strangers
Respect local customs and guidelines
Keep important documents in a safe place
Avoid risky or illegal activities.
Inform someone of your whereabouts
Trust your instincts and prioritize safety
Stay hydrated and use sunscreen
Stay updated on weather conditions
Use the same common sense that you would use in your hometown.
This means avoiding traveling alone at night in unfamiliar places, exercising caution when interacting with strangers, refraining from buying drugs, and limiting your alcohol consumption, especially if you are alone.
Store valuable belongings, cash, credit cards, jewelry, and electronics in a safe.
Learn a few basic phrases in your native language, no matter where you are.
Learning to use basic courtesies such as "please" and "thank you", "hello and goodbye", and general questions will go a long way toward respecting locals. Locals will appreciate your efforts and will be happy to help!
Safety should always be a top priority when traveling abroad, and it's important to know who to call in case of an emergency. Before you travel to the Riviera Maya, check out all the needed emergency phone numbers.
If you find yourself in unforeseen situations or emergencies, keep calm.
Here are specific places to go and contacts to reach:
The number for immediate assistance in any emergency situation is 911.
Hotel front desk (reception): If you're staying in a hotel, contact the front desk or reception. Hotel staff is experienced in handling various emergencies and can provide assistance or guide you on the next steps.
Tour operator or excursion provider: If you're on a guided tour or participating in an excursion, contact your tour operator. They are trained to manage emergencies and can assist in coordinating any necessary help.
Hospital or medical clinic: Identify the nearest hospital or medical clinic. Hospitals in popular tourist areas across Mexico are well-equipped to handle emergencies. Keep their contact information and address handy.
Embassy or consulate: Find and keep the contact information for your country's embassy or consulate in Mexico. In case of passport loss or other serious emergencies, the embassy can provide assistance and support.
Travel insurance provider: If you have travel insurance, contact your insurance provider. They can guide you through the necessary steps and provide assistance with medical services or evacuation if needed.
Stay calm in emergency situations and follow the guidance of local authorities.
Having these contacts saved in your phone or written down ensures quick access to help when needed. Also, familiarize yourself with the location of the nearest hospital and emergency services in the area you're staying.
You can dial 078 from any phone, where you can find free information about tourist attractions, airports, travel agencies, car rental companies, embassies and consulates, fairs and exhibitions, hotels, hospitals, financial services, migratory and other issues.
Or dial the toll-free (in Mexico) number 01-800-006-8839.
You can also request information at SECTUR
Emergency numbers
General Information: 040 (not free)
National Emergency Service: 911
Radio Patrols: 066
Police (Emergency): 060
Civil Protection: +52(55)5683-2222
Anonymous Complaint: 089
Setravi (Transport Mobility): +52(55)5209-9913
Road Emergency: 074
Cruz Roja: 065 o +52(55)5557-5757
Firefighters: 068 o +52(55)5768-3700
Use these tags to read more related posts and reviews:
---
Let us know if this article was useful for you