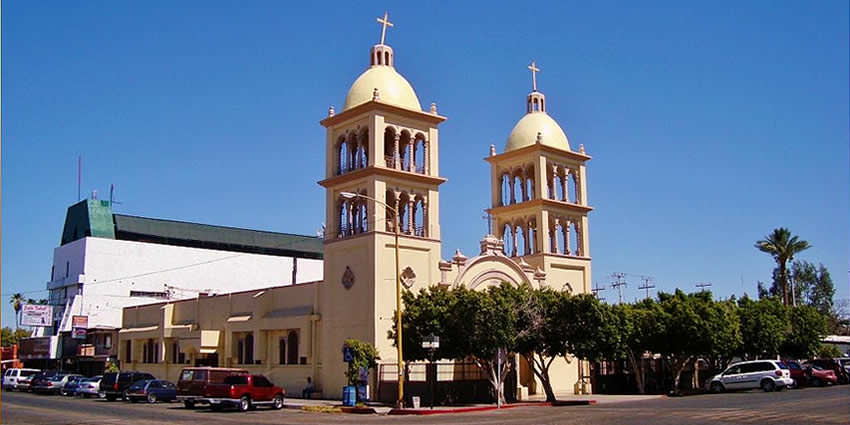 San Luis Río Colorado
San Luis Río Colorado is a city and its surrounding municipality lying in the northwestern corner of the state of Sonora, Mexico.
In the 2010 census, the city had a population of 159,089 and its municipality had a population of 178,380. The city is the fourth-largest community in the state, and the municipality is also the fourth-largest.
The city is located on a mesa, characterized by a flat and sandy terrain.
Josse, a Mexican Latin beat singer recorded a song called "San Luis Rio Colorado" at a memorial for the river.
It is located on the Colorado River, which at this point marks the state border with Baja California.
It also stands on the international border with the United States, adjacent to San Luis, Arizona.
The municipality covers an area of 8,412.75 km² in the Sonoran Desert.
It is located about 75 km from Mexicali.
Awarded city status in July 1958, San Luis Rio Colorado serves as the administrative center for the surrounding municipality of the same name.
San Luis Rio Colorado was once an important inland port for steamers traveling the Colorado from the Gulf of California.
Since the early 1900s, the Colorado has been completely or nearly completely drained for irrigation. The once-formidable Colorado is usually dry or a small stream.
Fiestas del Desierto celebrates the culture, biodiversity, cuisine, and sports of the Sonoran Desert Region. Dates for 2012 are 9–11 November.
San Luis Rio Colorado has an intra-city economic exchange booth in the Annual Riverside County Fair and National Date Festival in Indio, California, USA.
San Luis Río Colorado has a desert climate, with extremely hot summers and mild winters, it is one of the hottest and driest cities in Mexico.
The record high temperature is 52.0 °C, recorded on 25 June 1951.
The record low temperature is −6.5 °C, recorded on 2 January 1950.
San Luis Río Colorado Airport is the general aviation airport serving this city. The nearest International airport to San Luis Rio Colorado is General Rodolfo Sánchez Taboada International Airport near Mexicali.
San Luis Rio Colorado has highway connections to other parts of Mexico and the United States. Several intercity bus companies (including TUFESA) stop at the San Luis Río Colorado bus station.
Use these tags to read more related posts and reviews:
---
Let us know if this article was useful for you