Isla Holbox: Discovering a tropical haven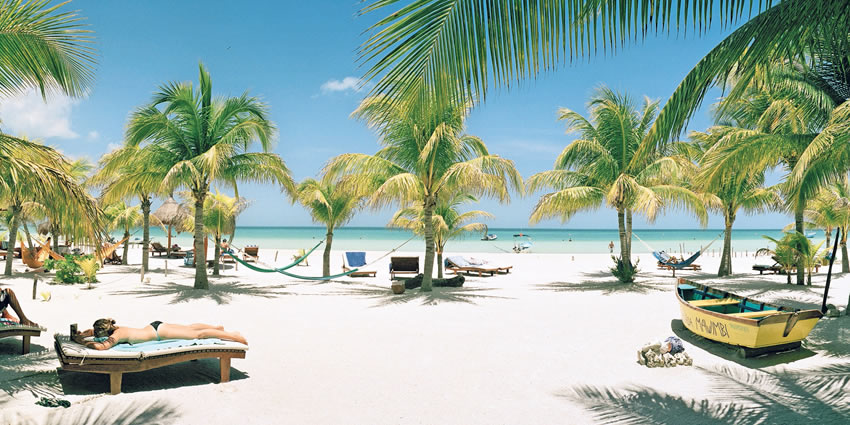 Isla Holbox nestled off the Yucatan Peninsula's northern coast in Mexico. Holbox is a captivating destination that offers a sublime blend of natural wonders, tranquility, and authentic Mexican charm.
The island is approximately 42 km long and 1.5 km wide, and it is separated from the mainland by 10 km of shallow lagoon that is home to flamingos, pelicans, and other rich birdlife. Holbox Island is part of the Yum Balam Biosphere Reserve.
This island is a pristine paradise that beckons travelers seeking a tranquil escape. With its crystal-clear turquoise waters, powdery white sand beaches, and abundant wildlife, this serene island is a haven for nature enthusiasts and sunseekers alike.
Holbox Island offers mesmerizing attractions and activities that make it an idyllic destination.
From its pristine beaches and awe-inspiring wildlife encounters to its enchanting bioluminescence and delectable seafood, this hidden paradise guarantees an unforgettable experience. Isla Holbox will capture your heart and leave you longing to return.
Explore the Enchanting Beaches
Isla Holbox is renowned for its unspoiled beaches that stretch for miles.
Relax on the soft sands, soak up the sun, and take refreshing dips in the azure waters. The island's most famous beach, Playa Holbox, offers breathtaking vistas, gentle waves, and an atmosphere of pure tranquility.
Don't miss out on a sunset stroll along the shoreline, where the sky sets ablaze in vibrant hues.
Swim with Whale Sharks
One of the biggest draws of Isla Holbox is its close proximity to the seasonal migration of whale sharks, the gentle giants of the sea. Embark on a guided tour and have the incredible opportunity to swim alongside these majestic creatures.
This awe-inspiring experience is both humbling and exhilarating, leaving a lasting impression.
Discover the Bioluminescent Magic
At night, Isla Holbox reveals its enchanting secret—bioluminescence.
Witness the ocean waters come alive with a celestial glow as microscopic organisms illuminate the night. Take a kayak or boat tour to witness this natural phenomenon, creating a mesmerizing spectacle as you glide through the gentle waves.
Visit Yalahau Lagoon
Escape to the idyllic Yalahau Lagoon, a tranquil sanctuary known for its crystal-clear waters and lush vegetation.
Dive into the rejuvenating freshwater spring, believed to have medicinal properties, or simply relax on the peaceful shores surrounded by the harmonious sounds of nature.
Explore Isla Pajaros and Passion Island
Embark on a boat tour to Isla Pajaros (Bird Island) and marvel at the diverse avian species that call this sanctuary home.
From flamingos to pelicans, the island offers a bird-watching paradise. Continue your adventure to Isla Pasion (Passion Island), a secluded spot perfect for sunbathing, snorkeling, or simply unwinding in a serene atmosphere.
Indulge in Fresh Seafood and Local Cuisine
Savor the culinary delights of Isla Holbox by indulging in the island's fresh seafood.
From ceviche to grilled fish tacos, the local restaurants serve up mouthwatering dishes that celebrate the bounties of the surrounding waters. Don't forget to try the signature lobster pizza, a unique and delicious island specialty.
Holbox Island is accessed by ferry from the mainland small town of Chiquilá.
The island has no cars, with transport by most residents and tourists by golf cart or moped. Vehicle entry is not allowed at Holbox in order to protect the environment and prevent the streets from accumulating sand.
A few charter airlines fly to Holbox from Cancún and Playa del Carmen. There is a small airstrip called Holbox Aerodrome that can accommodate five-seater and 13-seater Cessna aircraft.
Use these tags to read more related posts and reviews:
---
Let us know if this article was useful for you