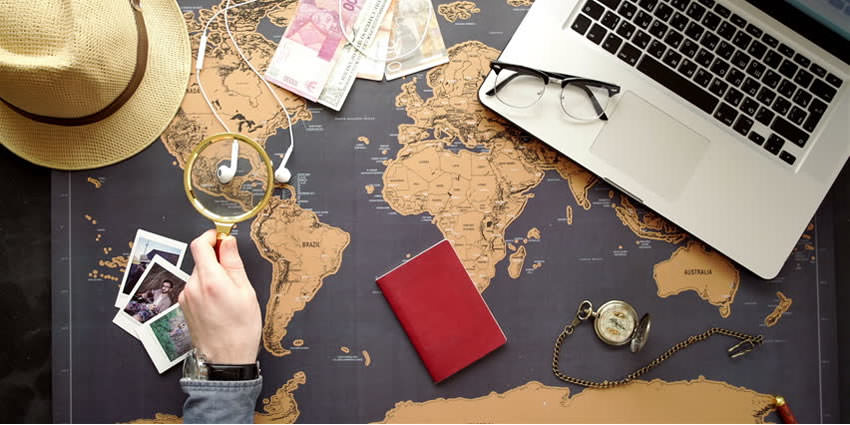 Common mistakes to avoid as a tourist in Mexico
Ancient pyramids, stunning beaches, festive culture, and delicious foods make Mexico a popular travel destination.
Mexico is truly a country of color and contrast. Its white-sand beaches will lead you into quiet and peaceful colonial towns while resort cities open their gateways to exotic jungles. Majestic mountains surround remote deserts, and outside the metropolises lie the ruins of Mayan cities.
Nonetheless, if you have booked your flight already, you might want to know which common tourist mistakes to avoid in Mexico.
Don't lose the Entry Card
The first common mistake you might run into when you land at an airport in Mexico is the Entry Card. As a foreigner, you will have to fill out the Entry Card – but one common mistake that people make is they forget to fill out the bottom part of the card.
And if they send it back to you and you fill it out, you will lose up to 20 minutes.
Nonetheless, you will need to keep that Entry Card safely. It is recommended to place it with your passport – if you lose your Entry Card, you will get a fine, and you will have to go to a separate line – not to mention the time that you will lose during the entire ordeal.
Be polite
Politeness matters – if you are in any situation, you will always want to say gracias. But, the common mistake that people make is that they don't go the extra mile of being extra polite and say "muchas gracias" ("thank you very much").
Adding this to your vocabulary will make you look like a polite tourist, and it will go a long way.
Another great idea that you won't really see at a resort in Cancun – but if you make it a point to be polite and tell them that you enjoyed your meal, it will make you look extra polite and really impress people. The thing is that as a tourist, you mustn't come off as someone who is self-obsessed.
Going the extra mile and being polite – makes everything look and feel so much better.
Learn Spanish
Doesn't matter wherever you are traveling, you ought to make an effort to learn at least a little about the language. That said, many travelers make the mistake of not learning a little bit of Spanish and hence coming prepared for their stay in Mexico.
Not even learning a little bit of token Spanish is a mistake. Now you don't need to be anywhere near fluency in Spanish to visit Mexico, but if you are visiting Cancun – you probably don't need more than "gracias".
But, if you truly want to enjoy your stay in Mexico and make your trip to the next level, you will want to study a little bit of Spanish. You might want to join an online class and get a private tutor or join the school. Just make sure that you learn at least a little bit of Spanish.
Trust us when we tell you that you will enjoy your stay in Mexico so much more!
Try local cuisine
Another common mistake that first–time travelers make is not experimenting with local food. This is a very common mistake as first-time travelers believe that they will get sick or something from eating the wrong thing.
You should know that Mexico has some of the richest cuisines that you might experience your entire life. You have an amazing range of food to try in Mexico, there are tons of amazing things that you simply cannot miss out on.
Besides, what is the point of going to another country and not exploring their local cuisine? We believe that the best way to explore a country is to live in it like a local and experience their food.
When it comes to Mexican street food, and you are just walking in any Mexican city or town, and you see a crowded street stall, then this is an excellent tell-tale sign that the locals love that food, and you should try some too.
Also, avoid trusting a Mexican's experience with the "salsa" ("sauce") and whether it is too hot or not because the Mexican tolerance level will be different than yours.
Mexico is a leading destination for many expats looking for a new place to settle abroad. Many thousands of expats, mostly from the USA and Canada, have chosen Mexico as their home, believing that they have found a successful bridge between the cost of life and quality of life.
Living as an expat in Mexico has many advantages, such as a warm climate, a low cost of living, and a booming real estate industry.
Have your passport validated

When applying for a resident visa in Mexico, be sure to have a valid passport with you. Also, make sure other important documents are up to date and valid. This will allow you to live legally in Mexico.
Hire the trusted moving company
Moving is a demanding process that requires effort, time, and preparation. The stress can affect your approach to your relocation. Getting help from moving companies throughout your move is the best solution.
Check for trusted removal companies to Mexico.
Try to learn basic Spanish before you move

Although not required, try to learn some basic Spanish before you move to Mexico. Knowledge of the language allows you to quickly find contact and communicate well with local residents and simplifies integration into the community.
Rent before you buy
Do not rush into buying a home or long-term rent. Live and look around to find out if you like a particular area before settling there for a long time. In this way, you can quickly transfer to another place if you do not like living in the specified place.
Use these tags to read more related posts and reviews:
---
Let us know if this article was useful for you