Reasons why you should travel to Mexico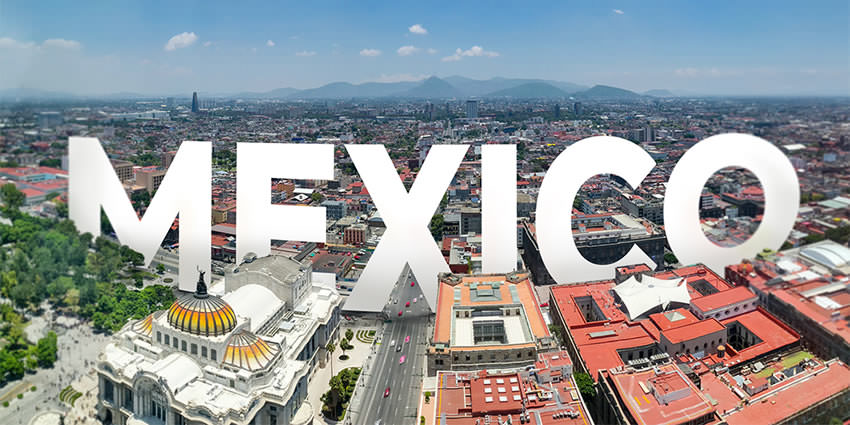 Mexico is a huge country and encompasses epic landscapes from Northern deserts and snowy peaks of the Central Sierra, to the Jungle highlands of Southern Chiapas and the beaches of the Yucatán Peninsula. As spicy as salsa, intoxicating as tequila, and as surreal as all Frida Kahlo canvases, Mexico is gonna be a treat to your senses, energize your intellect and satisfy your soul.
Here are some of the best reasons why you should start planning your trip to Mexico and set out for the craziest adventure of your life!
Make the most of your weekends and explore the Caribbean beaches!
With more than 6,000 miles of pristine coastline, Mexico is surely a paradise for beach-lovers! Near the top of the list is most certainly the palm-fringed stretch of Tulum's Playa Paraiso (Paradise Beach), then there's the beach at the charming colonial town of Sabancuy in the seemingly untouched Campeche region, and the golden expanse and rolling waves of bohemian Zipolite in Oaxaca.
Make the most of your weekends with your fellow mates, swimming in turquoise Caribbean waters, followed by evenings enjoying drinks in cocktail bars and dining at the best beach-side shacks!
Food is always a good reason to travel – isn't it?
There's something amazing about Mexican cuisine – be it the spices or the complex flavors! Mouthwatering tacos, quesadillas, tamales, and enchiladas are the most popular picks, available at the many local taquerías.
Here, street-food culture reigns supreme, bringing vibrant, spicy dishes to the masses on a daily basis.
Explore the mountain trails and the volcanos!
If you've been thinking that Mexico is all about beaches, then it's time to fix your thoughts! There are gorgeous sights that are as alluring as the majestic Popocatépetl Volcano in Puebla.
Mexico is also home to several mountains that are open for hiking – the Sierra Madre Mountains, comprised of smaller scale ranges, are a popular destination for travelers looking to explore the rugged side of Mexico.
So for all those who are more keen to go for a hike rather than chilling by the beaches – you can simply plan your weekends accordingly, and head off to explore El Popo!
Tick off the UNESCO Heritage Sites and wander around the archeological grandeur!
Mexico is a treasure trove of UNESCO World Heritage Sites, making it a fascinating destination for history buffs, culture vultures and nature lovers alike! Excited much?
35 Mexican cities are considered World Heritage Cities, including Campeche, Oaxaca, Mexico City, and Puebla.
The holy city of Teotihuacan which is known as the 'Place of the Gods, that was built between the 1st and 7th centuries AD, is loaded with sacred sites and ancient relics dating back to some of the earliest civilizations on record.
Chichén Itzá is one of the most celebrated sites. Ancient Mayan relics are at every turn, covering more than two square miles of land. That's just a glimpse of what this country has in store – and once you're there, you'll surely discover more!
Mexican festivals
You must have heard of this festival – 'Day of the Dead'! Knocks right after Halloween, this the time when the Mexicans come together to remember cherished relatives who have passed away. It's one of the most unique festivals and if you're there in the month of November, you gotta be a part of this!
Other than that, there are innumerable festivals that take place at different times of the year.
The month of February brings in some bursting colors, accompanied by drinks, treats, dancing, and more, as the people celebrate Carnival in Veracruz & Mazatlán.
In the month of April, one week of celebration before Easter, most commonly known as Holy Week, Semana Santa is a fun-filled festival.
And of course, Las Posadas is another beautiful festival that marks the onset of Christmas!
The best way to explore the 'Land of the Mayans'
We've all read about the Mayan Civilization in our history books. This ancient group of indigenous people from Central America has continuously inhabited the lands comprising modern-day Yucatan, Quintana Roo, Campeche, Tabasco, and Chiapas in Mexico. What can be a better way to know more about them, other than traveling to their land and spending some time there?
Today, the remnants of the thriving past still exist in a land where ruins abound and mystical stories still influence the current belief.
You'll get ample scope to mingle with the locals, listen to the tales of their ancestors, know about their culture and traditions, etc. To say the least, it'll be the most amazing opportunity for you to explore a culture that's nearly confined to this particular part of the world.'
Use these tags to read more related posts and reviews:
---
Let us know if this article was useful for you