The best beach resorts in Mexico to stay with Park Royal hotels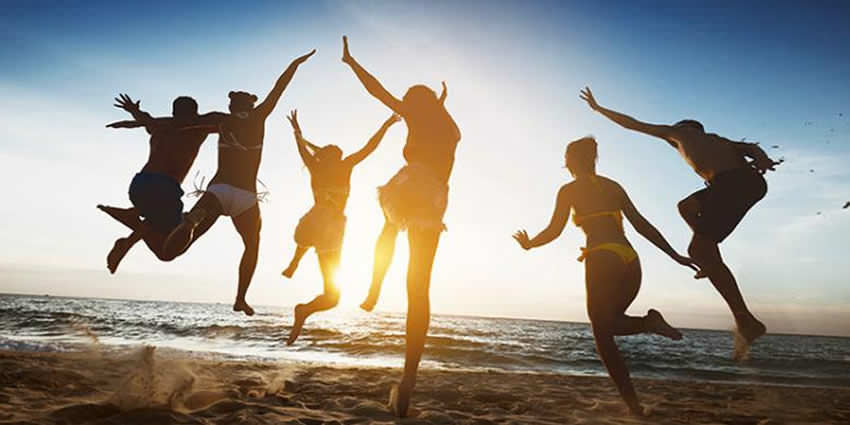 Mexico is a remarkable and splendid country to travel to, it attracts tourists from all over the world with its fabulously rich nature, culture, traditions and history.
Mexico is so different, this is a land of contrasts: modern metropolises sit side by side with ancient ruins and enchanting cosy towns that have preserved the spirit of the colonial era. Deserts alternate with snow-capped mountain peaks and active volcanoes, and rainforests give way to deserts or pristine beaches.
Here, everyone can choose something for themselves: enjoy the endless ocean on a luxurious beach, explore caves, have a romantic dinner on a desert island or dance at a carnival. Mexico is a place for tourists from all over the world who combine educational and entertaining holidays.
There are a lot of best places in Mexico to stay for long vacations or enjoy your short holidays. Everyone in Mexico will find here smethong for himself.
Interested in history and archaeology?
Mexico is the cradle of the most ancient civilizations with mysterious ghost towns, ruins and mystical monuments of the Aztecs and Mayans, impressive colonial architecture and distinctive culture, where traditions and customs of the old and new worlds are mixed into a single whole.
Do you want to be closer to nature?
Mexico is magnificent natural parks and reserves with majestic waterfalls, natural aquariums, mysterious caves and amazingly beautiful canyons. In Mexico, there is a virgin tropical jungle with unique inhabitants, an incredibly clear sea with white beaches, waterfalls, volcanoes, deserts, coral reefs.
Do you prefer a comfortable and prestigious vacation?
The famous travel and leisure Mexican resorts are at your disposal. Here all-year-round summer, heat +30C degrees, many hotels are located in the bay, which makes it possible to enjoy the ocean view.
No matter what time of year, any of the Park Royal hotels will be a perfect choice. Choose a centrally located hotel to explore that city you've always wanted to know or take advantage of the comforts of our hotels to enjoy a relaxing and carefree vacation.
No matter the time or excuse, the Park Royal hotels always will be happy to welcome you!
Acapulco still remains one of Mexico's most popular resort areas and a favourite destination of spring breakers. Nightlife in Acapulco is full of entertainment, restaurants, bars, dance clubs and casinos. Acapulco is a vibrant port city noisy and bustling 24 hours a day.
Acapulco extends along the Pacific coast bay. Local beaches attract vacationers with soft white sand and clear ocean waters. Acapulco's beaches are a tourist dream and paradise. The coast is covered with white sand, the ocean beckons with clear turquoise water. It's hot here all year round!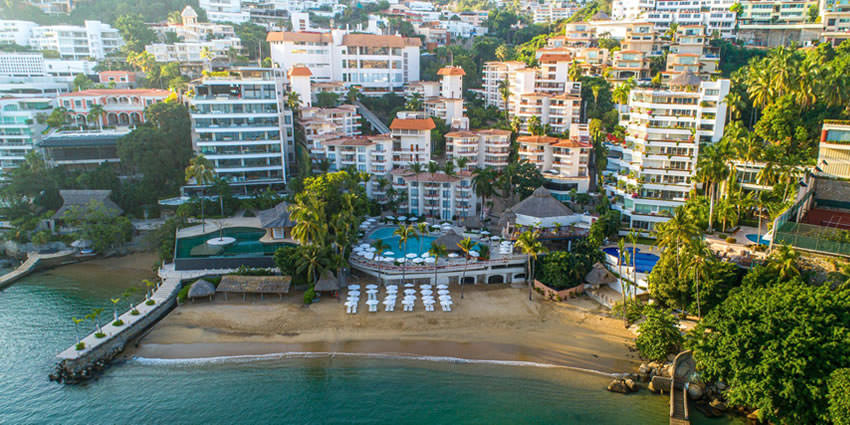 Hotel "Park Royal Beach Acapulco"
This 4-star, traditional and family-style hotel, situated between the coastal Miguel Alemán and Acapulco Diamante. It's a place where you can enjoy the sea in total tranquillity.
Park Royal Beach Acapulco hotel is a strategic point to discover the classic and the new in one of the most traditional ports in Mexico. Its facilities are splendid and make family vacations a great unforgettable experience, especially for the little ones, who can spend hours and hours of fun in the water park.
Location in a private residential area (Diamond Zone)
Exclusive beach with gentle waves
100% family and rest plan
All-inclusive service of the most complete in the destination
Spectacular panoramic views of the Bay of Acapulco
Closeness to the most important tourist centers (discos)
Cancun is a world-famous beach resort. Along its entire coast, an endless strip stretches a convenient beach, framed by many hotels of different stars and categories. Wide shafts of sea waves slowly roll over the snow-white quartz sand and return back to the sea.
There are endless white beaches and great waves, which is what you need for great vacations! Many hotels and developed infrastructure attract tourists from all over the world!
Many of the beachfront resorts in Cancun are all-inclusive, which may tempt you to stay on-site for your entire stay, but you shouldn't miss out on visiting some of the local attractions by going on a few day-trips around Cancun.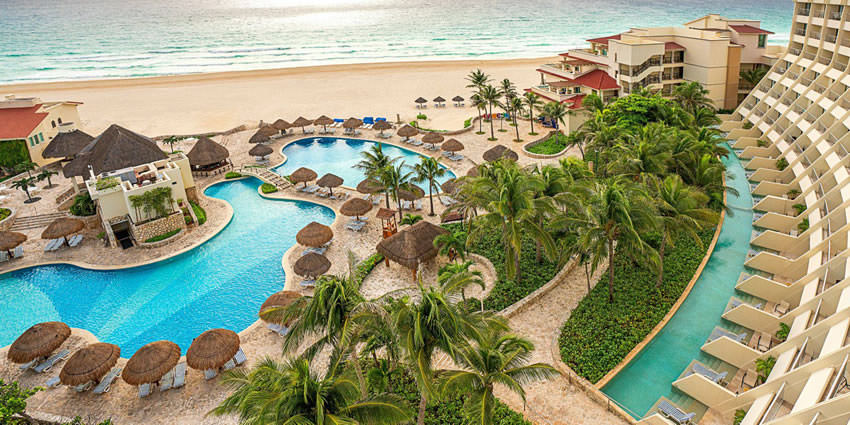 Hotel "Grand Park Royal Cancún"
To know Cancun is a first-class tourist centre framed by the legacy of the Mayans, the jungle, the cenotes and the Caribbean Sea that opens to our amazement. This tropical paradise offers us the most incredible landscapes and the security of an unforgettable vacation.
At Grand Park Royal Cancun, a modern 5-star resort, you will find the harmony between Mayan archaeology and modern hotel infrastructure, between the wonder of nature and the luxury of the tourist area.
Enjoy exclusive restaurants, bars and an unforgettable view of the Nichupté lagoon from the main tower.
Location in the heart of the hotel zone
Extensive beach of 500 meters
Sea view guaranteed
All-Inclusive with night shows
CANCÚN sign with ocean view perfect for photos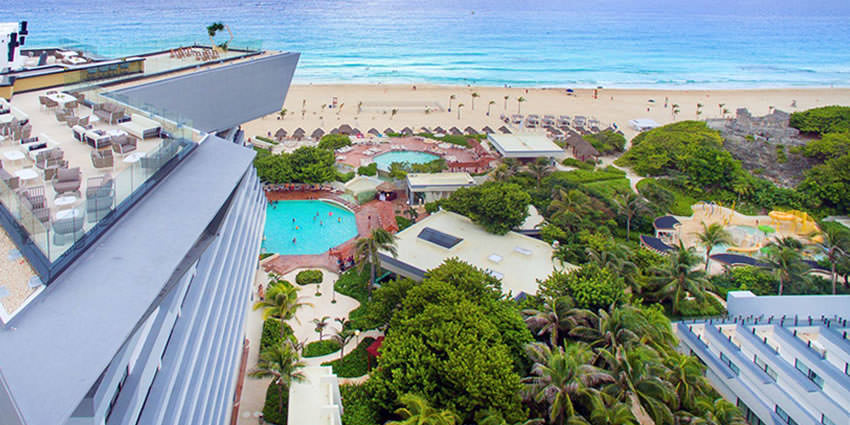 Hotel "Park Royal Beach Cancún"
A new nuance of comfort and service awaits you at Park Royal Beach Cancun, a modern 4-star resort. Delight yourself with the dishes in restaurants and snacks, or with refreshing drinks in the bars. Children can have fun in the new Kids 'Club while you find the ideal gift at the Kiwik boutique or enjoy the sunset at the exclusive Ekinox bar.
Get to know the Mayan archaeological site of Yamil Lu'um, which you have access to from the hotel. Take advantage of the resort's incredible location in front of La Isla shopping centre, in the heart of the Hotel Zone.
Location in the heart of the hotel zone
Access to Mayan ruin from the hotel
Gastronomic variety (3 special restaurants and 1 international buffet)
Water park for children
Own CANCÚN sign with ocean view for photos
Cozumel is Mexico's premier diving destination, as well as Mexico's most visited port of call by cruise ships. The warm, clear, turquoise waters and abundance of coral reefs and sea life attract divers from around the world.
This Caribbean island also has several nature preserves: the Cozumel Reefs National Park, Chankanaab Park and Lagoon, and Punta Sur Ecological Reserve.
There are only a few all-inclusive resorts on the island.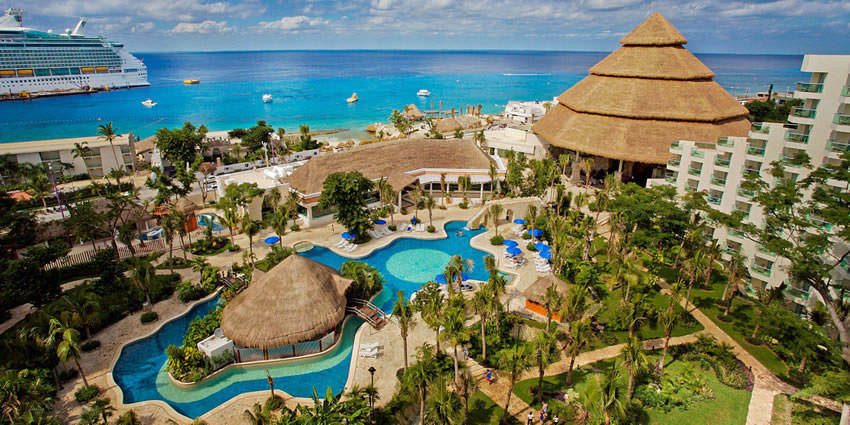 Hotel "Grand Park Royal Cozumel"
Award-winning architecture makes Grand Park Royal Cozumel, a 5-star minimalist Mayan-style resort, the perfect setting to enjoy this spectacular island.
From some rooms, it is possible to see the cruise ships go by. It is Premium All Inclusive service is designed to give you unforgettable vacations and ensure that you and your family have unique moments in the 3 pools and beautiful gardens, with carefully designed gastronomy, activities and sports that fill the days at Grand Park Royal Cozumel.
The sunset is endearing when it is admired to the rhythm of the breeze, surrounded by what matters most, who we love the most.
Hot tubs near the beach
Infinity pool overlooking the Caribbean Sea
All rooms with private balcony
Private beach with crystal clear waters
Direct access to Royal Village Center
Loan of snorkeling equipment
Mazatlán is a perfect place to experience an authentic mix of Mexican culture and history. Walk around old Mazatlan to get a feel of the history of this place, then head to the Golden Zone to see some beautiful beaches, restaurants and nightclubs.
Mazatlan is known worldwide as a sportfishing destination. Visitors can enjoy surfing, horseback riding, mountain biking, bird watching and golf in Mazatlan, as well as sunning and swimming along its golden beaches.
Mazatlan is an important cruise ship port of call on the Mexican Riviera, but it's certainly worth coming and staying for a good long while.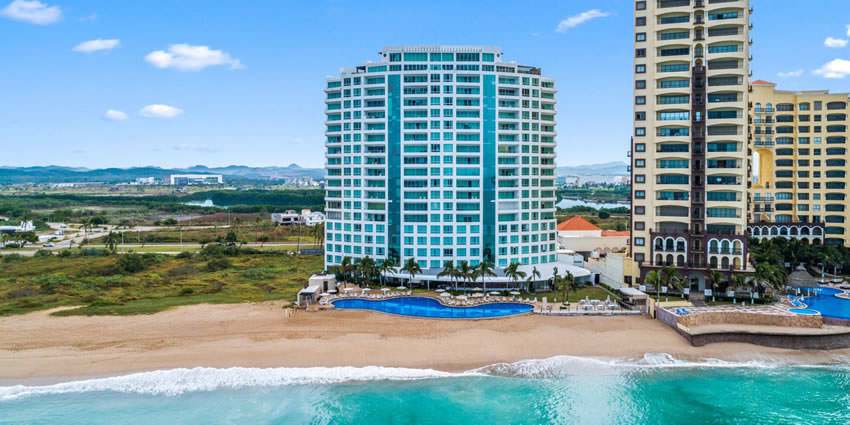 Hotel "Park Royal Homestay Mazatlán"
Located in the Mazatlán Marina, an area close to many of the destination's attractions, Park Royal Homestay Mazatlán, is a 4-star minimalist-style urban hotel, a private oasis in the heart of the Pearl of the Pacific.
Its 131 rooms have ocean views. The hotel has an exclusive beach area and a quiet environment to enjoy a vacation of total relaxation. The spa and gym, the a la carte and buffet restaurant on weekends, as well as the cevichería, make Park Royal Homestay Mazatlán an irresistible place.
You will be amazed at the incredible sunset view from the infinity pool. Beaches Doradas, history, music and one of the best gastronomy in the world await you to live an unforgettable vacation.
Spacious rooms
Equipped kitchens
Close to Shopping Centers and Restaurants
5 minutes from the Convention Center
Hotel facing the sea and overlooking the lagoon
Puerto Vallarta maintains a strong appeal among vacationers. The city's choice location on the picturesque bay as well as its cobblestone streets, white-walled houses, wrought-iron balconies and red-tiled roofs give the city its signature look.
There are a great many things to do in Puerto Vallarta, from zip-lining through the jungle to visiting beautiful botanical gardens, taking a stroll along the beachfront promenade and enjoying the spectacular sunsets. This is a perfect destination for a romantic getaway, and one of Mexico's top dining destinations, with a reputation for great restaurants.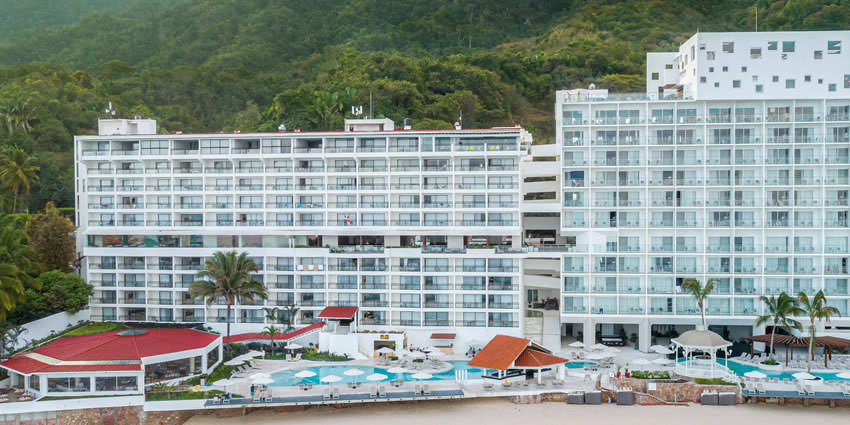 Hotel "Grand Park Royal Puerto Vallarta"
Grand Park Royal Puerto Vallarta, a 5-star family resort, gives you the opportunity to live with nature and enjoy the refreshing breeze from beautiful beaches in one of the most exclusive destinations in Mexico.
The hotel is located next to the Bay of Banderas and a few meters from Las Gemelas beach, an incredible place to relax by the sea, admire the sunset on the horizon or practice some water activity.
Thanks to its All-Inclusive plan, you will be able to take better advantage of your holidays and have facilities such as restaurants, bars, children's club, gym, a swimming pool and much more! Its rooms have excellent lighting, great views and a balcony or terrace. All have a safe, television with cable programming and wireless internet.
Location 15 minutes from the Malecón and Romantic Zone
Exclusive beach with gentle waves
Rooms facing the sea
Ekynox Skybar ($) with panoramic view of Banderas Bay
Whale watching during winter
Certification of Catholic weddings
Los Cabos is made up of the two distinct cities of Cabo San Lucas and San Jose del Cabo, and the twenty-mile corridor between the two.
Only a few of Los Cabos' beaches are suitable for swimming, but there are plenty of other activities to keep you entertained, such as whale watching, sportfishing, and golfing.
Cabo San Lucas has plenty of restaurants, resorts and nightclubs, whereas San Jose del Cabo is a charming town with a lot of art galleries and boutiques. Take a walking tour of San Jose del Cabo to get a feel for its history, architecture and monuments.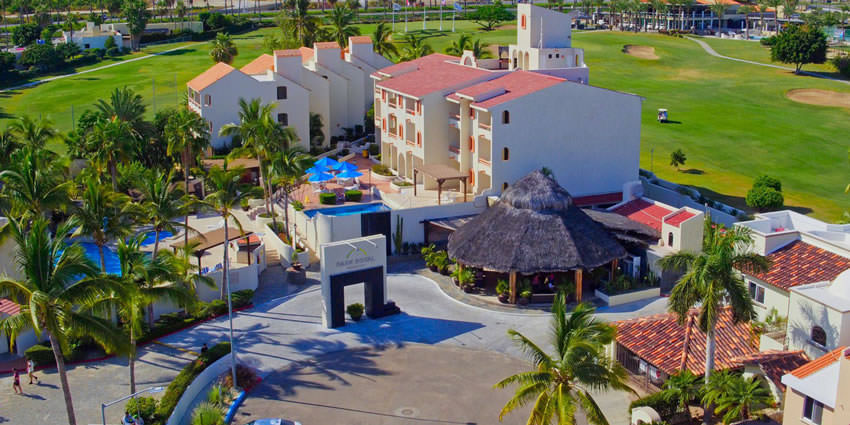 Hotel "Park Royal Homestay Los Cabos"
Within one of the best golf courses, the spaces at Park Royal Homestay Los Cabos, our modern 4-star golf hotel, are spacious and comfortable. Its spacious suites, pools surrounded by palm trees and tropical gardens are designed to enjoy fully on vacation.
Its beach club, close to the property, is private, and its gastronomic offer includes specialities of international and Mediterranean cuisine.
and Mexican. The perfect mix of facilities, personalized service and great warmth make this hotel the perfect place to visit the wonders of the destination, enjoy the tranquillity of San José del Cabo or visit restaurants and discos. Discover Los Cabos, one of the most exclusive destinations in Mexico.
Spacious rooms
Equipped kitchens
Guaranteed rest in the middle of the Golf Course, away from the hustle and bustle
European Plan (E.P.). Chance to go for walks
Close to Shopping Centers and Restaurants
Ixtapa is a young town with a well-developed infrastructure, pleasant climate, unusually beautiful sunsets, warm ocean and many palm trees.
Ixtapa will appeal to those who, in their holidays, value solitude with nature for its contemplation, enjoyment of beauty and grandeur. Nevertheless, guests of Ixtapa are delighted with the presence of a full range of entertainment: discos, restaurants and bars.
Ixtapa has a modern vibe whereas and many large resorts to choose from.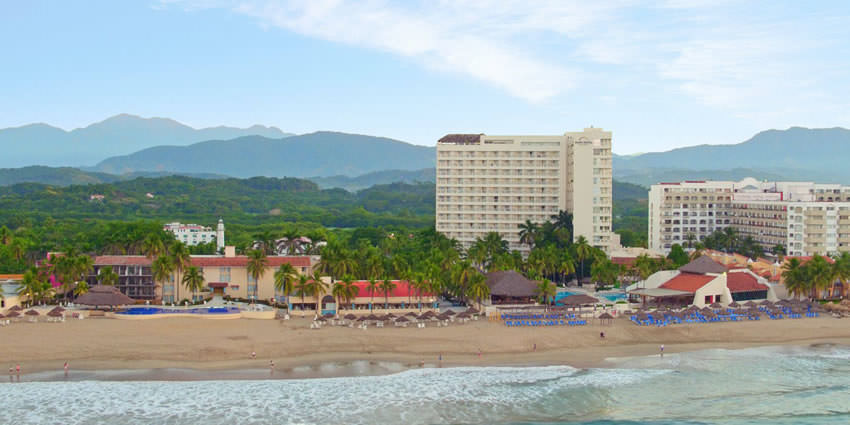 Hotel "Park Royal Beach Ixtapa"
A modern 4-star resort, ideal for living unforgettable experiences while relaxing in the pool or one of our terraces, from where you can contemplate the bays and cliffs of this region of the Mexican Pacific; or the magnificent sunsets that paint the sky with warm colours.
All rooms are designed and equipped to guarantee your rest and fun. When night comes, the adventure continues on one of our bars on the beach. If you travel as a family and with children, fun is guaranteed with a complete program of activities. We are the best complex on the Guerrero coast, we will be happy to make you feel at home and provide you with distinctive service.
Location in the heart of the hotel zone
Blue Flag certified beach
Disco Bar
All Inclusive
Rooms with private balcony, most with ocean view
Huatulco is a beach destination on Mexico's Pacific coast with nine bays and 36 beaches, many of which are protected as part of the Bahias de Huatulco National Park.
Its biodiversity and pristine landscapes make Huatulco a superb place to observe flora and fauna both on land and in the sea. This was one of the destinations selected for tourism development by the Mexican government, but for some reason, it hasn't been as developed as some others, so you'll find many virgin beaches and natural areas to explore.
Most of the beaches have calm blue-green waters. Tangolunda Bay is where travellers will find top-of-the-line resorts.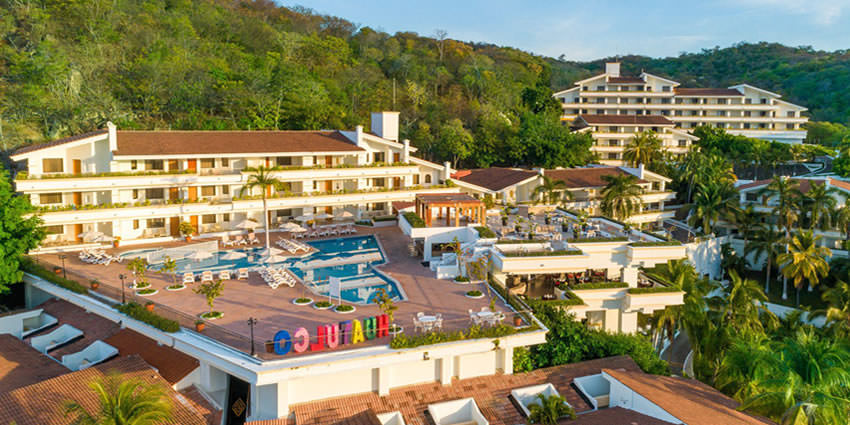 Hotel "Park Royal Beach Huatulco"
Nestled in a tropical jungle, with one of the best views of the Pacific coast, Park Royal Huatulco offers its guests the most complete all-inclusive experience. This modern 4-star resort is recognized for its world-class service, it has 133 comfortable suites, two restaurants, 4 bars and a charming beach to pamper its guests. The landscapes have moved many so much that they have even thought about staying.
Privileged location in the hotel zone
It has the largest rooms in the destination
All rooms have a large terrace
It has the best view of the entire Tangolunda bay
Dinner shows every day
Free Internet throughout the property
Sighting of flora and fauna inside the hotel
Use these tags to read more related posts and reviews:
---
Let us know if this article was useful for you