Navolato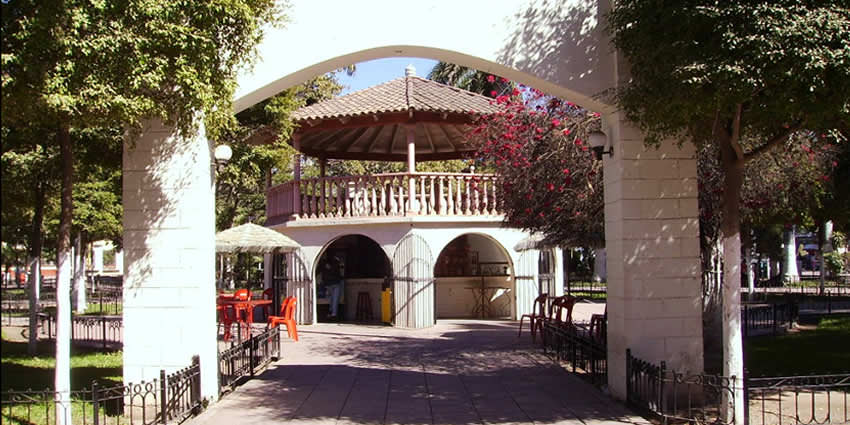 Navolato is a city in Navolato Municipality in the Mexican state of Sinaloa. It is located on the central coast part of the state, the municipality bordering on the Gulf of California.
The city is located about 25 kilometers west of Culiacán and can be reached by road. The municipality has an areal extent of 2,285 km2 (882 sq mi) and includes many smaller communities in addition to the city of Navolato; the largest of these are the towns of Campo Gobierno, and General Ángel Flores (La Palma).
The municipality reported 135,681 inhabitants in the 2005 census, while the city reported 28,676 inhabitants.
The name Navolato comes from the native Nahuatl language. The people in Navolato produce sugarcane, corn, and other agricultural products.
Nearby tourist destinations are Altata, Nuevo Altata, and El Tambor.
Navolato is most known for its renowned agricultural industry. Because of their versatile location, Navolato produces a large array of agricultural products. Navolato leads in the production of sugar cane, rice, vegetables, wheat, beans, and sea food. The fishing and horticulture is second following Navolato's natural resources, which are also leading asset to the nation income. "Agriculture and livestock account for about 21% of the economy". The list of agriculture and livestock is very abundant due to the location. Many of the crops are produced through irrigation near sea level, which is what makes these crops such a high demand. Navolato is so famous for their agriculture, Navolato would be expected to produce and export their product in a timely manner. "Its high productivity allows participation in international markets by exporting fruit and vegetable products which represents more than 60% of the total exports in Sinaloa". Navolatos agriculture is a highly prized business as well. "On a national level, it is among the first place in vegetables such a tomatoes, cucumber, pumpkins, potatoes, chilies, and eggplant, in fruits there are mangos, cantaloupes, and watermelon, and in grains, there corn, beans, soybeans, safflowers, rice, wheat, and sorgum". The second largest business would be the livestock and the breeding of livestock. They are also most known for the fishing industry as well. Navolato is known for this because they are located right off the Pacific Ocean. By breeding livestock, Navolato farmers are able to succeed in the business of producing sausage, cheese, and milk among with other products made from livestock. Without the agriculture business, Navolato, Sinaloa would not be the agricultural power on the map today.
Sinaloa Navolato lies along the coast of the Gulfo de California. It covers an area of 58,091 square Kilometers (22,429 square miles), which is a little smaller than the US state of West Virginia. In Sinaloa Navolato, there are three types of landscape: a coastal plan in the west, mountains (sierras) in the east, and valleys between them. In the eastern part of the state Sierra Madre Occidental is known by different names. Valleys lie between the ranges of mountains and the coastal plan, where the land is flat with few hills. The rivers rise in the Sierra Madre Occidental and cross the state to flow into the Gulfo de California and the Pacific Ocean. Major rivers are the Fuerte and Sinaloa. Sinaloa had a total population of 2,536,844 in 2000; of the total, 1,264,143 were men and 1,272,701 were women, according to the Junior Worldmark Encyclopedia of the Mexican States. It also stated that, "The population density was 44 people per square kilometer (114 people per square mile)." Almost all citizens speak Spanish as their first language. A small number, about 2.2% of the population speaks indigenous (native) languages in Sinaloa Navolato. According to the Junior Worldmark Encyclopedia of the Mexican States, "77% of the population, or about two million people, were Roman Catholic; almost 3%, or 65,346 people, were Protestant." That year there were also 32,783 Jehovah's witnesses and over 180,000 people who reported no religion. Sinaloa Navolato is not very well known by most people, but it is a rather unusual place to know and learn about. For example, the name Sinaloa comes from the Chaita language. It is a combination of the words sina, which means pithaya (a plant with thorny stalks), and lobola, which means rounded. The pithaya is a common plant throughout the region, which has great meaning.
Navolato, Sinaloa can be considered one of the most intrigued places in Mexico that has a variety of climate change. However, in Navolato according to the Junior Worldmark Encyclopedia of the Mexican States," Along the coastal plains of Sinaloa it remains hot even after cold times." Most valley areas can be hectic simply because of the temperature changes. Temperatures in the daytime can be up to 90 degrees and in winter times like around December, January, and February can be up to 80 degrees. Most of the rain fall occurs in July, August, and September along with cooling temperatures by the coast. This is why this part of Sinaloa is mostly watched by the Environmental Protection Agency due tremendous climate change. In the Junior Worldmark Encyclopedia of the Mexican States it says, "That this part of Mexico has teamed up with U.S. and Alaska to form a group called the Western Hemisphere Shorebird Reserve Network." The reason why it was named this is because of the Pacific Flyway Shorebirds that breed in Canada, Alaska, and other West Coastal regions of the United States. According to MagnaVerno, "Watering prior to harvest allows the basil to be cut/harvested three times." Plants here can range from oaks to poplars to cieba and mangroves, which is an evergreen that usually grows along the coast. Fruit like lemons, peaches and pears are also known to be found as well. Animals that can be found in this area are: dears, wildcats, badgers, wild boar, coyotes and tlacuaches. However, fishing is another great part of Navolato, which holds second place national level terms of value of production, and the third place holder of fish and other sea food.
Navolato, Sinaloa judicial system is called the Tribunal of Justice, which is the highest court system in the state of Mexico. The Supreme Tribunal of justice has eleven members that are assigned for fifteen years with no re-electoral provisions. However, there is a required retirement age of seventy years. According to Explorando Mexico,"the state governor of Navolato office is assisted by the departments of director's of liaisons and events, public relations. The Governor's hearings are over seen by:administrative and touring coordinators, as well private secretary and other auxiliary secretaries in charge of the Governor's agenda, among other federal dependencies and autonomous organizations". Navolato's government is structured among their economic resources. Resources are formed from a variety of products that are from harvest fields that grow wheat, bean, fruits, potatoes, zucchini and sugar cane. Navolato is the largest industry in the state that produces a large exporting capacity, which has become an integral part of the state. Infrastructure transports its food and vegetables from two important international airports, which are Mazatlan and Topolobampo. Harvest is transported from Navolato to difference parts of Mexico to supply their markets, as while as their income. Navolato also depends on local railroads to transport merchandise and other food produces. Navolato economy is slowly expanding and finding new ways to build their cities. For example, telecommunications and electricity generated throughout their cities. Navolato government and economy is maintaining their judicial system and keeping becoming more proficient.
Use these tags to read more related posts and reviews:
---
Let us know if this article was useful for you