Ría Celestún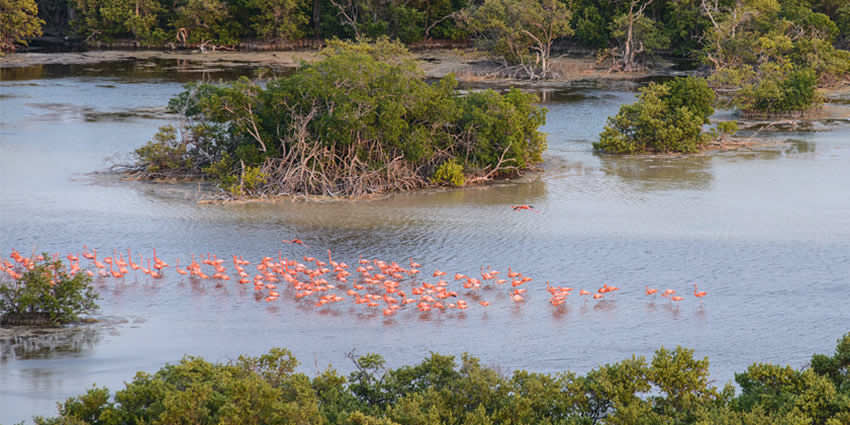 Reserva de la Biósfera Ría Celestún is a 146,000-acre wildlife reserve with extensive mangrove forests and one of the largest colonies of flamingos in North America.
Clouds of the pink birds soar above the estuary all year, but the best months for seeing them in abundance are November through March.
This is also the fourth-largest wintering ground for ducks in the Gulf coast region, and more than 365 other species of birds, plus a large sea turtle population, make their home here.
Mexican and American conservation programs protect the birds, as well as the endangered hawksbill and loggerhead marine tortoises, and species such as the blue crab and crocodile.
Other endangered species that inhabit the area are the ocelot, the jaguar, and the spider monkey.
The park is set among rocks, islets, and white-sand beaches. There's good fishing here, too, and several cenotes that are wonderful for swimming.
Most Mérida travel agencies run boat tours of the ría (estuary) in the early morning or late afternoon, but it's not usually necessary to make a reservation in advance.
To see the birds, hire a fishing boat at the entrance to town (they hang out under the bridge leading into Celestún).
Popular with Mexican vacationers, the park's sandy beach is pleasant during the morning but tends to get windy in the afternoon.
And, unfortunately, mosquitoes gather in great numbers on the beach at dawn and dusk, particularly during winter months, making a walk on the beach uncomfortable.
Use these tags to read more related posts and reviews:
---
Let us know if this article was useful for you