Rice in traditional Mexican cuisine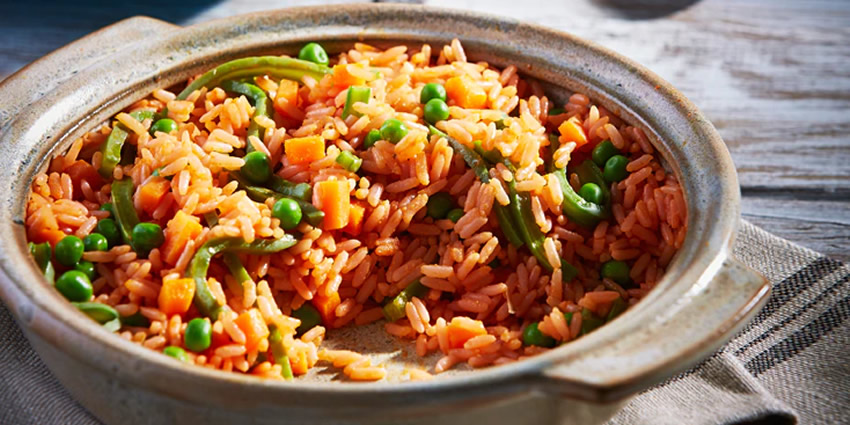 Talking about rice in Mexican cuisine, the first image that usually comes to mind is the traditional red rice, with "mole poblano", served on a Talavera-style plate. Without any doubt, rice is the loyal companion of all "moles" (sauce) in Mexican cuisine.
There is an infinity of dishes with rice in Mexican traditional cuisine with the three most popular rice colors (Mexican flag colors):
The red rice, which is prepared with tomato. This same enriched with carrots and peas is transformed into Mexican rice.
The traditional white rice that the housewives of Morelos prepare with their traditional recipe to obtain the maximum benefits from the grain and make it chubby and fluffy.
The green rice is painted like the green of the fields when grinding and adding the poblano peppers. Or there are those who use spinach or coriander and parsley, an infinite number of recipes that exist.
Some popular Mexican regional rice dishes
Mexican rice pudding – The rice pudding whose recipe has evolved from a sweet delicacy to the traditional Mexican dessert. Its recipe was enriched as of 1836 when the famous condensed milk "La Lechera" appeared for the first time in Mexico and on its label the recipe for rice pudding, now with condensed milk replacing brown sugar, sugar, or honey.
Arroz a la Tumbada – The municipality of Alvarado in the state of Veracruz provided Mexican cuisine with "arroz a la tumbada" ("lying down rice"), rice with seafood, tomato, and epazote (a tall herbaceous plant used as a pungent culinary herb and vegetable).
Rice with bean broth – Rice with bean broth, rice in which the broth from the cooking of the beans is used, a contribution of Oaxacan cuisine.
Morisqueta, boiled rice, steamed until fluffy and generally unseasoned, is a dish found in the states of Colima, parts of Michoacán, and Jalisco.
The state of Morelos, being a rice-producing state, has developed its own gastronomy with unique dishes, such as rice cakes that can be prepared with ground rice or in the same way as the traditional meatballs using the rice from the day before.
The Jojutla rice tamales were prepared by the wives of the rice producers, who cultivate the field. These tamales are salty, there are vegetables, green and red.
At first glance they seem to be traditional corn dough tamales, however, when tasting them their consistency is a bit different, and very small pieces of rice are perceived.
In some Jojutlan places they prepare the traditional Canarian tamales whose origin is attributed to Michoacán, the recipe includes rice flour and they are sweet. They owe their name to the yellow color of the dough it takes when they are prepared only with butter.
In the center of Cuautla from an early hour and throughout the day, you can find street vendors of rice tacos.
In Cuernavaca, there are traditional armored tacos, a Morelos snack whose origin dates back to 1908 and which became popular thanks to the Mexican Revolution.
Mexican-style rice in a bowl with Huevos Rancheros
Though this dish is commonly served for breakfast, this Mexican-style rice bowl recipe with "Huevos Rancheros" is versatile enough to enjoy it at any time of the day.
Step 1: Prepare rice with natural flavors following the directions on the package (or use ready-to-serve rice in the microwave). When done, add beans and salsa.
Step 2: Divide the rice mixture into two medium bowls. Top each serving with an egg, sliced ​​avocado, and Tex Mex cheese, and top with crushed tortilla chips.
To add a little extra flavor and make an even more Mexican dish, sprinkle freshly cut chili pieces over your rice bowl. You can also add a touch of your favorite tabasco chili sauce.
Use these tags to read more related posts and reviews:
---
Let us know if this article was useful for you