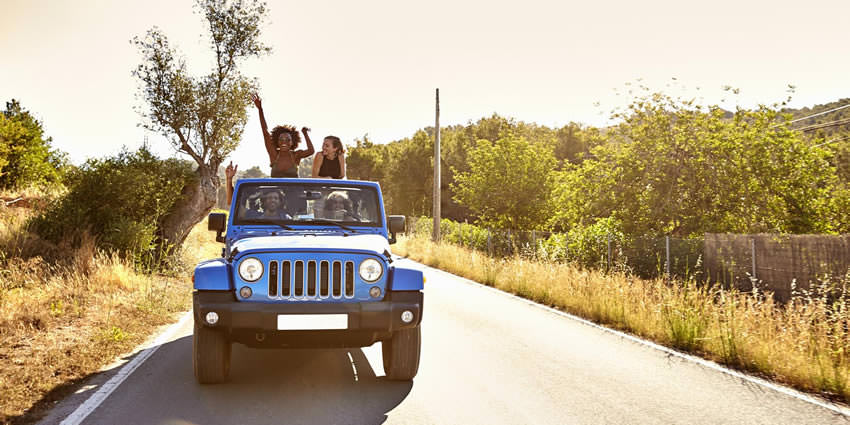 Tourist car insurance in Mexico
Do tourists also need Mexican auto insurance while driving their own car?
A road trip vacation in Mexico can be an unforgettable journey, but it's important to be sure you're prepared for this adventure. Whether you drive your own car or a rental one, you need to make sure you're covered for every contingency.
You can make your way to Mexico on your own and rent a car after you have crossed the border. By renting a car from a Mexican company, you can be better assured that your auto insurance is valid in the country.
But what if you want to drive to Mexico in your own car?
Driving from Canada or the United States to Mexico
If you're renting a car in the USA or Canada and driving to Mexico, your rental car company will provide you with the option of buying additional collision insurance. This may be a prudent choice if there's a long drive between your home and the Mexican border.
However, once you reach Mexico, you will still need Mexican liability insurance at the very least. Mexican car insurance can either be purchased right at the border, or you may wish to buy it online before you leave home.
This will ensure you're covered as soon as you get into the country.
Most Americans and Canadian tourists who cross the Mexican border with their vehicles are sure they don't need additional Mexican car insurance. But actually, even driving their own car, trailer, or just motorcycle tourists do need mandatory Mexican auto insurance to cover a traffic incident in Mexico.
Mexican auto insurance for foreign tourists and travelers
Since 2014 liability auto insurance became obligatory in Mexico. Foreign auto insurance policies are not admitted by the local law and legally, even being a tourist, you must have auto insurance provided by a Mexican insurer, to drive your vehicle on Mexican roadways.
Does the Canadian or US auto insurance policy have coverage in Mexico?
Mexican auto insurance provides vehicle insurance for foreign tourists driving in Mexico since foreign insurance policies are not accepted by Mexican authorities in case of a traffic accident or theft.
According to Mexico's driving law, the person considered to be liable in a car accident is guilty until proven innocent.
Also, in case of injuries, the at-fault party is also charged for medical expenses and has to provide financial support for the injured parties and their families until their complete recovery.
In case of a traffic accident in Mexico
In case you're involved in a road incident driving in Mexico, the traffic police conclude on the spot who's at fault side, and if you are found to be the guilty one and don't have Mexican coverage auto insurance, you are in trouble.
You'll be required to pay the cost of the assessed damage and if you don't have the proper insurance or cannot pay for the damages caused, you will be detained until full compensation has been made.
According to Mexican law, the police will have the right to detain you until they can verify that you have the resources to cover damages.
Unless you speak good fluent Spanish and have strong proofs that demonstrate the other person caused the accident, you will more likely be found at fault.
Disagreeing with the police's assessment will ensure a judge reviews your case within 24 hours. But it is highly unlikely that the final ruling will count in your favor.
If you have insurance, call your insurer, provide them with your geolocation and the insurer will send their adjuster.
Once there, the insurance adjuster will investigate the scene just as a police officer would do. He will take photos and gather statements. He will also verify that both parties have proof of coverage for the police.
The insurance policy doesn't mean an accident won't leave you with expenses and problems you wouldn't face otherwise. But having auto insurance gives you protection from being sued or left financially stranded by a totaled car, or ruined in an accident caused by another driver.
Proper auto insurance means 95% of the problem is resolved. The insurance company will negotiate with the injured party on your behalf and guarantee payment for any damages caused.
The auto insurance policy will also pay bail and legal fees as a part of the coverage.
Careful planning and obtaining the needed insurance can help you plan a vacation that will go well and keep you protected. Just a few simple arrangements can ensure that your time in Mexico will be fun, rewarding, and free from hassle.
Auto insurance requirements in Mexico you need to follow:
Purchase proper auto insurance to cover any road incident before entering Mexico in your vehicle.
Buy a quality policy from a reliable insurer to fully cover your expenses and avoid problems in case of a traffic accident.
Always have a copy of your auto insurance policy and driver's license with you.
Buying Mexican car insurance
In buying your Mexican auto insurance, make sure your policy is specific to vehicles with foreign plates. Also called tourist car insurance, these special policies cover cars that are registered in foreign countries.
In this case, tourist car insurance would primarily cover vehicles registered in the United States or Canada.
In selecting a Mexican insurance company, shop by looking at the ratings provided by either A.M. Best U.S., or Standard and Poor's Insurance Rating. This will give you a snapshot or profile of each company, detailing their strengths and weaknesses.
It is important to make sure the insurance provider you select is reputable.
Even though your time in Mexico may be short, you don't want to end up saddled with an auto insurance company that lacks good customer service or hassles clients about paying on claims.
There's no standardized auto insurance policy in Mexico and it makes it difficult to understand what kind of insurance coverage is needed for your vehicle. Mexico's insurance policies don't all offer the same coverage.
The insurance policy's limits and the ability of insurance companies to pay are not strictly regulated in Mexico. Well-known, trusted reputed insurers like CHUBB, Mapfre, and HDI are remarkable and on par with top-rated insurers in the USA, Canada, and the EU.
Cheap insurance companies can leave the policyholder with a lot of exclusions in the cover. In the case of an accident, many of these low-grade insurers will cover the damages with incredibly low rates.
They offer you wholesale, and not a retail price for your wrecked or stolen vehicle. High-quality policies allow you to get your vehicle repaired in the USA. They also cover towing to the US border from almost anywhere in Mexico.
Also, high-quality Mexico insurance policies pay claims the quickest and the most efficient way. Otherwise, claims are often settled in long weeks rather than months or even years.
Where to buy Mexican car insurance?
Auto insurance policies are available both by walk-in offices and kiosks near the border and also online.
Policies are available for a period from one day up to one year. You better purchase Mexican auto insurance before you cross the Mexican border, otherwise, you will put yourself at risk.
Mexican car insurance can either be purchased right at the border, or you may wish to buy it online before you leave home. This will ensure you're covered as soon as you get into the country.
The most important thing is to indicate you do carry collision and theft coverage on your US or Canadian insurance policy and will keep this "full coverage" throughout the Mexican policy period.
Otherwise, your rate will be a little bit more expensive.
Another important point is the "actual cash value" of your car. Mexican insurance companies use "actual cash value" as a basis for valuing vehicles in the event of a total loss due to collision, crash, or theft.
Match the same coverage policy you have at home
Get the right insurance policy. If your policy is $100,000 USD in the USA or Canada, then get at least the same value in Mexico. If you own a good car or costly RV then buy at least $300,000 coverage.
Matching your home policy avoids guessing what kind of insurance you need to buy in Mexico.
Full coverage policy: The "full coverage" policy covers you and your car in most circumstances. The full coverage policy covers not only your liability but physical damage and theft to your vehicle as well.
The full coverage auto insurance for tourists traveling in Mexico is only available to vehicles under 20 years old.
Liability-only policy: The "liability-only" insurance policy provides coverage for medical expenses and property damage to third parties, but you're left with all the responsibility of towing, damage repair, medical, and a rental replacement car.
In this case, if the other party driver does not have auto insurance or leaves the accident scene, you're left with nothing. If you're on the fault side, you're also left with nothing.
Don't buy Mexican car insurance at the border
With overpriced and inferior quality policies, the border kiosks are not the right place to acquire insurance. Most of them offer liability-only policies and will leave you vulnerable in the case of an accident.
Most of the time, the cover specified is ridiculously low, like $2000, and often less. And the liability limit in most Mexican states is $300,000 due to recently increased fatality requirements.
Besides the high commissions added to the total cost, these "cheap" insurance policies often cost you much more in the end.
The Border Zone, or Free Zone, is a 20 to 30-kilometer stretch of land that extends from the border into Mexican territory. If you remain within this zone, you won't need to do anything special.
However, if you plan to travel deeper into Mexico, you'll want to obtain a Vehicle Import Permit from the Mexico Federal Agency. If you fail to do this, customs officials will likely confiscate and impound your vehicle.
There are two exceptions to this requirement:
Vehicles traveling within the Baja Peninsula aren't required to obtain a special permit.
Additionally, vehicles entering the country from the Nogales port of entry and remaining in the state of Sonora don't require a permit.
The fee for the permit is $44 for any vehicle, plus Mexican taxes. The permit can be obtained online, through a consulate, or at the border.
Additionally, a guarantee deposit is required for the return of vehicles to the United States. The guarantee will be refunded upon cancellation of the permit at the Banjercito offices, but it must be canceled before the permit is due to expire.
The deposit varies, based on the year of the vehicle:
2000 to older models: $200
2001 to 2006: $300
2007 to newer models: $400
The deposit fees are in U.S. dollars and are refundable in the same form that they were submitted.
Use these tags to read more related posts and reviews:
---
Let us know if this article was useful for you