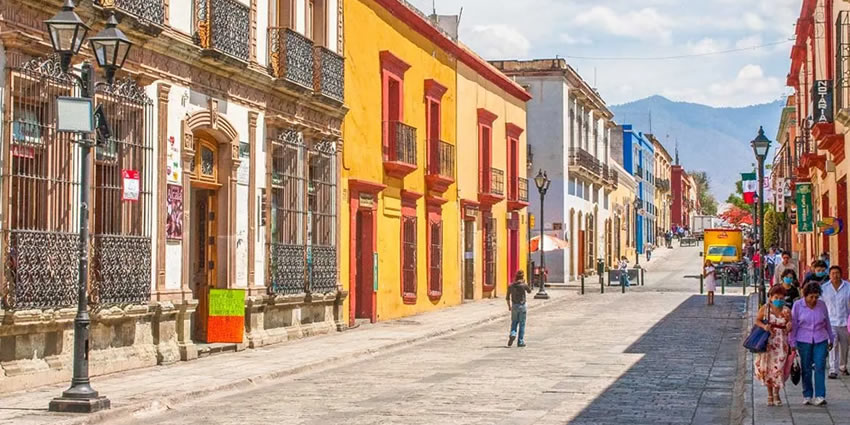 Self-guided walking tour of Oaxaca's Historic Center
Oaxaca City, or Oaxaca de Juarez, is the capital of the state of the same name. Oaxaca is often praised for its cultural richness, a place where colors mix in an attractive palette of both indigenous and Spanish elements.
The Valley of Oaxaca had been inhabited primarily by the Zapotecs and Mixtecs, for thousands of years before the Europeans. Oaxaca City was founded by the Spanish in 1532 on the site of a fortified Zapotec settlement.
Oaxaca flourished under the Spanish rule as a commercial and agricultural hub. It has been the place of political and social movements, notably during both the Mexican War of Independence and the Mexican Revolution.
Today, Oaxaca City remains a vital center for Mexican rich culture and heritage.
Discover Oaxaca City's rich history and culture with this self-guided tour.
Oaxaca self-guided introductory walking tour
The plaza in the heart of the city called Zocalo, is the city's main square.
Zócalo, or Plaza de la Constitución, was planned in 1529 by Juan Peláez de Berrio. During the colonial period, this plaza was never paved, nor had sidewalks, and only a marble fountain that was placed here in 1739.
The fountain was removed in 1857 to put in the kiosk and trees. In 1881, the square was rearranged again and in 1885, a statue of Benito Juárez was added. It was remodeled again in 1901 and a new kiosk was installed.
Fountains of green stone with capricious figures were installed in 1967.
The Zócalo is surrounded by various portals:
"Portales de Ex-Palacio de Gobierno" on the south side
"Portal de Mercadores" on the eastern side
"Portal de Claverias" on the north side
"Portal del Señor" on the west side
The impressive Baroque-style Cathedral of Our Lady of the Assumption was the third to be built due to earthquakes in the 16th and 18th centuries. Construction started in 1702 and concluded with consecration in 1733.
The altar hosts a statue of the Assumption of Our Lady, crafted in Italy.
Another church is the 17th-century Basilica of Our Lady of Solitude ("Basilica de Nuestra Señora de la Soledad"). The church is dedicated to Oaxaca's patron saint, the Virgin Mary, and houses a revered statue of the saint.
Immerse yourself further in Oaxaca's heritage by strolling along Andador de Macedonia Alcala (Macedonio Alcala Street), a pedestrian thoroughfare lined with boutiques, art galleries, and historic colonial buildings.
Since 1987, the Historic Center of Oaxaca City is a UNESCO World Heritage site. The city of Oaxaca is renowned for its picturesque colonial well-preserved buildings, charming cobblestone streets, and vibrant markets.
Here are some of the top attractions you can explore in this area:
The Zócalo
Oaxaca Cathedral
Basílica de Nuestra Señora de la Soledad
Santo Domingo de Guzmán Church
Government Palace
Federal Palace
Alameda de León
Andador Macedonio Alcalá
Former Monastery of Del Carmen Alto
Former Monastery of San Juan de Dios
Church of San Felipe Neri
Former Monastery of San Catalina
Church of the Company of Jesus
Museo de las Culturas de Oaxaca
Mercado Benito Juárez
Use these tags to read more related posts and reviews:
---
Let us know if this article was useful for you