How to get the most out of your next Tulum diving adventure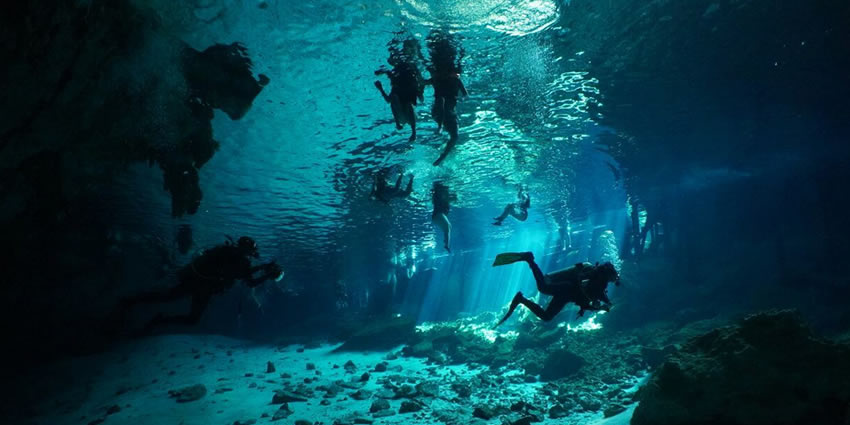 Tulum offers an array of spectacular diving experiences for both experienced and novice divers.
From exploring the mysterious underworld of cenotes to spotting colorful marine life on majestic underwater coral reefs, there is something for everyone in this unique destination in Riviera Maya.
Pack the Necessary Gear for Your Adventure
No dive excursion is complete without the right equipment. Make sure to bring your wetsuit, diving mask, snorkel, and fins, so you can stay safe and get the most out of your adventure.
In addition, if part of your dream is to snap some underwater photos and videos, don't forget to pack an underwater camera! Just beware most cenotes charge a camera fee, always make sure to bring some cash and pay for it at the entrance.
Get ready for Diving in Cenotes
One of the most popular kinds of diving in Tulum is cenote diving.
Cenotes are sinkholes or natural wells in the limestone bedrock formed by flooding rainwater. Exploring a cenote is like entering a hidden underground world with magnificent rock walls, geological formations, and other wonders waiting to be discovered.
Get a local dive guide who can show you the best spots and safety precautions related to this unique type of cave diving.
If you Dare – try Cavern & Cave Diving
Cave diving in Tulum, Mexico is a truly unique experience that can't be found anywhere else. Its crystal clear waters boast caves with spectacularly preserved Mayan artifacts and limestone formations.
Rich in biological diversity, divers will be dazzled by its beauty and unique aquatic life, making it a prime spot for experienced divers to explore something truly extraordinary.
If you are an advanced open-water certified diver, with good buoyancy and control you can explore Cenote Dos Ojos and its caverns, part of the longest underwater cave system in the world – Sistema Dos Ojos.
The key difference between cavern and cave diving is that a cavern dive takes place in open waters while a cave dive takes place within a confined space. In a cavern dive, divers are able to see natural light from outside, even at depth.
Cave dives often involve long penetrations and may involve zero available natural light in the underwater passages.
If you're interested in cave diving, then you need to get trained in the proper techniques and safety procedures. Check IANTD cave diving courses, they are known to be some of the best for both beginners and experienced divers to prepare for this thrilling form of exploration.
For certified cave divers – Cenotes Chan Hol, Nohoch Nah Chich, and Dos Pisos are just some of the highly recommended ones.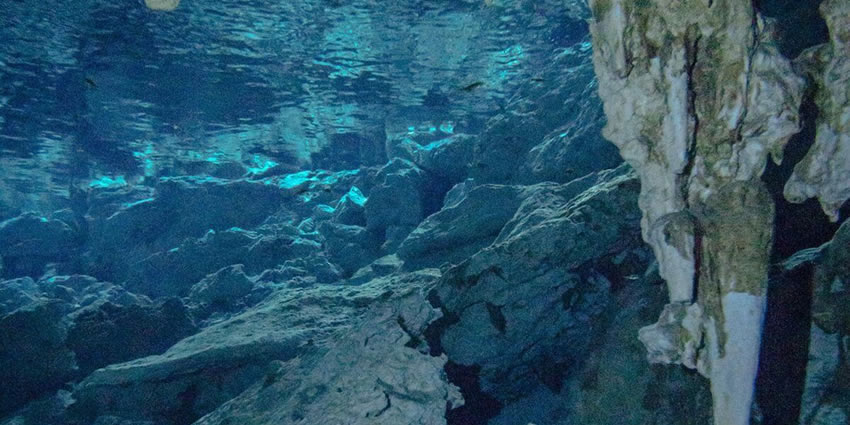 For more information and cave diving safety here's a guide on cave diving in Mexico, by one of the most reputed dive centers Koox Diving, founded by local cave divers and cenote explorers.
Stay Safe and Enjoy Your Underwater Adventure!
When you dive in Tulum, it's important to follow proper diving safety protocols. Be sure to get a briefing from your certified dive instructor about local area conditions before each dive and wear the right protective gear.
Additionally, always plan your dives with a buddy and stick with them throughout the entire adventure!
Make sure you carefully monitor your air supply, which will ensure that you have enough air in reserve to safely ascend when finishing your dive. With these safety measures in place, you can have an underwater adventure that is both enjoyable and safe.
Choose a Reliable Diving Center
It's essential to pick a diving center that is certified and has a great reputation. Look for reviews online, ask friends and family for advice, and look into their dive center accreditation: PADI, SSI, TDI, IANTD, etc.
Before choosing a dive center, make sure they provide detailed information on their training programs, equipment rental policies, and any other services they offer.
Always go through your rental gear thoroughly with your instructor to ensure everything fits properly before starting your dive.
A diving center that provides personalized attention and makes sure all its customers are equipped with proper safety gear is the best choice for an amazing Tulum diving adventure.
Use these tags to read more related posts and reviews:
---
Let us know if this article was useful for you