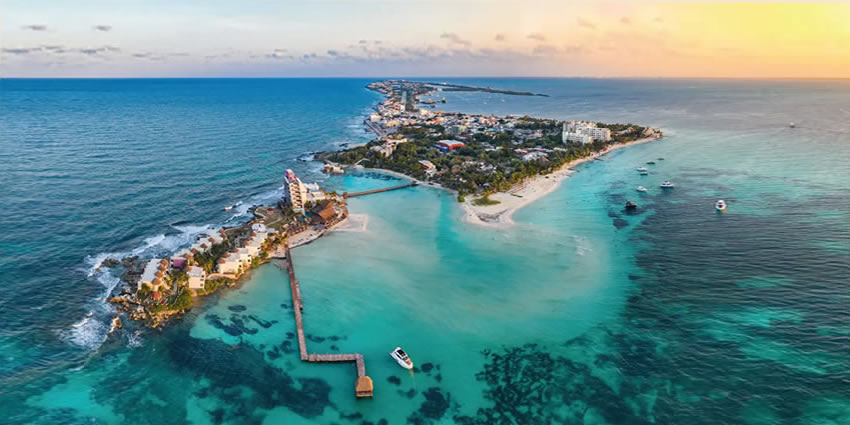 Best Mexican islands to visit and explore
With more than 9,000 km of coastline along the Pacific Ocean, the Gulf of California, and the Gulf of Mexico, it should come as no surprise when you learn that Mexico has over 100 islands in its territory.
From the remote uninhabited small islands to large resort islands where you can relax on the beach to lush bio-reserve islands teeming with flora and fauna, in Mexico you'll find islands for every taste.
Renowned for scuba diving.
Home to the Mesoamerican Reef.
Numerous diving sites with sunken ships and caves.
Ideal for wildlife enthusiasts.
Chance to swim with whale sharks.
Car-free island with a relaxed atmosphere.
Isla Contoy
A tiny, private island.
Rich bird and sea turtle populations.
Restricted daily visitor limit for conservation.
Known for natural beauty and snorkeling.
Playa Norte is a stunning beach.
Explore the Underwater Museum of Art (MUSA).
Protected islands near Puerto Vallarta.
Excellent snorkeling and scuba diving.
Visit Lover's Beach via a cave.
Isla Todos Santos
Famous for its large waves, attracting surfers.
Offers hiking, horseback riding, and wildlife sightings.
Isla Espiritu Santo
A volcanic island with no mass tourism.
Opportunity for kayaking and sea lion encounters.
Stunning landscapes and diverse marine life.
Isla de Venados
Tranquil Island near Mazatlan.
Watersports, snorkeling, and hiking activities.
Iconic view of the Mazatlan skyline.
Cedros Island
A remote island with rich biodiversity.
Popular for sports fishing and wildlife watching.
Home to a rare endemic cactus species.
Exceptional diving spot with diverse marine life.
These islands are a protected marine sanctuary.
Located in a lake, known as "Mexican Venice".
Historic streets, museums, and colorful houses.
Explore Aztec history and traditions.
Isla de Janitzio
Sits in a lake and is home to Purepecha indigenous.
Known for Day of the Dead celebrations.
Offers panoramic views from a tall statue.
Isla Agaltepec
Inhabitants include protected howler monkeys.
Boat trips are popular for monkey sightings.
It is called "Crocodile Island" due to its shape.
Isla Maria Madre
Largest of the Isla Marias archipelago.
UNESCO biosphere reserve with unique flora and fauna.
Former prison visit, lighthouse hike, and mountain biking.
Sacred island with a rich Seri heritage.
Isolated beaches and local fauna appreciation.
Sharks often feed near the island.
Isla Ixtapa
Ideal day trip destination from the mainland.
Offers snorkeling, swimming, and water sports.
Family-friendly and easily accessible.
Guadalupe Island
A remote volcanic island is famous for cage diving with sharks.
Uninhabited except for scientists and fishermen.
Stunning arid desert landscape.
Isla Cerralvo (Jacques Cousteau)
Exceptional scuba diving and snorkeling location.
Marine life passes through due to ocean currents.
Offers clear waters with high visibility.
Isla Perez
Part of Arrecife Alacranes National Park.
Features a historic lighthouse from the 1800s.
Popular for snorkeling, scuba diving, and fishing.
Isla Coronado
Part of the Islands of Loreto archipelago.
Offers bird-watching, snorkeling, and relaxation.
Habitat for blue-footed booby birds, a natural highlight.
These islands in Mexico offer a diverse range of experiences, from water sports and wildlife encounters to cultural exploration and pristine natural beauty. Choose the one that suits your preferences and embark on an unforgettable adventure.
Use these tags to read more related posts and reviews:
---
Let us know if this article was useful for you