The cuisine of Veracruz: a tasty blend of cultures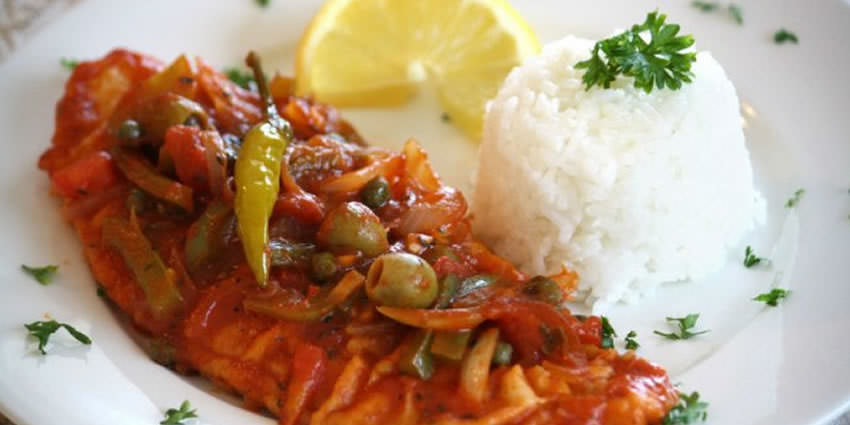 Coconut shrimp, chilatoles, chicatanas, pulacles, cream enchiladas, molotes, volovanes… each region of Veracruz has so much to offer on the gastronomic table, that it would be a tremendous injustice to make a list of only seven dishes.
However, if you are going to travel to Veracruz and need an introduction to the typical cuisine of the state, then you will find seven exquisite dishes that are essential for your tour. You cannot return home without having tried at least one.
Huachinango a la Veracruzana
Veracruz-style Red Snappe is a classic fish dish called the signature dish of the state of Veracruz.
This delicious stew, originally from Coatepec, is recommended to prepare with red snapper.
Traditionally, red snapper is gutted and descaled then marinated in lime juice, salt, pepper, nutmeg, and garlic.
The sauce consists of onions, garlic, tomatoes, jalapenos, olives, and herbs. Caper and raisins can also be used. The fish is baked with sauce until cooked.
The dish cooks in a large skillet over medium-high heat and is traditionally served with small roasted potatoes and Mexican-style white rice.
Arroz a la tumbada
Can you imagine a dish that combines the flavors of the sea in a broth with rice? Such is the "arroz a la tumbada".
Emblematic red rice from the coast of Veracruz, cooked with fresh seafood and flavored with epazote leaves. Serve in a bowl, accompanied by lemon.
Chilpachole de jaiba
Chilpachole refers to a spicy stew or delicious crab soup with seafood. This dish is made with red chilies, and the bouillon or broth used is made from cooking shrimp, shellfish, or crabs.
Zacahuil
Veracruz is a land of tamales. Zacahuil, is a giant tamale made from mashed corn, butter, chili peppers, and spices and can be filled with chicken or pork. The zacahuil is wrapped in papatla or banana leaves and tied with a rope, and then cooked in a wood oven.
Picaditas
All Mexicans love sopes, or rather, the concept of a sope: a thick and fried corn tortilla, with edges, on which we add one, two, or more ingredients.
In Veracruz they know this famous appetizer as "picadita". Just as in the center of the country, the minced can be simple, with cheese, onion, and some kind of sauce; or they can be combined, by incorporating some type of meat such as chicken, beef, beef, and a long etcetera.
Minilla de pescado
The minilla is a somewhat controversial stew for the various varieties that exist along the Gulf of Mexico. Is a snack that can be interpreted as a "fish hash", since it is strips or pieces sauteed in olive oil with onion and garlic.
Already shredded, the fish should be accompanied by a tomato sauce, capers, olives, chopped tomatoes, marinade, jalapeno peppers, and lemon juice. And, indeed, it is served cold or on time.
Ostiones a la diabla
Scallops au gratin and marinated with chipotle sauce, pepper, bacon, and seasoning juice.
Use these tags to read more related posts and reviews:
---
Let us know if this article was useful for you