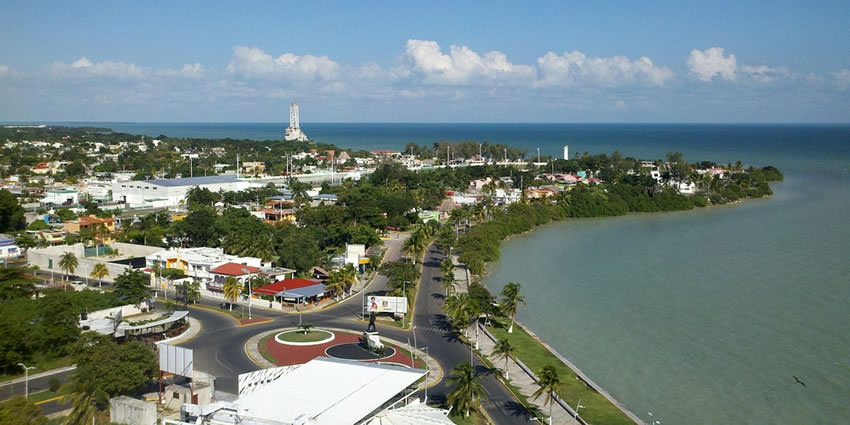 Things to do in Chetumal
Chetumal is the administrative capital of Quintana Roo, many people arrive possibly for business or because they have to do some paperwork in government offices since if we are honest, it is not a place that is famous for attracting tourism. But nevertheless..
Chetumal, the city "where Mexico begins", the capital city of the state of Quintana Roo and city border with Belize, surrounded by countless streams, lakes, lagoons, the deep river, and the Chetumal Bay, in literary terms It is an Island (Fluvial Island).
Chetumal does not have large resorts, but it does have very comfortable, well-located, and above all cheap hotels with options to be close to nature.
The south of Quintana Roo also hides some paradises, here we propose some so that on your visit to Chetumal, you can take maybe a day and get to know some of them.
Boulevard Bay
You can start a walk-in Chetumal by walking along Boulevard Bahía, we recommend doing it from the corner with Av. Emiliano Zapata to the north since it will allow you to see all the sculptures, monuments, and places of interest that you will find along this avenue.
Including restaurants and bars where you can eat or cool off on a hot day.
Some of the highlights that you will find on the way are:
The Renaissance Park
Courthouse
The fiscal dock
Government palace
Esplanade to the Flag
Payo Obispo model
Monument to the Fisherman
Legislative Palace
Sculptural Corridor of Boulevard Bahía
Acoustic Shell
The lighthouse
..and much further north the source of the manatees
All these attractions are located on Boulevard Bahía from the corner with Av. Zapata and walking north, although most are between Zapata and Calzada Veracruz.
Chetumal City Museum
On the corner of Héroes and Chapultepec, there is a building built in 1939, during the government of the then-president Lázaro Cárdenas, inside there are offices of the Cultural Center of Fine Arts, rooms where workshops are given, an open-air auditorium and six rooms that make up the Museum of the City of Chetumal.
It is not a very large museum, but here you can find objects, maps, diagrams, historical documents, and everything related to the foundation and history of Chetumal.
It is open from Tuesday to Sunday from 9:00 to 19:00.
Museum of Mayan Culture
Just one block from the City Museum, on the corner of Avenida Héroes y Gandhi, is also the Museum of Mayan Culture.
It is not the typical museum that presents exhibition rooms with objects and vestiges found but is based on the interpretation of concepts and ideas through key points that explain what the Mayan World was like.
Visitors will learn about the vision of the universe, the underworld, knowledge of mathematics, astronomy, and in general various aspects through environments, models of the daily life of the Mayans, as well as symbols such as a large ceiba tree where the worldview of the Mayans is explained.
It is worth the visit, this museum is interesting and also very educational.
The Museum is divided into three large floors that cover the most important areas of the Mayan civilization, that is, earthly life, the underworld, and the celestial vault. Through these exhibitions, you will be able to better understand the conception of the pre-Hispanic world.
Calderitas Chetumal
If you were to walk all the Bahía Boulevard to the north, you would run into Calderitas, approximately 9 km away from the capital of Chetumal. This area is little known but of great beauty.
Like the Lake Bacalar, its waters have different shades, and due to its tranquility, it is possible to kayak, snorkel or simply swim for a while.
One of its biggest attractions is Isla Tamalcab: a piece of land with white sands and vegetation that will make you feel like the only person in the world.
In Calderitas, the best thing you can do is rent a boat and take a ride to Tamalcab Island, located 2 kilometers away. It is an uninhabited island, a piece of land with white sands and vegetation that will make you feel like the only person in the world.
The island is about 9km long and is home to spider monkeys, eagles, herons, and coatis, among other species of animals.
And if you are one of those who like fishing or snorkeling, here you can practice it. From Chetumal, there is public transport that takes you back and forth without a problem.
Laguna Milagros
Another place worth visiting is the Raudales Lagoon, especially if you are traveling as a family.
It is located on the road after the town of Subteniente López. It is a very beautiful and well-maintained SPA, it has restaurants and activities such as boat rides and kayaks, which can even be done at night and in the light of the moon.
The lagoon is huge, 3 kilometers long, and approximately 2 wide, with enough space to practice whatever you like on its turquoise blue waters.
Laguna Milagros is located 15 kilometers from Chetumal in the town of Huay-Pix and you can rent an area with a table and chairs or stay for a couple of nights.
Bacalar Lagoon
Bacalar is It is located just 35 minutes from Chetumal. The place is extremely beautiful. Not for nothing is it known as the lagoon of the 7 colors that offers dreamy sunrises and sunsets.
Its calm waters allow you to lie down to sunbathe, take incredible photos, swim peacefully, or even take a nap in its hammocks over the water.
Mahahual
Although it is almost two hours from Chetumal, as soon as you get out of the car and admire the blue and green colors of its waters, it will all have been worth it. It is one of the quietest and most beautiful beaches in the state.
In addition to enjoying the typical activities at sea, this place is home to the Lost Mayan Kindom Water Park, with large slides and zip lines that will add a touch of adrenaline to your vacation.
Archaeological Zones
This area of ​​Mexico was home to the Mayan civilization many years ago and the traces, in addition to being evident, are of imposing beauty.
Among the most popular archeological sites near Chetumal is Calakmul, which is also hidden in the middle of a large jungle area.
Also in the surrounding area, you can visit Oxtankah Kohunlich, Dizibanché, and Chicanná, each with its own charm and piece of history to tell.
In the free zone of Belize, there are dozens of stores for clothing, electronics, shoes, accessories, alcoholic beverages, cigars, perfumes, food, and everything you can imagine that can be brought from the other side of the world.
Belize Free Zone Casino
Another attraction in the Belize free zone is the Casinos. These are big, very stylish, and most of all they come with the best in equipment, so much so, that you practically feel like you are in Las Vegas.
You will find blackjack tables, slot machines, roulettes, and poker tables among other attractive and addictive games (be careful with that). They are 24-hour casinos and accept both pesos and US dollars.
Use these tags to read more related posts and reviews:
---
Let us know if this article was useful for you