Tourist Yu'u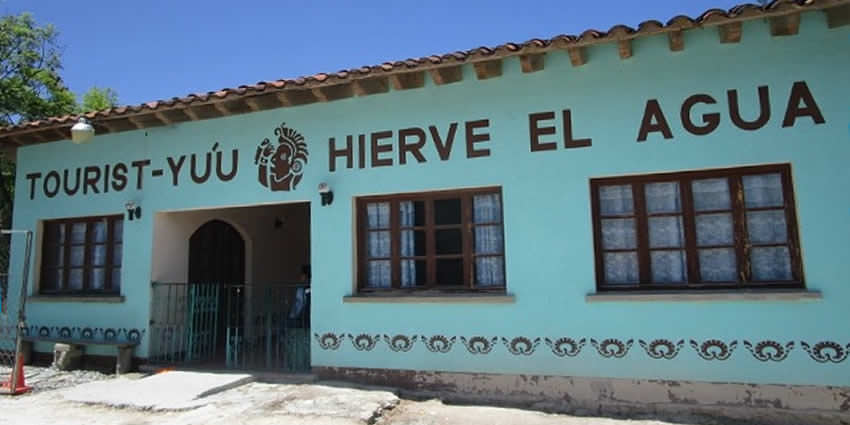 If living the life of the Zapotec is a cultural experience you could appreciate there's no better way perhaps than to book a room at one or several of the special Zapotec Yu'u constructed in various villages across the Oaxaca Valley.
Yú'ù is a Zapotec word meaning house, and in this particular case, local houses have been refitted to accommodate tourists wanting to get up close and personal with the local way of life.
The Tourist Yú'ù are each small inn closely connected to the environment and located in such a way as to bring visitors into contact with local Zapotec people. Their surroundings range from high mountains covered by dense forest to open land and village dwellings.
In 1992 educator Tonny Zwollo traveled to Oaxaca to start a project for the Indian villages alongside the Pan-American highway outside Tlacolula. Inspired by the beauty of the area and the need for work by the residents, she conceived of the idea of a set of tourist houses.
She proposed a plan for the tourist houses to Martin Ruiz Camino, Secretary for Tourist Development in Oaxaca. The idea was to refurbish existing village homes and make them available to travelers wanting to experience Oaxaca like the natives.
The Oaxaca state tourism agency, SEDETUR, created the Tourist Yú'ù Program to promote nature-oriented tourism in Oaxaca's Central Valley. Through this program, the first of its kind in Mexico, small tourist houses have been established in nine Indian villages.
These dwellings offer simple, authentic accommodations for travelers who wish to explore rural villages and cultures.
Services provided at each Tourist Yu'u vary, but each hostel is locally operated. The cost of staying at a Tourist Yu'u is extremely low: $4 per person per night in a shared cabin or $4 for a campsite.
The dwellings can be difficult to locate however because of their rural settings, but a map of their placement can be obtained at the State Tourism Board offices in Oaxaca City. Below is a short list of favored Yú'ù.
Hierve el Agua lies two hours away from Oaxaca.
It's one of the most interesting geological formations in southern Mexico a rock formation with petrified waterfalls. The Tourist Yú'ù facility in Hierve el Agua boasts several guest houses as well as a thermal pool with mud famed for its therapeutic properties.
Just 23 kilometers outside of Oaxaca City is San Sebastian Abasolo.
Named in honor of Saint Sebastian and to honor the memory of José Mariano Abasolo, who fought with Hidalgo and Allende during the 1810 Mexican Independence Movement, this is a picturesque town.
San Sebastian Abasolo is a small town filled with large trees and peaceful paths that invite you to walk along fields of corn, beans, chilies, tomatoes, onions, and flowers. Its principal occupation is agriculture.
Benito Juarez is a mountain small community and the only Tourist Yu'u location that is not in the Central Valley. The town's unique health clinic harvests medicinal plants from its small garden.
A 30-minute walk takes you to El Mirador, which offers a stunning view of the Oaxaca Valley, and, to the northeast, a glimpse of Pico de Orizaba, Mexico's highest mountain.
In the same mountain range, you can also visit the Chinantec Indian small communities of Santiago or Comaltepec. Part of this area is a Pleistocene refuge, formed during the last Ice Age.
Within the area are diverse arrays of flora and fauna, although forestry threatens the region.
Farther east and to the north of Highway 190 in Teotitlán del Valle.
In Nahuatl, Teotitlán means "Place of the Gods".
With approximately 5,000 inhabitants, this town is known for its weaving. It is said that history is woven into wool rugs, many of which are naturally dyed by substances such as cochineal and indigo.
Designs range from Zapotec themes to reproductions of famous paintings originally done by Picasso, Miro, Matisse, Diego Rivera, and Rufino Tamayo.
Santa Ana del Valle is downhill from Quialana, 34 km from Oaxaca City.
The villagers earn their living from agriculture and weaving.
The town has a museum with archaeological objects from the Zapotec period, as well as exhibits on the local experience of the Mexican Revolution, the Danza de la Pluma (Feather Dance), and traditional Zapotec weaving techniques using natural dyes.
Tlacolula is located 30 km from Oaxaca City.
It has approximately 10,000 inhabitants, but on Sundays, residents from outlying towns swell the population when they come together in a street market that has existed since pre-Hispanic times.
The women of nearby Quialana contribute to the atmosphere with their multicolored headdresses.
Use these tags to read more related posts and reviews:
---
Let us know if this article was useful for you