6 best resorts in Mexico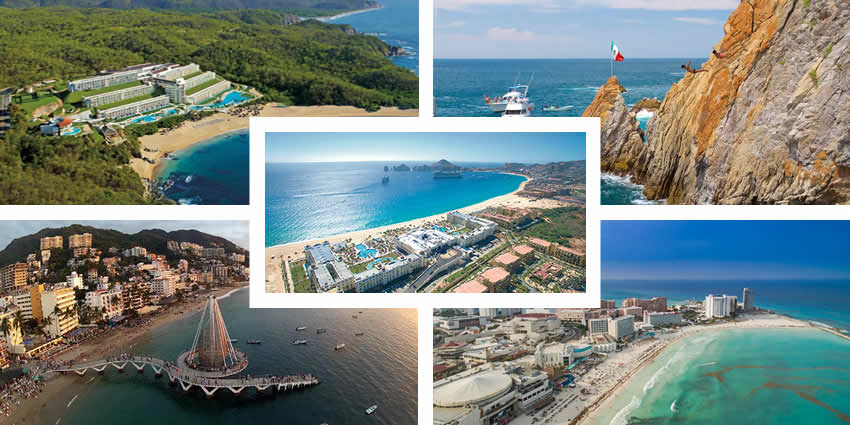 Mexico is always bright, vivid, and very noisy. The colorful culture of the Mayan and Aztec civilizations with their legends and pyramids, colonial architecture, excellent beaches with clean sand, and developed infrastructure.
Mexico is home to numerous resorts, particularly around its most stunning tourist regions, like Cabo San Lucas, Cancun, and the Riviera Maya. For the best of the best, consider a getaway at one of these amazing Mexican resorts.
There really is a lot to do and see here. A variety of coral reefs, underground cenotes, swimming with turtles, diving into the sculptures underwater, and much more. Mexican resorts have all for tourists from all over the world.
A combination of white sand beaches and upscale resorts, Mexico is the perfect vacation destination for those looking for relaxing fun in the sun.
Whether you soak in the sunshine from a private cabana, opt for a tequila tasting, book an exotic spa treatment, or fill your itinerary with outdoor adventures along the sun-kissed coastline, visitors are truly spoiled for choice in how they spend their days in one of these elegant resorts in Mexico.
Boasting jaw-dropping scenery and luxury amenities, before planning a trip south of the border consider one of these top resorts in Mexico.
Acapulco is a place of sun and beaches that due to its proximity to Mexico City, is one of the most beloved tourist destinations of national and foreign tourists.
Cancun is one of the most famous resorts in the Caribbean, with its white beaches, emerald greens, and turquoise waters. However, this resort is suitable not only for a lazy beach holiday but also for a more active pastime.
Cancun is the right place to stay, taking a comfortable one-day tour to any destination in the Riviera Maya, such as Playa del Carmen, Tulum, Isla Mujeres Ferry, Holbox Ferry, Bacalar Lagoon, and more.
There are a lot of public and private transport agencies along with all Riviera Maya and Cancun Airport transfer options.
The once-unknown fishing village has become one of the most popular and fashionable resorts in the Caribbean.
Snow-white sand and warm sun provide the resort with thousands of guests all year round, and ecotourism lovers enjoy visiting local national parks to immerse themselves in the riot of real tropical nature at least for a short time.
For fans of active tourism, there are organized tours around lagoons and bays, as well as along underground rivers.
At night, you can stay on the island and join the rhythm of the folklore show with a torchlight performance, or you can go on a night cruise on one of the ships burning with all the lights.
Tequila on such ships never ends, and the colorful Caribbean rhythms continue to break the silence of the night until dawn.
Due to the climatic conditions, this resort is much more pleasant for relaxation, as there is a less humid climate, which is easier for visitors to tolerate. On average, no more than eight rainy days are noted here per year.
The city extends almost eighty kilometers of the beach line, given to sun worshipers.
Divers should head straight for El Arco and Palmilla with their transparent aquamarine water. Surfers usually choose Acapulquito, and lovers of walks and colorful pictures go to Playa del Amor.
In addition to water activities, guests are offered a jeep safari in the desert, as well as the opportunity to see whales with their own eyes – from an airplane, boat, and sometimes right from the shore.
There are also eight high-quality golf courses here.
There are a dozen beaches in Puerto Vallarta. The best way to start your vacation in Puerto Vallarta is to wander along the waterfront, go shopping, and drink tequila. Then, stroll through the cobbled streets of the Old Town and look for handicrafts at the flea market.
The calm, warm waters of Bahía de Banderas are great for diving. You can also watch artists construct amazing sand sculptures.
And the scattering of fine art galleries in El Centro is the perfect place to go on a self-guided art tour.
Even if you are not a fan of yachting, be sure to stop by the local port – dozens of luxury yachts, cruise ships, and just fishing boats dock at the pier every day.
Use these tags to read more related posts and reviews:
---
Let us know if this article was useful for you