Navojoa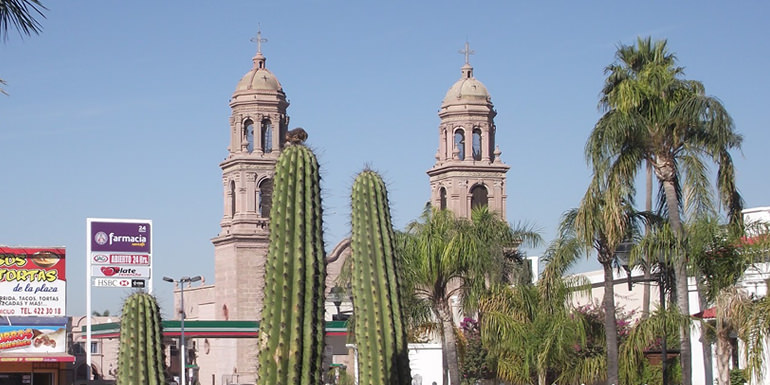 Navojoa is the fifth-largest city in the northern Mexican state of Sonora and is situated in the southern part of the state. The city is the administrative seat of Navojoa Municipality, located in the Mayo River Valley.
Navojoa also acts as a hub for those visiting the colonial town of Álamos, which is 48 kilometers (30 mi) inland toward the mountains of the Sierra Madre.
The city name derives from the native Mayo language meaning "Cactus House" ("Navo"= Cactus, "Jova"= House). The valley has been continuously inhabited since pre-Hispanic times by the Mayo people.
In September 1536, Diego de Guzmán, a Spaniard, became the first known European to reach the valley and the first Jesuit missionaries started settling in the region in 1614. Several geoglyphs from the Mayo tribe can be found along the Mayo River.
Due to the city's distant location from Mexico City, the difficult times of Mexico's independence in the early 19th century were largely absent from the region. However, the city had some importance after the Mexican Revolution of 1910. The Mexican Revolutionary Álvaro Obregón was born in Hacienda Siquisiva, a small town near Navojoa. Álvaro Obregón became president of Mexico after the revolt and initiated an agricultural revolution in the Mayo/Yaqui Valley, introducing modern agricultural techniques and making this valley one of the most prosperous agricultural regions in Mexico.
Airports
Ciudad Obregón International Airport (CEN) is the nearest commercial airport, 48 kilometers (30 mi) north of Navojoa. It receives flights from Guadalajara, Hermosillo, La Paz, Loreto, Los Cabos, Mexico City, Monterrey, and, internationally, from Los Angeles, Tucson, Phoenix and Houston in the United States. Airlines serving this airport include Aeromexico Connect, AeroCalafia, Interjet and low-cost airline VivaAerobus.
Alternate Airports to CEN are Hermosillo Intl. Airport (IATA: HMO) and in a lower sense Los Mochis (IATA: LMM). HMO also receives low cost airlines' flights incoming from the main cities of the Republic such as: Mexico City, Guadalajara, Querétaro, Monterrey, Tijuana, Puebla among others.
Navojoa also has a local airport (see: Navojoa Airport) next to the industrial sector, which is suitable for light private planes. It is about 8 kilometers (5.0 mi) south of the city center.
Buses
Several companies offer low, mid and luxury class bus services from Navojoa to the Mexican Republic and international destinations such as Tucson, Phoenix and Los Angeles in the US. Connections are offered by foreign partner companies to other USA and Canada destinations. A bus station was built in the north of the city; however it is not used and small stations in the city center are used instead.
Old public city buses have been replaced with new models with air conditioning, called SUBA. They run every few minutes and provide simple and cheap transport.
Railroad
A north-south freight-only railroad is in operation, connecting to the Mexican border in Nogales and to Guadalajara, Jalisco.
Highways
The most important highway serving Navojoa is Mexican Federal Highway 15, a four-lane highway which connects it to north to Ciudad Obregón, Guaymas, Hermosillo, Nogales and the United States of America; and to the south to the states of Sinaloa, Nayarit, Jalisco, Michoacán, State of Mexico and Mexico City.
The main state routes serving Navojoa are Sonora State Highway 149 and Sonora State Highway 162.
Also, the Periférico is a semi-beltway encompassing some of Navojoa's southern and western neighborhoods and it is used as a truck route or bypass for Mexican Federal Highway 15. It is currently being enlarged from 2 to 4 lanes in the western section between Centenario Boulevard (under construction) and Sosa Chávez Boulevard.
Others
Although Navojoa's streets are almost all paved, horse-drawn carts are still used by the residents of the small surrounding communities (San Ignacio Cohuirimpo, etc.). Horse carts are numerous enough that there is a parking lot reserved for them on Hidalgo Avenue near the City Market in central Navojoa.
Navojoa has many hotels with a range of cost and quality. Most hotels are located off Pesqueira Street, mainly between the 1-km-long area between Tecnológico Avenue and Centenario Boulevard.
The "Museo Regional del Mayo" (Mayo's Regional Museum) is located in the former railroad station building opposite Santa Fe Springs square. The Museum has 5 rooms which exhibit temporary paint, handicraft and sculpture expositions, pre-Hispanic and colonial objects, ethnographic expositions dedicated to the Mayos' culture and other objects related to Navojoa's history.
The Tehuelibampo Museum is an eco-museum with 89 petroglyphics carved in the stones over 500 years ago by the Mayo people. It is located next to the Mayo river, some kilometers north-west of Navojoa.
The city is near the Gulf of California which offers a variety of beaches. The surrounding country is also popular for hunting ducks, doves and deer.
Las Bocas, 30 miles south of Navojoa, is a small beach community on the Gulf of California that is frequently visited by the local residents of Navojoa during spring. (April–May). It is particularly popular during "Semana Santa" (Holy Week), when campers stay for seven days and then return to Navojoa for Easter celebrations.
Many people from Navojoa own a second house in Las Bocas.
Although one of the closer beaches to Navojoa is located about one hour away in a small town called Huatabampo. The beach is named after the town, hence the name, "Huatabampito" where many families gather year long to enjoy the beauty of the ocean.
The Adolfo Ruiz Cortines Dam, also called Mocúzarit, is a popular fishing spot and stores water used for irrigating the valley via the Mayo River. Other uses include kayaking, water-skiing, geoglyph-viewing and other leisure activities.
Navojoa has a borderline semi-arid climate/desert climate (Köppen climate classification BSh/BWh) with warm winters and hot summers. Precipitation is scarce, but is more common during the summer months during the monsoon season.
You can dial 078 from any phone, where you can find free information about tourist attractions, airports, travel agencies, car rental companies, embassies and consulates, fairs and exhibitions, hotels, hospitals, financial services, migratory and other issues.
Or dial the toll-free (in Mexico) number 01-800-006-8839.
You can also request information to the email correspondencia@sectur.gob.mx
MORE EMERGENCY NUMBERS:
General Information: 040 (not free)
National Emergency Service: 911
Radio Patrols: 066
Police (Emergency): 060
Civil Protection: +52(55)5683-2222
Anonymous Complaint: 089
Setravi (Transport Mobility): +52(55)5209-9913
Road Emergency: 074
Cruz Roja: 065 o +52(55)5557-5757
Firefighters: 068 o +52(55)5768-3700
Use these tags to read more related posts and reviews:
---
Let us know if this article was useful for you