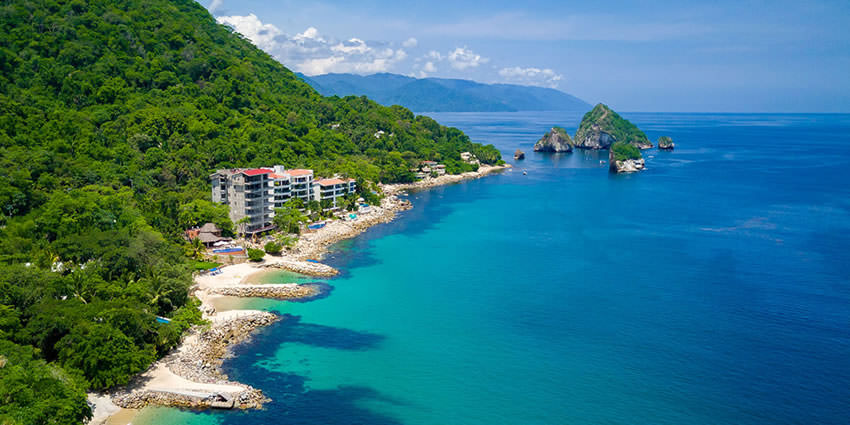 Travel and explore Riviera Nayarit
The Riviera Nayarit stretches 200 miles along Mexico's Pacific coastline, starting just north of Puerto Vallarta.
Riviera Nayarit is a big travel destination: the white sandy beaches, great surfing spots, and delicious tacos are just the beginning, and there's is much more to discover in this tropical paradise!
Riviera Nayarit is a gorgeous stretch of coastline boarding the Pacific Ocean.
The white sand beaches of the Riviera Nayarit are lined with small, colorful pueblos, set to a backdrop of lush jungle and dramatic mountains. There are a dozen or more good surfing spots, the food is delicious and you can do everything from waterfall rappelling to horseback riding.
If you're looking for 23°C and sunny, then Riviera Nayarit is your place. The area has a mild tropical climate; it's on the same latitude as Hawaii, so the weather is pretty similar. The hottest months are July, August, and September when the highs can reach the 32°C.
The rainy season is from late June to early November, which usually means rain in the afternoon.
Horseback Riding on Beaches in Riviera Nayarit
Litibú Beach – Visit this beach on a horseback ride and watch the sunset behind Punta Mita in the distance. There are a few resorts around, but a long open stretch with nothing but soft sand and clear water
Careyeros Beach – At Playa Careyeros, the sand is white, the water is a mesmerizing blue, and the sea cliffs make this place feel like you're the only one around.
Pátzcuaro Sur Beach – Head to Playa Pátzcuaro Sur for some boogie boarding or climbing around the cool rock outcroppings.
Beautiful Beaches in Riviera Nayarit
Playa De Los Muertos – Sayulita can be pretty packed, but you'll find significantly fewer people at Playa De Los Muertos, a short walk to the south. It's named for the graveyard nearby. This little cove is a great spot to swim and snorkel.
Playa Las Cuevas and Playa Malpasos – These beaches are sandwiched between Sayulita and San Pancho, but you'll hardly find anyone there. At low tide, you can even climb through a rocky passage that connects Las Cuevas to Malpasos.
Playa Novillero – Novillero Beach is located on the very northern edge of the state of Nayarit. It's huge; it's more than a third of a mile wide and more than 56 miles long, making it the longest and widest virgin beach in Mexico.
Surfing at La Lancha Beach in Punta Mita, Mexico
Sayulita – Sayulita gained popularity among surfers because its river break is so consistent.
San Blas – If you're looking for some majorly long waves, San Blas held the record for the longest recorded wave at one point—almost a kilometer long!
Here's a full list of the surfing spots in the Riviera Nayarit, but the swells change by the day, so it's always to check the forecast on Surfline, or just ask a few people around town once you arrive.
Participate in a Sea Turtle Release
The beaches of Riviera Nayarit are a popular nesting ground for sea turtles. Of the 20,000 eggs a female sea turtle can lay in her lifetime, often only two of them will make it to adulthood.
That is why there are a number of volunteer organizations in the area that protect the nests and the hatchlings, and create a sea turtle release program to give these tiny sea turtles a better shot at survival.
A number of the hotels and resorts in the area have programs that charge fees to take part in the release, but community-based ones, like the Sayulita Turtle Camp, are looking for volunteers to help relocate nests and make their journey to the sea.
The Sayulita Turtle Camp is open year-round, but most hatchling releases take place from the end of October through January.
Hike among ancient Petroglyphs to the Sacred Pools of Alta Vista
This hike is a draw for both what you find along the trail and at the end.
An Aztecan tribe lived along the Las Piletas river over two thousand years ago; the only trace of their inhabitance of the area is the hundreds of images carved into the rocks along the river.
You can try to guess the meanings of these petroglyphs, but there are also several signs posted along the trail that will give you some more information about the area.
At the end of the hike, you'll reach a beautiful natural pool, where you can cool off before the warm hike back.
Snorkeling by Marieta Islands
The Marieta Islands and the surrounding waters are national parks, so they are protected from fishing and hunting. You should book a boat trip to reach the Marieta Islands.
The water has some of the best visibility, so you can easily spot all the bright yellow Mexican goatfish and Blacknosed butterflyfish.
Whale Watching in Banderas Bay
If you book a boat trip like the one above from December through March, you'll probably get a two for one and get in some great whale watching too.
Humpback whales leave the icy cold waters of the Arctic to come and birth their young in the warm, shallow, and calm waters of Banderas Bay.
The crew on our boat estimated over 700 Humpback whales made passed through Banderas Bay last year, so they said you're pretty much guaranteed to see at least a few whales every time you head out into the water.
You can check out Whale Watching tours in Riviera Nayarit here.
Birdwatching at the La Tovara National Park in San Blas
La Tovara National Park in San Blas, an estuary surrounded by mangroves, is home to over 500 species of birds. You can spot plenty of birds year-round, but thousands more migrate here for the winter.
Tours are offered on small motor boats to explore the mangroves, where you might also spot a few fresh-water turtles sunbathing or crocodiles barely visible above the waterline. If you want to get a closer look at a crocodile, add a visit to the Kiekari Crocodile Farm rescue center.
At the end of the estuary, there's a freshwater spring where you can even hop in (no crocodiles here).
Hike the Salto del Cora Waterfall
For something more adventurous after birdwatching, drive one hour outside of San Blas, where you'll find a 40-meter waterfall called Salto del Cora. Once you reach the village of El Cora, take a short hike down to the base of the waterfall where you can jump in for a refreshing swim!
The Puerto Vallarta International Airport is 20 minutes away from the southern edge of the region.
If you plan on spending more time in the northern area of the region, there is an airport in Tepic, which is about one hour inland from San Blas. Tepic is technically an international airport, but flights are always routed through Mexico City or Tijuana City.
Only Aeromar Airlines and Volaris Airlines fly to Tepic.
Rental Car
For the flexibility to explore the Riviera Nayarit on your own, the best option is to rent a car. The roads are safe and easy to navigate.
Taxis
If you do plan on spending most of your time in one place, like an all-inclusive resort that provides transportation to and from activities, it may be more economical to take a taxi.
Buses
There is also a cheap and fairly efficient bus system in the area, but the routes are limited. All fares are one-way, and there are no transfers.
The ATM (Autostransportes Medina) bus line runs between Nuevo Vallarta and Punta de Mita, making stops at Bucerias and Destiladeras Beach.
The Compostela-Pacifico bus line makes stops further up the coast to Sayulita, San Francisco (usually called San Pancho), and Rincón de Guayabitos. They are green and white buses.
Golf Carts
Once you reach some of the smaller towns along the coast, golf carts are available to rent for local travel.
Most towns are small enough that you can cover the area on foot.
Use these tags to read more related posts and reviews:
---
Let us know if this article was useful for you