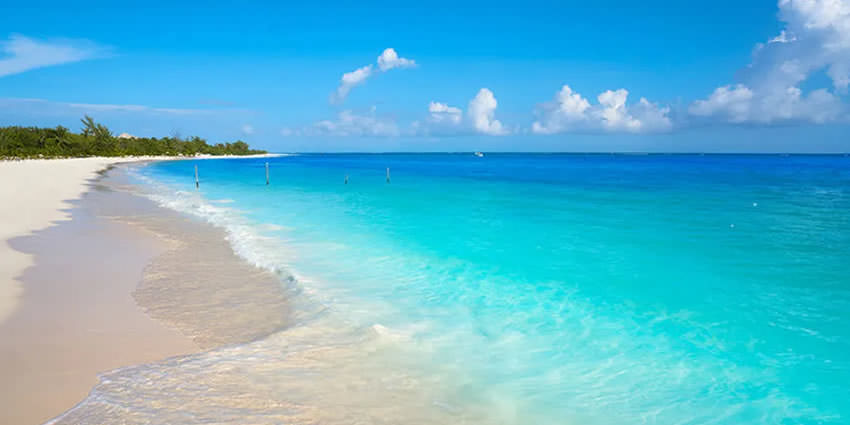 Best places to visit in Cancun and around
Cancun is the most famous Mexican tourist destination in the world, founded in 1974 Cancun is one of the destinations with the greatest diversity of tourist offer in the country and has a number of options for independent travelers, couples, or families.
Cancun is recognized throughout the world for its spectacular white sand beaches and its fascinating sea in shades of turquoise blue. With unique natural places, Mayan culture, aquatic and adventure activities. International gastronomy, spectacular golf courses, sophisticated spa facilities; exclusive shopping centers, typical handicraft markets as well as shows, bars, and nightclubs that make its incomparable nightlife famous.
Cancun has everything you are looking for to live unique experiences.
With the beautiful turquoise blue and white sand of the Caribbean Sea, all the beaches are photogenic in Cancun. Go to Playa Delfines to relax, to Playa Tortugas or Playa Ballenas to do water sports, or stay in Playa Las Perlas with all its amenities. In Cancun, there is a beach for every taste and for every budget.
The hotel zone is the tourist center of Cancun, here are the largest and most famous hotels, such as the Hyatt Zilara, Secrets The Vine, the Hard Rock Hotel, Barcelo Costa Cancun, among others; as well as most nightclubs. There are also many options to eat or shop and like practically all of Cancun, with great beaches.
Throughout the entire hotel zone you will find spectacular beaches with different levels of intensity of the sea waves; Discover why they are unique!
Water activities. The most exciting and entertaining aquatic experiences await you in Cancun so that you can spend moments full of adrenaline and fun whether at sea or in the lagoon.
In Cancun and its surroundings, there are also wonderful natural attractions such as the majestic mangroves, the exuberant jungle, and the mystical cenotes where countless adventure activities are enjoyed.
Night entertainment
The entertainment options that Cancun offers its visitors and that make its incomparable nightlife famous include discos and nightclubs with impressive light shows, acrobats, and the best DJs in the world to unique bars with an extensive menu of drinks and the latest in musical trends.
For those who want something more peaceful and familiar, you can enjoy a fun dinner show aboard a pirate ship, or an authentic Mexican party aboard a trajinera in "Xoximilco" or marvel at the excellent show by Cirque Du Soleil.
Underwater Museum of Art: In 2009, 500 life-size sculptures made by artists from different countries were submerged in Punta Nizuc, the result is a landscape that combines the beauty of art and nature. There are 3 ways to visit it: A glass bottom boat, snorkeling and of course, diving.
El Rey, an archaeological site: El Rey is a small Mayan archaeological site that goes unnoticed by most visitors. But if you are interested in the Mayan culture or you like pre-Hispanic history as much as I do, you really enjoy strolling among its buildings in great tranquility. In addition, El Rey is located within the hotel zone, so it will not be difficult for you to get there.
Isla Mujeres: Isla Mujeres is located just 6 km from Cancun by Ferry. Isla Mujeres is a destination unto itself and has a wealth of entertainment options. A must-see is Playa Norte, one of the most beautiful beaches in the Mexican Caribbean.
Holbox: Getting to Isla Holbox is not so easy (see How to get to Holbox), but it is worth it. Holbox still retains that charm of looking like a small fishing village and its tranquility, purity, and beauty are already becoming scarce in the Mexican Caribbean. In addition, Holbox is the home of the whale shark.
Playa del Carmen and Tulum: Playa del Carmen is the main destination of the Riviera Maya. If you want to get away for an afternoon or a night, «Playa» is a good option, its fifth avenue is great for relaxing and shopping, and the gastronomic offer is first class. For its part, Tulúm has some of the most beautiful beaches in the entire Riviera Maya and the extraordinary Ruins of Tulum facing the Caribbean Sea.
Xcaret: Xcaret is the most famous theme park in Mexico, a true paradise with a sample of Mexican culture and water activities of all kinds. The park is not cheap, but it is well worth it; It is an experience that I personally recommend to family and friends. Check out our guide 10 things you can't miss in Xcaret so that you get the most out of your visit.
Chichén Itzá: Named one of the New 7 Wonders of the World and a World Heritage Site, Chichen Itza is a must-see. Chichen Itza has located 188 km from Cancun and there are several ways to visit it: By public transport, private, or on an organized tour such as Xichen de Xperiencias Xcaret. Among the many attractions of Chichén Itzá are the imposing Castle of Kukulkán, the Sacred Cenote, the Mayan observatory, and the ball court.
Nichupte Lagoon: Between the hotel zone and the city of Cancun is the Nichupte Lagoon. This little oasis in the middle of tourist developments is full of life: Mangroves, crocodiles, white turtles, leopard frogs, iguanas and an endless number of native flora and fauna are some of its attractions. The most common way to visit it is through organized tours. If you like adventure, here you can try flyboarding.
As a Top World Destination, Cancun is very accessible from every corner of the globe. All major airlines have direct or nonstop service to Cancun. Cancun International Airport is the only airport available in the area and every year more than 8 million passengers pass through its doors.
There are several companies that provide public and private transportation services from the Cancun International Airport to any hotel in Cancun.
Once in Cancun, taxis, and buses are available from all the hotels and locations in downtown and the hotel zone.
Use these tags to read more related posts and reviews:
---
Let us know if this article was useful for you