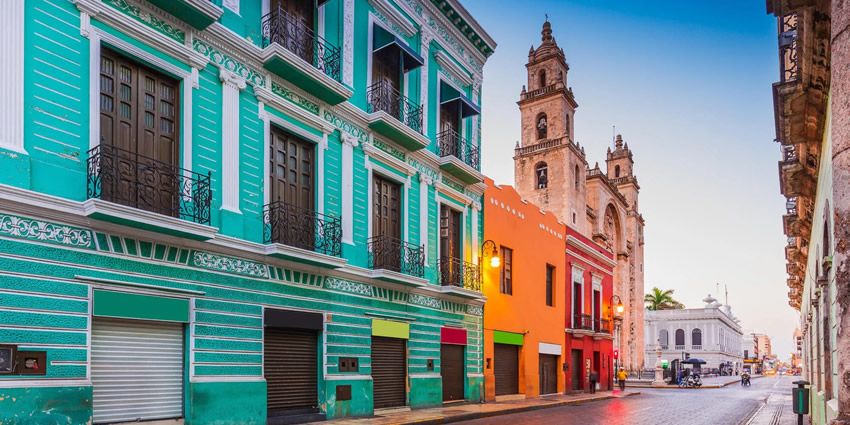 Travel Yucatan – Best day trips to take from Merida
Mérida is a fantastic place to explore for a few days. Yet perhaps one of the best things about Merida is its central location within the Yucatan. This allows for so many amazing day trips for endless adventure around the peninsula.
Merida is surrounded by countless ancient Mayan ruins, beautiful blue cenotes (natural underground pools), fascinating haciendas, quiet strands of Gulf beaches, and intriguing Mayan villages dotting the land in between.
With daily car rental prices in Mérida usually budget enough and bus tickets for just a few pesos, travelers can afford to use Merida as a base for further explorations all throughout the Yucatan.
It's all this incredible value Merida delivers on, which helps to make it a fantastic travel destination for all budgets.
This is why day trips top the list of things to do in Merida. There is always a new Yucatan adventure to embark on from Merida.
Merida is such a perfect hub city as it connects so many of these sites within a short hour or two jaunts from the city center.
Merida can be a charming base to explore the Yucatan to the fullest during the day, then retreat back to Merida for more comfort, food, and fun in the evening.
Here are just a few recommendations for intriguing day trips to take from Merida:
Catch a boat trip to see the wild flamingos in Celestun
Visit nearby cenotes such as cenotes of Cuzuma, connected by horsecart
Take a full-day Chichen Itza trip from Merida
Visit an old hacienda outside of Merida
Have an extreme caving adventure in Grutas Calcehtok or Grutas Tzabnah
Journey to the nearby town of Izamal
Explore the lesser-visited Mayapan Ruins or the nearby Dzibilchaltún ruins
Take a road trip down the Ruta Puuc
Simply have a relaxing day at a beach near Merida
Take an awesome tour to Uxmal, to see one of the Yucatan's famous ancient ruins
The possibilities of how to explore the Yucatan from Merida are virtually endless.
Take a second-class bus out of the city for the day, rent a car to explore entirely on your own, or join one of the many tours in Merida you can find on offer.
Mérida is the perfect base to go out and explore the Yucatan during the day. Have some amazing adventures, then return to Merida in the evening for the excellent restaurants, and the festive nightlife.
That is truly what Mérida's appeal is all about!
And that is what continues to draw a lot of tourists back to this magical city, again and again, as they keep discovering so many awesome adventures all throughout the state of Yucatan.
Use these tags to read more related posts and reviews:
---
Let us know if this article was useful for you