Backpacking in Mexico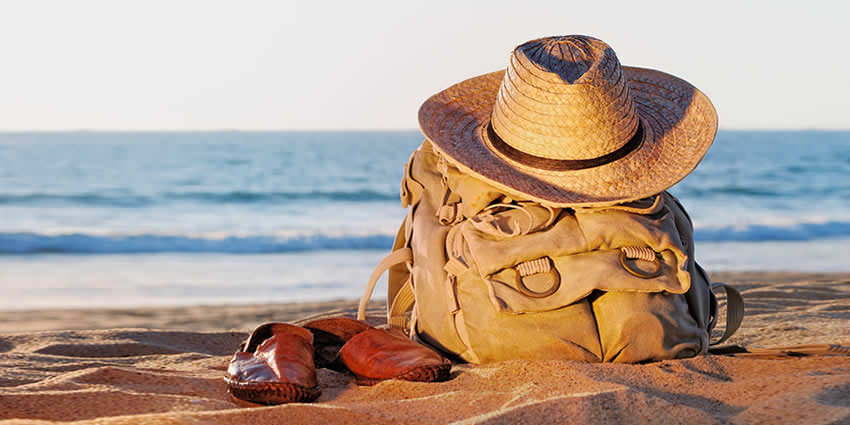 Mexico has somehow gained a reputation for only catering to all-inclusive resort goers, or for being too dangerous. Neither of which is true. Backpacking Mexico is a trip you'll never forget.
Sure, all-inclusive beach resorts such as Cabo San Lucas, Puerto Vallarta, Mazatlan, and Cancun are popular with people on a one-week holiday. And yes, there are some very dangerous areas in Mexico which you better avoid.
But once you're on the ground and are actually backpacking Mexico, you'll see that this country has a lot to offer adventurers, history lovers, culture-seekers, and independent travelers.
There are so many amazing places to visit and backpacking in Mexico is definitely the best way to see and explore the country. Backpacking indeed is one of the world's best travel destinations.
With that in mind, time and geography will be your biggest concerns when traveling in Mexico. If you're limited in time, it's best to stick to one region and do it properly. You'll have to decide what your priorities are when choosing where to go.
Are you interested in cultural sights, adventures, beach time, or big cities?
Mexican Routes will help you make sense of it all with some ideas for how to route your trip.
Mexico offers the traveler nothing but adventure, excitement, and fun. Everything about this country speaks to backpackers, so pack your bags and book your flight, Mexico is waiting for you.
Here are the top 8 reasons why backpacking Mexico is awesome:
One of the things that backpackers think about most when choosing a country to visit is the cost of travel.
Mexico may not be as bargain-basement as cheap as places in Asia or some parts of Central America, but it is definitely affordable. Whether you're on a strict budget, or if you consider yourself more of a midrange backpacker, this country has you covered.
If you don't mind traveling in the off-season, you'll find even better value for money outside of the peak November to March season.
For budget backpackers, you can get by on very little here. Although, you'll have to forego some comforts. Camping on the beaches (especially on the Pacific Coast) is possible, plus, it's fun and free.
Cheap hotels cost 20$ per person, hostels even less. Double rooms in hotels go from 40$.
When backpacking Mexico, you won't be complaining about the cost of food whatsoever. Typical Mexican snack food is very cheap – tacos, quesadillas, soups, tortas, tostadas, etc, can all be had in small restaurants or on the street for 1$-2$ each.
A sit-down meal/plate of food will set you back at 3$-7$.
Transportation is what eats the budget in Mexico. Because of the hefty tolls on many of the highways, buses charge around $7-$10 per hour. If you book the same day or go for the second class (when available) the cost can be much less.
Hitch-hiking is another way to get around, and it's free.
There are also a few low-cost domestic airlines, which frequently have discounts.
A daily budget for a couple in Mexico would vary from around $20 USD per day (camping, hitch-hiking, cooking for yourself, eating street food) to $70 USD per day or more.
At $70 per day, you'll be able to enjoy sit-down meals in restaurants, comfortable buses, private double rooms, and the occasional activity.
Of course, the slower you travel, the lower your costs in Mexico will be.
When backpacking, you sometimes come across a country that is cheap to travel in, and your purchases are really affordable.. but what that tends to mean is that things are lacking in quality. You're not spending much, but you're not getting much either.
Other times, you end up spending a fortune on accommodation, food, and activities and the value for money just isn't there.
One of the great things about Mexico is that you get more bang for your buck than in most other parts of the world.
Rooms may be around $40 a night for a double room, but you get a private bathroom with a hot water shower, the room is clean, the beds and pillows are comfortable, there's air-conditioning, breakfast is included, there's furniture in the room, etc.
Buses can cost quite a bit when backpacking in Mexico, even by North American standards, but the 1st class seats are large and comfortable and they recline with nice leg rest.
There's a/c on the buses, a light lunch is provided, they travel directly without any stops, there's a bathroom on board and there's wi-fi on the bus. Great value for money.
The food is excellent in Mexico and whether you're having a cheap street meal or a nice plate of food at a restaurant, you'll be happy with the portions and flavor.
Meals are large and good quality ingredients are used in the preparation, you won't likely find any random bits of meat in your taco. All of the food is of excellent quality, sanitation standards are high and the bang for your buck is incredible.
If you're backpacking Mexico and aren't camping, then you'll most likely be staying in a hostel. Luckily, Mexico has some of the best hostels ever.
The rooms in Mexico are clean and come with basic amenities that you sometimes don't expect from hostels in other countries, such as soap in the bathroom, hot water showers, bath towels, and daily cleaning of your room.
Typically, breakfast will be included in the room price.
Wi-fi is always available in the hostel and oftentimes there will be a pool and a communal kitchen.
You'll usually find an area for chilling out in a hammock or sunbed. Many of the hostels also have special events each night – live music, salsa lessons, and cooking classes.
We frequently say that the people of (insert a wide variety of countries here) are the most friendly in the world and Mexicans are no exception.
They're always willing to help out with directions, they will try to speak with you on the bus, they're patient when listening to your pathetic attempts at speaking Spanish, and are genuinely kind.
When backpacking Mexico, expect to have some genuine experiences with the local people.
There's a reason why this is such a popular resort country, the beaches in Mexico are incredible.
Soft, white powdery sands and turquoise waters can be found on the Caribbean side, while on the Pacific side, there's a wide range of deep blue waters and emerald coves with golden-colored sand.
The Gulf Coast has some great beaches as well, although they're not as popular as the Pacific and the Caribbean. The beaches are idyllic and the perfect place for surfing, sailing, swimming, and snorkeling.
Isla Holbox, Isla Mujeres, Puerto Escondido, San Pancho, Puerto Vallarta, and Mazunte are some good beach spots when backpacking Mexico.
Food is such a huge part of travel. It unites people, cultures, and customs. Mexico has one of the most famous cuisines in the world. In fact, Mexican food was recently added to the Intangible Cultural Heritage of Humanity list by UNESCO.
Many people think that Mexican food is basically just tacos, nachos, and burritos. When in reality, the cuisine in this country is very diverse and full of flavor. Each region has its own dishes, and even some cities have their specialties.
The state of Oaxaca is known for its incredible mole sauces, chocolate, and cheeses.
When in Jalisco State, make sure to try the birria, which is a stewed spicy goat/beef meat with onion and lime.
In Guadalajara, make sure to try the torta ahogada (Drowned Sandwich), which is a pork sandwich partially submerged in a spicy tomato sauce with onions.
Along any of the coastlines, opt for fresh seafood meals. Shrimp can be bought for a mere 7$ pesos/kg from the local fishermen. In the Yucatan, there are numerous food options. You'll have no problem eating your way through this country.
Definitely go on a food tour if you can while backpacking Mexico. You'll learn so much about the history of the cuisine, how to make various dishes, and of course, eat a lot of great food.
You'll never be bored while backpacking Mexico.
No matter what you're interested in, you'll find it here. The Pacific coast is an excellent spot for surfing and boogie boarding. You can rent a board for the day, or bring your own. During the winter months, you can go on whale and dolphin watching tours on the Pacific side.
However, if you want to save some cash, just keep an eye out and you'll likely spot some whales from land. Around Punta de Mita and San Pancho, it's definitely possible to do some land-based whale watching.
You can also witness baby turtles being released into the wild on many beaches around the country.
On the Caribbean side, sailing, snorkeling, and just chilling out on the beach are the perfect past-times. Snorkel gear is cheap, while sailing could cost a bit more. Get some friends together to split the cost of the boat. Scuba diving is excellent here as well with two dives costing around $75.
The more dives you do, the less it will cost. Diving is more expensive here than in other parts of Central America and Asia, but the visibility, wildlife, equipment, and boats are top-notch.
There are numerous cenotes in the Yucatan that you can explore, either independently for free (or for a very small fee), or you can go on a tour. Plus, you can go diving in a cenote! Renting a bicycle in places like Tulum and Valladolid to explore the freshwater caverns yourself is a lot of fun.
In fact, renting a bike anywhere is a great idea.
In the mountains, village treks are available, as are independent walks and volcano hiking. Waterfalls, bird watching, river safaris, zip-lining, and cave exploration are all on offer in Mexico.
Even if you're not usually interested in museums and ancient sites, while you're backpacking in Mexico, you'll be blown away by the ruins.
Chichen Itza, a Wonder Of The World, is just one of the many incredible Mayan sites.
Visit the ruins set in the thick jungle of Palenque or the unique architecture at Uxmal. Climb the crumbling steps up to Coba, and wander through the impressive ancient city of Teotihuacan – an hour or so outside of Mexico City.
The relics of Tulum are set on a cliffside with incredible views over the Caribbean Sea. The swimming there is great as well so bring your bathing suit. Other nominations are Ek Balam and Dzibilchaltun.
No matter how many ancient sites you see, each one is unique and interesting in its own way.
Use these tags to read more related posts and reviews:
---
Let us know if this article was useful for you