Tren Maya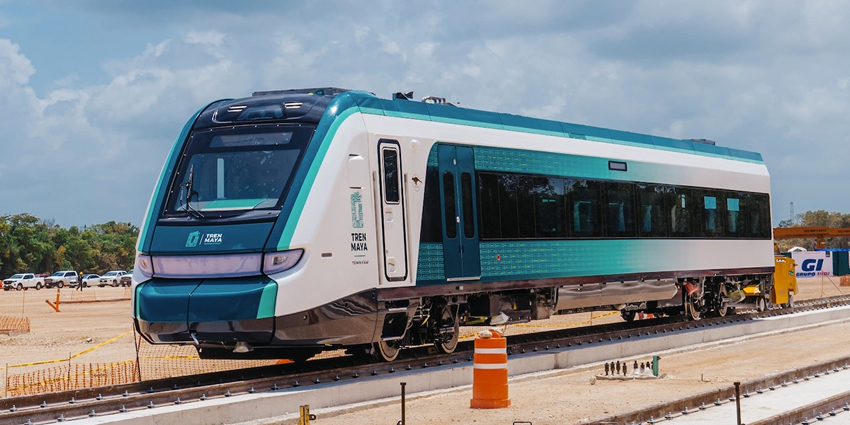 Tren Maya (Mayan Train or Maya Train) is a 1,525-kilometre intercity railway in Mexico that will traverse the Yucatán Peninsula. Construction began in June 2020 and is scheduled to be completed by late 2023.
Mayan Train is an infrastructure project for socioeconomic development and sustainable tourism. It constitutes a new rail transportation service that links the most important cities and areas of tourist interest in the Yucatan Peninsula.
Mayan Train is a means of rail transport that will connect the Yucatan peninsula in Mexico, owned by the public company Olmeca-Maya-Mexica. It will offer three types of services: passenger train, tourist train, and cargo train.
It was first presented to the governors of the Mexican southeast on September 10, 2018.
Maya Train railway line departs from Palenque and heads northeast towards Cancún, through two routes that skirt the peninsula. The objective of this railway line is to connect tourist destinations in the Caribbean with lesser-known places inland.
The train will offer 3 different services:
Regional: To function as a means of transportation between nearby cities and allow easy movement for both local and foreign passengers.
Tourist: The train will have a unique design and its route will cover archaeological zones, magical towns, and beach destinations of tourist interest.
Cargo: It will facilitate the transport of goods through the Mexican southeast, saving costs, delivery times, and environmental impact.
The mega work will cover about 1,500 kilometers with 20 stations and 690 kilometers of electrified roads.
The Tsíimin K'áak fleet will be used for the Mayan Train, which is part of the Alstom company's family of trains and is a hybrid model (diesel-electric) where each train will consist of between 4 and 7 cars.
The owner of the Mayan Train is the company OMM (Olmeca-Maya-Mexica) under the control of the Secretary of National Defense (SEDENA). While the operator is the National Tourism Fund (FONATUR).
Construction began in June 2020. In January 2022, to speed up construction, the route was changed to no longer enter Playa del Carmen. As of June 2021, 10% of the project had been completed. This had increased to 25% by February 2022.
The route will consist of 7 sections.
Section I runs from Palenque to Escárcega (228 km)
Section II from Escárcega to Calkiní (235 km)
Section III from Calkiní to Izamal (172 km)
Section IV from Izamal to Cancún (257 km)
Section V from Cancún to Playa del Carmen / Tulum
Section VI from Tulum to Bacalar (254 km)
Section VII from Bacalar to Escárcega (287 km)
Environmental and indigenous rights activists objected to the construction of new tracks through the jungle.
In March 2022 Greenpeace organizers tied themselves to heavy machinery as a protest against construction in Quintana Roo that involves cutting down the jungle without environmental studies having been made.
Use these tags to read more related posts and reviews:
---
Let us know if this article was useful for you