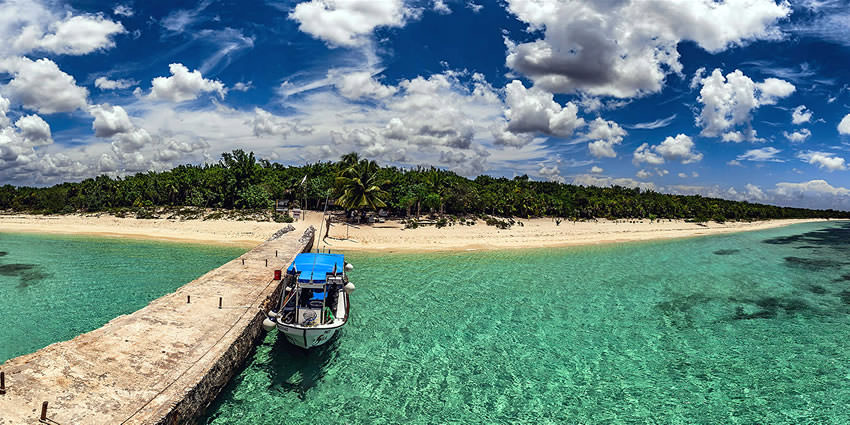 Diving in Cozumel
The best diving sites in Cozumel
Diving is a unique way to enjoy the magic attractivity of the underwater world and its abundant marine life. Diving is one of the most popular kinds of active tourism in Mexico. The diversity of amazing dive spots in Mexico makes it one of the most famous diving destinations.
There are a lot of wonderful dive spots to explore all over Mexico and Cozumel island, definitely, is one of the best places for scuba diving. The island is almost everywhere covered with dense green vegetation, and around the perimeter of the island, beaches with clean white sand contrast with the sky-blue sea waters. The seabed of the island of Cozumel is covered with excellent coral sand, which is why the waters are always crystal clear. This island is the best place for diving and fishing.
Cozumel is a well-known resort with all-year-long diving. The island is famous for its drift diving, all-year-round fantastic clear visibility, and spectacular coral formations. Depending on the season and the place, the sea currents can be medium to high strength.
The island belongs to the great belt of Western Atlantic Reefs. Cozumel, the island of reefs and corals, is a diving paradise. Jacques-Yves Cousteau named it one of the world's best scuba diving spots. Since then, Cozumel has turned into one of the most famous resorts and one of the best places for divers in Mexico. Today, the very mention of Cozumel is associated with tropical fish, clear water, and the world of beautiful corals.
The corals that open to the eye during deep dives are amazing. On your way, you will encounter barrel-shaped coral sponges, black corals, and deep-sea fan corals. You will see corals growing like a tower at the top of the older parts of the reef. This is how stunning underwater gardens are formed. If you are into underwater photography, the reefs here are fantastic scenery.
Don't miss a night dive experience! You will be amazed at how different the reef looks at night that you saw underwater during the day, especially if you dive into the full moon. Gliding through the darkness and seeing a new ecosystem come to life is just a magical, unreal feeling.
The best spots to dive in Cozumel:
The best scuba diving spots in Cozumel are located along its west coast, both to the north and the south of the main strip of resorts. Here are the top best and most popular Cozumel dive sites:
Santa Rosa Wall
Colombia Wall
Palancar Reef
Palancar Horseshoe
Punta Tunich
Barracuda Reef
Paradise Beach
Aerolito de Paraiso
Cozumel is home to over 500 fish species and a vast diversity of tropical corals. During an underwater trip, divers can observe sea turtles, endermic magnificent toads, amazing green moray eels, slow-moving nurse sharks, sea bass, and a lot of vivid and colorful tropical fish.
Within the winter months, divers often can watch eagle rays at some distance. For the summer it is more typical to encounter timid and skittish blacktip reef sharks.
The southernmost deep reefs are adorned with massive coral heads covered with a vase, pipe, rope, elephant ear, and many other amazing vibrant-colored sponges. Coral heads create a network of amusing canals, straits, and drifts on the walls above the vertical cliffs.
The shallower reefs further north are full of many small fish and invertebrates. Divers often see here hawksbill sea turtles, amusing stingrays, and small schools of nests, fearsome and ferocious behavior barracudas, and other open water fish. Check behind the coral heads and you can spot nurse sharks, moray eels, lobsters.
Shore diving from resorts offers a chance macro subjects on artificial reefs and the sandy bottom. The current is minimal at these sites, providing ample opportunity to shoot anemone shrimp, juvenile drumfish, spotted moray eels, stingrays, trumpetfish, and more.
Diving at dusk into the night divers will discover more marine creatures, including some curious squids and maybe also seahorses.
The climate in Cozumel is subtropical with the average temperature from 21°C to 29°C, the humidity is usually high, around 90 percent, but it is softened by the constant breeze. Apart from the rainy season (September to November), showers are rare.
Cozumel can offer excellent diving almost all year round. The rainy season lasts from May to September, with the largest influx of tourists from December to March.
The average water temperature in winter is 25°C and 29°C in summer. Despite the warm climate, you need a light to medium neoprene suit or leotard if you are planning several dives in a day.
The average water temperature in winter is 25°C and 29°C in summer. Despite the warm climate, you need a light to medium neoprene suit or if you are planning several dives in a day.
A big variety of dive operators provide Cozumel dive packages and services.
Blue Project Cozumel provides 2-tank-dive trips, twilight and night dive, personalized diving, and snorkeling.
Visit the Arrecifes National Park with the Blue Project team as well as explore the marine vibrant life in Tunich Cozumel diving trips.
The Blue Project Cozumel will get you to every dive known spot on Cozumel. A quick and safe trip, comfortable seats on board, and the staff in love with their job! A good mood and a cheerful atmosphere are definitely part of a never-to-be-forgotten dive trip!
Use these tags to read more related posts and reviews:
---
Let us know if this article was useful for you