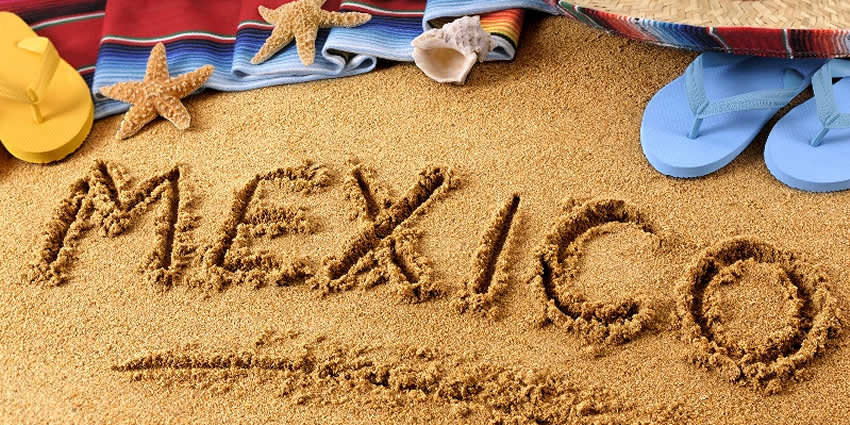 Why summer is the ideal time for your Mexican escapade
Does your idea of a perfect holiday involve relaxing on a sunkissed beach?
Are you also someone who enjoys taking your tastebuds for a joyride while exploring new cultures? Wouldn't it be great if your vacation was also strewn with occasional visits to historic sites and monuments?
Have you nodded your head in agreement with any of the above questions?
Then chances are you've already started planning your trip to Mexico.
The quintessential charm of Mexico
Apart from its warm people, lively culture, delectable cuisine, ancient Mayan ruins, and tranquil beaches, Mexico is also one of the few countries that are open to travelers from all over the world during the pandemic.
The country offers a diverse array of attractions for tourists, ranging from the ethereal cenotes to vibrant wildlife. Then there's the picture-perfect natural landscape accentuated by a pristine coastline.
It's one of those destinations that has something to offer for every traveler.
If you look around for tips to plan a holiday in Mexico, most of the advice you'll receive will have a common thread. If you haven't guessed it yet, most people will warn you against visiting Mexico during summer.
But if you're someone who enjoys sparsely crowded places alongside great discounts, traveling to Mexico during summertime is right up your alley. Contrary to popular belief, summer weather in Mexico isn't all about the scorching heat.
You just have to find the right places in the country that are suitable for visiting during the summer.
Summer in Mexico: A closer look
A simple Google search about the weather in Mexico will tell you that the country experiences two distinct seasons: summer (May – November) and winter (December – April). Winter brings bright sunshine, cool winds, and pleasant temperatures.
On the other hand, summertime in Mexico is also the rainy season in the central and southern parts of the country. The northern part of Mexico, including Baja California Sur and Chihuahua, experiences higher temperatures of around 38°C.
Also, June marks the advent of hurricane season in Mexico.
That's the reason most people prefer to visit the country between December and April.
But if you're willing to go down the road less traveled, summer in Mexico has many surprises in store for you. While the average temperature during summer hovers between 21°C and 32°C, you'll have most of the tourist places to yourself.
Also, don't make the mistake of generalizing Mexico's weather.
It's a huge country that offers varying weather conditions from one region to another. While you'll experience scorching heat in Northern Mexico, inland destinations, such as Mexico City, Toluca, and Chiapas, boast pleasant weather throughout the year.
Moreover, summertime is considered a low season in Mexico. That means you can expect great deals in most resorts and accommodation facilities. The airfare will be fairly cheaper too.
The best part about visiting Mexico during the summer
If you're willing to brave the summer weather in Mexico, you'll be rewarded with some of the most unique travel experiences. To begin with, it's the perfect time for a rendezvous with sea turtles and whale sharks.
May is the month when female sea turtles arrive at the beaches for nesting and laying their eggs, which hatch roughly 40 days later. If you're up for a challenge, try joining a local rescue program that safeguards the eggs and releases baby sea turtles into the ocean.
Or if you're craving a more intense adrenaline rush, you could swim with giant whale sharks at Cancun or Isla Holbox. Summertime in Mexico also brings the ideal currents for polishing your surfing skills.
Frequent spells of rain in central and southern Mexico turn these otherwise arid regions into abodes of lush greenery. Don't be surprised if you find you feel tempted to pause every few minutes to soak in the scenery and capture it with your camera.
Festivals Galore
It wouldn't be fair to write about summer in Mexico without mentioning the country's sprightly cultural festivals. These events offer an intimate glimpse of the Mexican culture and the local lifestyle.
Whether you're a music lover or a history buff, the local festivals in Mexico will enthrall you with their lively spirit. Some of the most famous festivals include Oaxaca de Juarez (held in July) and Guelaguetza.
As of July 2021, there have been nearly 2.6 million confirmed cases of COVID-19 and more than 234,000 deaths in Mexico since the start of the pandemic. The country has administered more than 49 million vaccination doses (39% of its population).
The good news is that you don't need a negative RT-PCR report for traveling to Mexico. You just have to fill out a risk identification form at immigration on your arrival. Also, most resorts will have you sign a health declaration form.
Keep in mind that you'll need a negative RT-PCR test result taken 72 hours or less before your travel for return to the U.S.
Mexico has developed a four-tiered traffic light system to implement COVID-19 restrictions. Tourist destinations are color-coded in four shades, namely red, orange, yellow, and green, with red denoting the highest level of restrictions.
Popular destinations, such as Baja California Sur, Yucatan Peninsula, and Quintana Roo, have been marked orange. Mexico City and Veracruz are classified as yellow while Oaxaca is marked green.
Make sure you check the color-coded map of Mexico for the latest update on travel restrictions.
Whether you're an adventure lover or wildlife enthusiast, traveling to Mexico during summer will be a memorable experience. Make sure you pack the right clothes and check the latest pandemic-related restrictions before planning your trip.
Use these tags to read more related posts and reviews:
---
Let us know if this article was useful for you