Things to do in Santiago de Querétaro, Mexico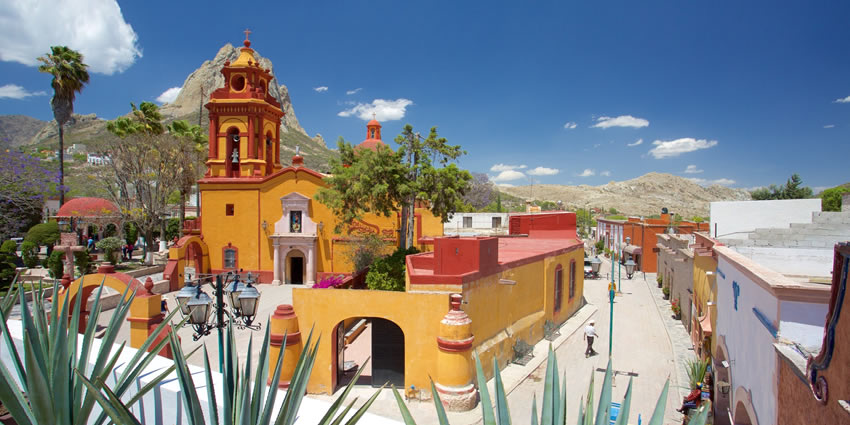 Santiago de Querétaro, often referred to simply as Querétaro, is a captivating city nestled in the heart of Mexico. With its rich history, stunning architecture, and vibrant culture, it offers an unforgettable experience for visitors.
Querétaro is situated in the central region of Mexico, about 220 kilometers northwest of Mexico City. Its strategic location makes it easily accessible by road, with several highways connecting it to major cities in the country.
The optimal time to visit Santiago de Querétaro is during the months of October to April. During this period, the weather is mild and pleasant, making it ideal for exploring the city's outdoor attractions and enjoying its festivals.
Be sure to check local event calendars, as Querétaro hosts various cultural and historical festivals throughout the year.
Santiago de Querétaro has a captivating history that dates back to the pre-Columbian era. It played a significant role during the Mexican War of Independence and was even briefly the capital of Mexico.
The Queretaro City's historic center has been designated a UNESCO World Heritage Site.
Must-visit places in Querétaro City
Plaza de Armas: Start your journey at the heart of the city, where you'll find the picturesque Plaza de Armas. This central square is surrounded by historic buildings, including the iconic Querétaro Cathedral.
Take a leisurely stroll, admire the fountains, and immerse yourself in the lively atmosphere.
Head to the Aqueduct of Querétaro for a glimpse of colonial architecture.
Aqueduct of Querétaro: A marvel of engineering, the Aqueduct of Querétaro is a symbol of the city's past. Spanning over a kilometer, this aqueduct showcases impressive arches and is a testament to colonial-era ingenuity.
Continue to Cerro de las Campanas for a historical perspective and stunning views.
Cerro de las Campanas: Explore history at Cerro de las Campanas, where Emperor Maximilian of Mexico was executed. The hill offers panoramic views of the city and houses a museum dedicated to this pivotal event.
Next, visit Teatro de la República to appreciate its cultural significance.
Teatro de la República: This historic theater is where the Mexican Constitution was signed in 1917. Admire its neoclassical architecture and, if possible, catch a performance to experience its cultural significance.
Afterward, wander to Jardín Zenea for a relaxing break.
Jardín Zenea (Jardín Obregón): Zenea Garden or Obregón Garden (formerly known as Plaza de San Francisco, Plaza de Abajo, and Plaza del Recreo) is a public square in the historic center of Querétaro City.
Zenea Garden is located in what was once the atrium of the Temple of San Francisco.
The Zenea Garden has been called in many ways throughout its history. It came to be known as "Plaza de Abajo" or "Plaza del Recreo". However, in 1874, the governor of Querétaro, Benito Santos Zenea, rebuilt the plaza and renamed it with his last name.
Since its founding, the square has had a central fountain. The first to be placed was a copper sculpture dedicated to the god Neptune, however, during the siege of the city, it was melted down and used to make cannons.
The fountain that you can find today in the center of Zenea Garden is dedicated to the Greek goddess Hebes (the goddess of youth) and was founded by Carlos María Rubio, the city's bishop in 1871.
Inside the garden, there is a kiosk and dozens of flower boxes around which locals and tourists walk during the weekends. It is a pleasant place to rest during a tour of one of the most beautiful historical centers in the country.
Continue to the Museo Regional de Querétaro to gain a deeper understanding of the city's past.
Museo Regional de Querétaro: Delve into the past through a diverse collection of artifacts and exhibits that highlight the evolution of Querétaro from its pre-Hispanic origins to the present day, providing an informative insight into the city's rich heritage.
Peña de Bernal: Journey to the charming town of Bernal to admire the iconic monolith, one of the largest in the world. Explore the town's cobblestone streets, shop for local crafts, and savor traditional Mexican cuisine.
San Miguel de Allende: Discover the artistic and cultural hub of San Miguel de Allende. Stroll through its vibrant streets, visit historic churches, and immerse yourself in the local art scene and colonial architecture.
Tequisquiapan: Experience the tranquility of Tequisquiapan, known for its hot springs and relaxing atmosphere. Enjoy a day of rejuvenation at a spa, explore the town's markets, and savor regional wines.
Jalpan de Serra: Venture into the Sierra Gorda region and explore the charming town of Jalpan de Serra. Visit the UNESCO-listed Franciscan missions and admire the natural beauty of the surrounding landscapes.
La Peña de Estilo: Visit La Peña de Estilo, renowned for its hiking trails, striking rock formations, and stunning panoramic views of the picturesque countryside, offering an immersive experience that connects you with the great outdoors.
Tolantongo Caves: Experience the natural wonder of Tolantongo, famous for its stunning thermal springs and underground caves. Enjoy a relaxing soak in the warm pools and marvel at the unique geological formations.
Cerro del Cimatario National Park: Explore the Cerro del Cimatario National Park, located just outside Querétaro. Hike to the summit for panoramic views of the city and its surroundings, and enjoy a day of outdoor activities.
Pinal de Amoles: Discover the beauty of Pinal de Amoles, a picturesque town surrounded by lush landscapes. Visit waterfalls, explore local traditions, and connect with nature in this serene setting.
Cadereyta de Montes: Journey to Cadereyta de Montes and explore its colonial architecture, historic churches, and vibrant markets. Don't miss the stunning gardens and sculptures of the La Mesa del Cura Garden.
Vinedos La Redonda: Indulge in a wine-tasting experience at Vinedos La Redonda, a renowned winery located just outside Querétaro. Enjoy guided tours of the vineyards, learn about the winemaking process, and sample a variety of wines.
Santiago de Querétaro offers a captivating blend of history, culture, and architecture. Its central location, pleasant climate, and range of attractions make it a year-round destination. Querétaro promises a memorable experience for every traveler.
Use these tags to read more related posts and reviews:
---
Let us know if this article was useful for you