Xel-Ha Park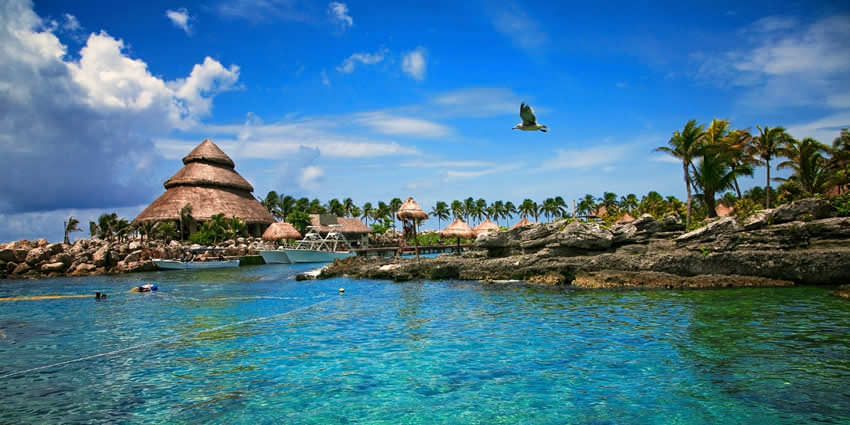 Xel-Ha Park (Parque Xel-Há) is a commercial aquatic theme park and ecotourism development located on the Caribbean coast of the state of Quintana Roo, Mexico.
It is situated within the "Riviera Maya", approximately 240 kilometres (149 mi) to the north of Chetumal, and 122 kilometres (76 mi) south of Cancun.
Due to its privileged location, during pre-Hispanic times Xel-Há served as an inner port, trading center, place of pilgrimage and shelter for sailors, as well as being a food reserve during bad weather.
The park is named after the site of Xelha, an archaeological site of the pre-Columbian Maya civilization, part of which is located within the lands leased to the park.
The ancient Mayas baptized this wonderful site with the name Xel-Há, which in the Mayan language means "where the water is born".
According to legend, Mayan gods joined together their wisdom, illusions and love for beauty to create a place that would bring together the best of nature, and that place was called Xel-Há.
Once created, the gods were so pleased with this heavenly place that they decided to permit the entry of all mortals.
To take care of it and the elements that surround it, the gods appointed three guardians: Huh, the Iguana, Guardian of the Land, Chuc Kay, the Pelican, Guardian of the Air, and Kay Op, the Parrotfish, Guardian of the Water.
It is said that these guardians still protect and care for the Park and everyone who comes to visit.
Xel-Há is a true paradise for nature lovers and an amazing natural aquarium. It is a model for sustainable tourism development, with unique family attractions.
This Natural Wonder is an unparalleled place of beauty. Swim and snorkel among tropical fish that have made the inlet of Xel-Há their home. Discover the jungle trails of this paradise by foot, bicycle or mini train. Admire different species of flora and fauna in their natural habitat during your tour.
Enjoy an unforgettable experience in an All Inclusive Park. Indulge your taste buds with traditional Mexican dishes in any of the four restaurants or enjoy popular flavored drinks or a refreshing cocktail here at Xel-Há.
The park is centered around the natural inlet and lagoon, which is promoted as one of the main attractions of the park that forms with the flow of the river through rocks mixing salty waters with fresh underground water currents.
The inlet of Xel-Há is a natural aquarium where hundreds of species inhabit; such as tropical fish and an abundant flora. In the park there is also a turtle reserve, where research is constantly carried out to learn more about marine life and contribute with the ecological maintenance of the area.
A shark fence extends across the lagoon's entrance, and the public is permitted to swim and snorkel in the lagoon.
Underwater the limestone has been eroded into a myriad of small caves and grottos.
A variety of aquatic-based activities are offered by the theme park, including snorkelling, scuba diving, and swimming with dolphins.
The theme park was founded in 1984, and is under the management and marketing of the Mexican-owned Experiencias Xcaret Group.
From 2010 to 2015, Experiencias Xcaret has been recognized as one of The Best Mexican Companies.
In early 2014, Xel-ha became the first tourist park in the world to obtain an EarthCheck Gold certification, in part because the park invests in sustainability programs, buys local products and trains its staff on environmental care and preservation.
Lazy River
Excellent Snorkeling
Courage Cliff
Mayan Cave
Mo's Flight
Children's Playground
Ixchel's Rift
Floating Bridge
Bay of Caprices
Natural Inlet
Mangrove Chaac
Cenotes
Rope Swing
Grotto El Dorado
Ice Cream
Mayan Wall
Nature Trail
Apiary
Hammock Island
Tree Nursery
Train Ride
The Beach
Mayan Cave
Rope Bridge
Conscience Path
Available at extra cost
Swim With Dolphins
Sea Trek
Snuba
Stingray Encounter
Zip Bike
Full Spa Services
Avaiable equipment
Snorkeling Equipment
Towels
Bicycles
Lounge Chairs
Hammocks
Kayaks
Inner tubes
Life Vests
Lockers
Bathrooms
Showers
Dressing Rooms
6 Restaurants & Bars
ATM Machines
Baby Strollers
Wheelchairs
Public Telephones
Park Guides
You can purchase the Xel-Há Tour which includes first class transportation service.
If you want to arrive in your own car or a rented one, parking is free.
Or if you prefer you can arrive by taxi or bus from Cancun and Playa del Carmen.
For your return, you can rent taxi service at special booths in the Park.
Or if you prefer you can buy a bus ticket directly onboard when the bus arrives in the parking lot.
Bus schedule:
Playa del Carmen: 5:40 p.m. and 6:05 p.m.
Cancún: 5:45 p.m. and 6:10 p.m.
The times may vary according to the season.
Open from 8:30 a.m. to 6:00 p.m. all year long.
Entrance fee
From $80 to $150 (depends on program)
The park also has some pais additional attractions.
Children under 4 years old have free admission (an ID is required).
Children 5 – 11 years old get half off the adult ticket price.
An official ID must be presented at the Park's ticket booths. In case this isn't possible, the child's rate will apply to those who measure between 3 and 4.5 ft.
Children over 5 ft. but under 12 years old must present identification to verify their age.
Reservations cancelled with more than 2 days in advance before the booking date are subject to a 10% administrative fee; from 2-0 days or in case of no show, reservations are non refundable.
It is not possible to make the change of date the same day of your visit.
Cancun: 998-883-3143
USA: 1-855-326-0682
Argentina: 0800-122-0384
Colombia: 01-800-952-0705
Brasil: 0-800-892-3371
Venezuela: 0-800-162-7384
Spain: 900-965-224
Use these tags to read more related posts and reviews:
---
Let us know if this article was useful for you