5 reasons to visit Mexico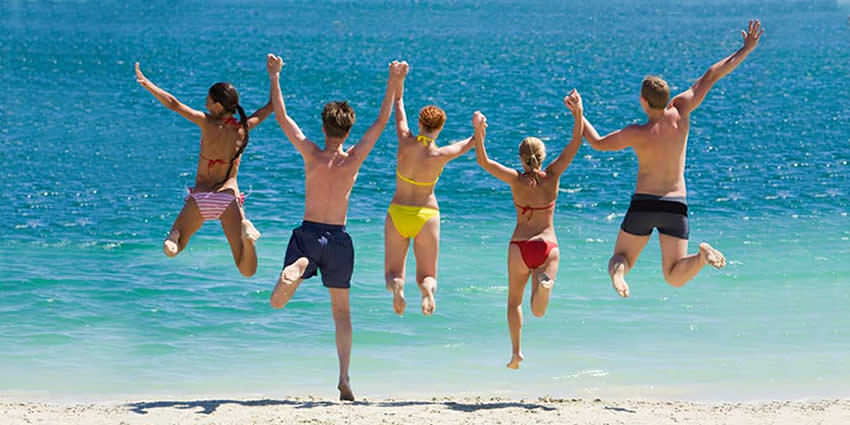 If you are thinking of making your first trip or want to travel for a long time, but you don't know which country to choose, traveling through Mexico can be a very good option.
Mexico is one of the 10 most visited countries in the world
Traveling through Mexico is an enriching and unique experience. This is one of the popular countries to visit, as it has it all: food, beaches, natural landscapes, extreme adventures, art, music, and much more.
Imagine having a margarita while enjoying the beaches of the Mexican Caribbean, climbing dormant volcanoes, or trekking through the jungle.
Mexico is a true paradise, which in addition to being very cheap has a wide variety of places to choose from. Visit colonial cities or surround yourself with the charm of the Mexican magical towns. In Mexico, there is a bit of everything.
Mexico is an ideal country for a long-term trip. You will not get bored spending so much time in this beautiful country!
Here we bring you a list of 10 reasons to travel to Mexico that will surely motivate you to pack your bags and prepare for your next trip.
1. Lots of variety
Traveling in Mexico is like traveling to different countries: charming towns, modern cities, forests and jungles, paradisiacal beaches, impressive waterfalls, turquoise waters, and much more.
There are regions of Mexico that are ideal for ecotourism, such as the state of Chiapas.
Areas to visit archaeological sites such as Campeche and Yucatán.
You can visit the colonial cities in the center of the country. Or enjoy the Caribbean beaches on the Yucatan peninsula.
If you want something more hippie, we recommend the coast of Oaxaca or the state of Nayarit. Two of the favorite destinations for surfers.
Relax on the beaches of the Mexican Caribbean or bring out your explorer side by delving into its jungles.
One of the best things about traveling in Mexico is that wherever you go you will always find a museum, an archaeological zone, a nature reserve, statues, temples, monuments, and a host of other things that tell the history of Mexico.
2. Delicious food
Traveling through Mexico means eating delicious and that is priceless.
Mexico is one of the countries with the most gastronomic wealth. Current Mexican cuisine is influenced by Spanish colonization and indigenous foods. Here each state – and even each town or locality – has its own typical dishes, both original and tasty. In fact, traditional Mexican cuisine received the distinction of the Intangible Heritage of Humanity by UNESCO.
Not all food is spicy in Mexico. The sauces always go to part. Anyway, don't worry, you can always order your food without chili.
Traveling through Mexico without eating some street tacos is like not having come. There are many street stalls and markets where you will find delicious food and in good hygienic conditions. Tacos, tamales, tortas, pozole, broths, soups, tostadas … you have to try it all!
3. Nice weather all year round
Thanks to the great variety of climates, Mexico can be visited all year round, each area still has its best season to visit.
Coastal areas are hot and humid throughout the year, while that the highlands have mild temperatures even in winter, the dry season here lasts from November to April and this is the best time to visit the highlands of Mexico.
Along the tropical coasts of the Caribbean Sea and the Pacific Ocean winter and spring months, between November and April, are the best for a trip, while the summer months are the most humid and where the risk of tropical cyclones is high, most cyclones occur in the months between August and October, although the cyclone season runs from June to November.
4. Easy to get around
Public transportation in Mexico is quite an adventure. In many places, there are no official stops or schedules. You just have to stop where you see a small group of people and ask if the "truck" route passes through that place.
With just a few pesos you can move by minivan or bus to almost anywhere. Of course, don't expect them to have fixed stops on the fixed route.
You can use an app called Moovit to move easily with public transport, but in Mexico, it only works in relatively large cities.
For longer and nightly stretches better use 1st class or luxury bus line, those buses even have WiFi, so you even could work comfortably as you are transported to the next destination.
In terms of flights, there are also very cheap options such as Viva Aerobús and Volaris.
5. Not expensive
You don't need to spend a lot to travel around Mexico, the key is to have a financial plan to use your money wisely.
You don't need thousands of dollars to travel through Mexico. Each state has many places that are worth visiting and it is enough to take a bus to get to and visit them.
On the other hand, flight prices are no longer inaccessible and it is possible to travel from one end of the country to the other in a matter of hours and without spending so much.
Nor is it necessary to eat in an exclusive restaurant to enjoy the best of the gastronomy of a place, in fact, the food in the markets and inns can give you a much more memorable gastronomic experience.
The same happens with accommodation, although Mexico offers first-class hotels, there are also cheap accommodation options and even if you like adventure you can travel to a destination where it is possible to camp for little money.
As in all countries, you can find low-budget hostels or accommodations, and you also can use Airbnb. Staying in the home of the Mexicans is a great experience that you have to live.
And for the food, we recommend eating in the markets or street stalls. It's amazing how well you can eat for just a couple of euros.
Is Mexico safe?
Although Mexico has gotten a bad rap for drugs and crime, Mexico is a relatively safe country for tourists. It is true that robberies or petty theft can occur, but no city is exempt from it.
Statistically speaking, Mexico City is safer than cities like New York.
Although there are certain areas that are more unsafe than others, throughout our route just avoid these hot areas and do use common sense.
Of course, you can go out at night, go to a party, take public buses in Mexico and nothing bad will happen.
But avoid attracting attention by wearing jewelry or expensive items, watching your belongings from pickpockets, don't carry a lot of cash. These tips not only apply to travel to Mexico but around the world.
Use these tags to read more related posts and reviews:
---
Let us know if this article was useful for you