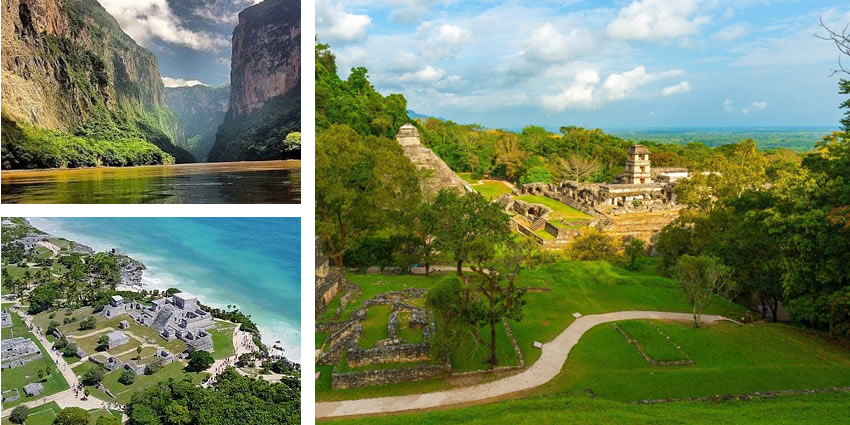 Most beautiful National Parks in Mexico
The concept of national parks stemmed from the desire to protect special places. Countries around the world have their own national park system designed to protect natural treasures and showcase amazing local landscapes.
Mexico is no exception and has many national parks just waiting to be hiked through and marveled at.
Mexico recognizes 67 federally protected natural areas as national parks, which are administered by the National Commission of Protected Natural Areas (CONANP), a branch of the federal Secretariat of the Environment and Natural Resources.
Together, they cover a combined area of 1,432,024 hectares, representing 0.73% of the territory of Mexico.
So, here are 10 great national parks to add to your Mexico travel bucket list.
If you're looking for beauty in all directions, then look no further than Sumidero Canyon National Park in Chiapas. This park is south of Chiapa de Corzo and a rather large one.
However, the top highlights here are the beautiful canyon with the river running through it. The canyon walls rise more than 900 meters high and are home to features like the "Christmas Tree" and the "Cave of Colors."
This is a very dramatic and diverse park with everything from rapids to barren walls, rainforests, and waterfalls. Boating is a popular thing to do here, with tour boats regularly navigating the waterways to show tourists the sights.
River journeys begin at the Cauhuare embarkation point near Chiapa de Corzo and take up to three hours.
Mexico is also filled with amazingly preserved ancient ruins, many of which are in the country's national parks. An example is Tulum National Park, which is an ancient Mayan site along the coast and also near some top-notch beaches.
This ancient site will teach you about the history of the city of Tulum, which peaked during the 13th, 14th, and 15th centuries and was one of the last great Mayan cities before the civilization's fall to the Spanish.
Many tour buses come here, so it's best to arrive early in the morning to beat the crowds. You can reach this area in about an hour from Playa del Carmen or in about an hour and a half from Cancun.
Palenque National Park is another great park to explore if you enjoy archaeological ruins and learning about local history.
The structures here aren't typically as busy or popular as other Mexican archaeological sites, which is great if you don't like fighting crowds to see the sights.
Also, the complex is very well-preserved and great for wandering through the palaces and temples to get a sense of what life was like for the ancient Mayans.
A lesser-known national park to visit in Mexico is Huatulco National Park, which is also known as Bahias de Huatulco National Park. Here you can see many species of plants, mangroves, forests, and waterways.
Some animals spotted here include dolphins, whales, turtles, armadillos, hummingbirds, salamanders, and hawks. This is also a significant area for fish species and popular among fishermen.
The region was established as a national park in 1998 and spans many acres in the Oaxaca countryside. Come here to experience unspoiled beauty and enjoy a deserted beach or snorkeling or diving in the waters on a trip from Cruz Huatulco.
Waterfalls are always a subject of awe and wonder, and there's an impressive waterfall to see at Basaseachic Falls National Park in Chihuahua. It's located in the Sierra Madre Occidental mountain range and is a top attraction for outdoor enthusiasts.
The famous waterfall falls about 246 meters high and has stunning cliffs on each side. You can also see lots of lovely flora and fauna on your hike to the falls.
The Grutas de Cacahuamilpa National Park is unique because it has one of the largest cave systems in the entire world. This is a top region for rock climbing, rappelling, and exploring on two feet.
Come here to get your adrenaline fixed and also explore the underground rivers and plant life. You'll also see some excellent stalactite and stalagmite formations in the tunnels and caves that are approximately 10 kilometers in length.
Take a guided tour of the caves, and tours usually last about two hours. For extra adventure, look into visiting Limontitla Canyon for rock climbing and rappelling.
Come to Iztaccíhuatl-Popocatépetl National Park to see volcanic peaks and towering mountains capped in snow. These mountains can be seen from Mexico City, but it's definitely worth visiting the park to get closer to them and explore the area.
This is an ideal park to visit if you enjoy hiking through high-mountain scenery and forests.
Nevado de Toluca National Park is a volcanic park, which is close distance to the top attractions and resorts in Mexico City. The volcano here is no longer active, and you can often see snow on the mountains' high peaks.
This park is also known for its archaeological attractions, mountain biking, horseback riding, and shallow lakes.
The Loreto Bay National Marine Park is a natural blue whale sanctuary and spans an area of 2,065 sq km. This park is on the east coast of the Baja California Peninsula in Mexico and includes five islands that are largely uninhabited.
In Loreto Bay National Marine Park visitors can find here more than 39 percent of the world's marine mammal species here and over one-third of the world's cetacean species here.
While you're here, you can check out Coronado Island, which is a couple of miles from the Baja Peninsula and one of the most beautiful islands you'll ever see. Keep an eye out for dolphins, sea lions, and pelicans here.
Cabo Pulmo National Park is a true natural beauty and is located at the tip of the Baja California peninsula. This is a coral reef site and marine park designed to help protect the sea creatures here, some of which are endangered.
Come to this park to go scuba diving and see what lies below the ocean's surface.
Snorkeling is also popular here, as well as boating on small and large vessels. It's about 60 miles north of the tourist epicenter of Baja and has been a protected area since about 1995.
Use these tags to read more related posts and reviews:
---
Let us know if this article was useful for you