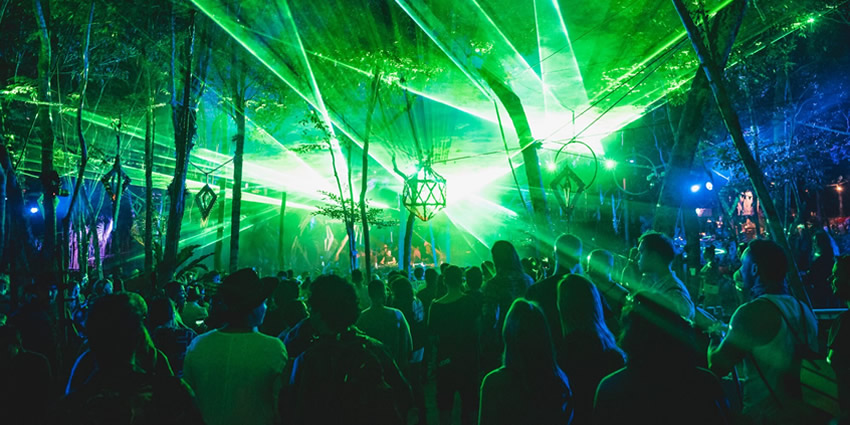 Tulum nightlife: The best bars & clubs in Tulum
Tulum is a hidden gem on the Riviera Maya, loved by both tourists and vacationers. Located between the Caribbean Sea and the tropical selva, Tulum is a place with an authentic ambiance on the Mexican Caribbean coast.
The seaside of Tulum has a very characteristic coastline, clear turquoise waters, and a very cozy atmosphere of tranquility and relaxation.
Tulum is the perfect place to live a carefree life, surrounded by astonishing natural landscapes, original wooden cabins facing the turquoise sea, listening at night to the gentle sound of waves, and looking at bright stars.
Tulum Beach Zone is divided into three areas:
North Beach Zone lies to the south of the Tulum ruins area
Middle Beach Zone is extended from Sunset Beach to just past the Arca restaurant
South Beach Zone is extended until almost the Sian Khan reserve
Tulum is not just a small town with a downtown area located a short distance from the beachline.
The downtown of Tulum has shops, restaurants, and traditional-style street bars and nightclubs. And less than 1 km away, along the coastline, are located glamorous hotels, restaurants, and fancy cocktail bars – and all this is also Tulum.
Tulum is a place that you can enjoy both during the day, visiting its archaeological sites, cenotes, beaches.. and at night. Without a doubt, Tulum at night is one of the best places for great beach parties on the Riviera Maya.
Bars and nightclubs in Tulum and its surrounding areas
Tulum is well known for its special vibe, as well as its nightlife with many options to choose from.
In Tulum, you won't find discotheques and large crowds, instead, you will discover small and shabby-chic establishments where to dine, chill, and dance under the stars.
Tulum nightclubs take turns holding the biggest parties, with each bar and club being the party scene on a specific night of each week. All bars and clubs are open all night round.
There are numerous bars and clubs located along the beachline. The atmosphere that prevails in these places is mainly relaxed and informal.
Bar hopping is an option as many restaurants and bars are within walking distance and you can also feel free to wear whatever you want as all dress codes apply.
If you decide to go out and party in Tulum, there are two options: the downtown area and the beach zone, each with its own distinct flavor and atmosphere
Most bars and clubs are located in Pueblo (downtown area) and in the Middle Beach area. The town of Tulum has more casual and affordable bars, while the Middle Beach area has more chic and upmarket spots.
Most of the bars in the beach area of Tulum are on the side of the road surrounded by selva and have outdoor seating, letting sit, relax, and unwind in the fresh night air and sea breeze.
Without a doubt, visiting the bars and clubs of Tulum at night will leave an unforgettable experience during your trip.
Batey Mojito & Guarapo Bar is best known for their fresh fruit mojitos, which they make from fresh sugar cane. The bar is open most of the day, with a chilled-out vibe during the daytime but the place comes alive and crowded after dark. There is often live music in the evenings.
Ki'bok is the best coffee shop in Tulum, with its top terrace open at night, turning into a fun open-air bar. The terrace faces over the street above the Batey Mojito bar towards Pasito Tun Tun, offering a bird's eye view of the festive street below.
Kiki is the best and only real nightclub in Tulum. Parties here start late, the DJs are great, and the crowd is dominated by young people. The club is open from Wednesday to Saturday.
Pasito Tun Tun is a casual bar known for its mezcal cocktails, a wide selection of tequila and mezcal, and a friendly atmosphere. The bar up front stays busy and buzzing, while the garden patio has a slower pace. Live bands and DJ sets usually start after 22:00.
Casa Jaguar is a trendy, Caribbean-style restaurant that hosts wild jungle parties every Thursday night on their back terrace. Parties begin after 23:00 and run late into the night with local and international DJs. Casa Jaguar also hosts smaller jungle parties on Tuesdays and some Saturdays.
Gitano is a nice place with a swanky Mexican restaurant in front and a sultry mezcal bar in the back. Gitano is the place to be on Friday nights. DJ sets start around 23:00 with all-night drinking and dancing under the jungle canopy.
Gitano also hosts smaller jungle parties on Friday nights. And on Sundays, Wednesdays, and Thursdays, live bands play earlier in the evening at a more subdued pace.
I Scream Bar is a hippie-vibe, jungle bar working out of a shack made from VW bus scraps, including working headlights. I Scream is part bar, part vegan ice cream shop, and part taco shop, and their specialty is ice cream shots (scoops of their house-made ice cream with tequila or mezcal poured on top).
Mur Mur is best known for its restaurant, serving Baja California Mexican cuisine. But it also has one of the best, most romantic, and most underrated bars in Tulum. Drinks are creative and refreshing, with inspired combinations of fresh fruits, smoky mezcal, and herbal syrups made in-house.
La Zebra Hotel hosts a free, family-friendly, salsa dance party every Sunday. Free lessons are offered from 18:30 to 19:30 followed by 3 hours of dancing with live music.
The party is served by the main bar and restaurant and by their beach bar The Mulberry Project, offering an amazing selection of handcrafted, signature cocktails.
Rosa Negra is the ultra-premium signature concept of the Grupo Rosanegra. A unique gastronomic experience in a lively, energy-charged atmosphere, with a resident DJ playing a mix of contemporary beats and Latin influences. Reserve RosaNegra Tulum VIP table booking online.
Kin Toh is a Mayan-Mexican avant-garde restaurant and bar with the most attractive design in Tulum with outdoor nests with sunset views over the jungle and indoor island-like tables surrounded by hanging catamaran nets for lounging.
Papaya Playa Project holds the biggest party of the week on the beach on Saturday nights – especially during the Full Moon Parties. The largest parties take place in December, and January, especially on New Year's Eve, with crowds of up to 3000.
The VIP table reservation service ensures that you spend a unique night, with personalized attention, at the nightclub of your choice. TulumTables will take care of every detail. Enjoy and relax without worrying about anything.
Check out the prices for any restaurant, bar, or nightclub in Tulum. The price range will depend on the day of the week, the month, the number of persons, and the special guests of the night. Payment is accepted at the venue with both a credit card and cash.
Experience Tulum's nightlife scene like you've never done before!
Use these tags to read more related posts and reviews:
---
Let us know if this article was useful for you