Top ways to get around Mexico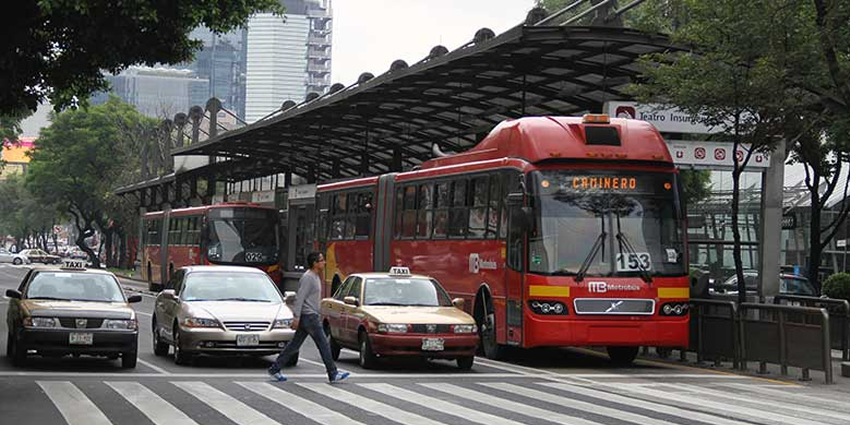 Mexico is a vast striking country with lots of things for visitors to see and do. It's a land of tropical waters, underground grottoes, and ancient monuments that inspire wonder and attract millions every year.
Mexico offers unique cuisines, stunning beaches, and endless adventures.
It's the perfect place for a romantic getaway, a big city break, or that long-awaited vacation. Mexico is also quite affordable, and the great weather makes it a country to visit at any time of the year.
From the beautiful Cancun waters, and the stunning shorelines of Tulum, to the archaeological marvels at Chichen Itza and the architectural wonders of the Aztec Major Temple, a trip to Mexico will stay with you for a long time.
Mexico is a large country, and journeys between key destinations can be very long. Only a couple of tourist train routes exist the Copper Canyon railway in Chihuahua and the Tequila Express from Guadalajara.
Ferries connect Baja California with the Pacific mainland, and smaller boats serve islands off the coasts.
Transportation Options in Mexico
Mexico is a massive country, and the distances between crucial tourist attractions may be huge.
It's essential to know how to move from one place to the next quickly. Below are the top ways to get around when you're in Mexico. Mexico residents and visitors have several inexpensive movement options around the country.
Buses
Buses are the most popular form of long-distance transportation within the country.
Mexico has an extensive network of roads connecting the major and remote cities and towns. Autobuses de Oriente (ADO) buses transport passengers in first, second, and executive class buses across long and short distances.
The Mexican government has invested heavily in road infrastructure in the past few decades, so bus trips are mostly smooth, inexpensive, and relatively quick. For example, taking the ADO bus from Cancun airport to Tulum, an 81-mile journey takes around 1.5 to two hours.
If you're traveling around Mexico on a budget, buses are your best bet. A bus ride gives you a front-row peek into Mexican culture. It's a melting pot of members from different parts of Mexican society.
Taxis
Taxis are another to get around while you're in Mexico. However, you have to be wary of shady drivers looking to rip off unsuspecting tourists. It'd be best if you decided on a price with the driver before getting a ride.
Airports and bus stations have booths that sell taxi vouchers at fixed prices.
You may also want to have a destination in mind, or else the driver will take you to the hotel that offers him the biggest commission. Be security conscious when boarding a taxi; avoid unmarked vehicles and or unlicensed drivers.
If a cab feels wrong, then you may want to look for another option. Following your gut may be the reason you avoid getting scammed, or worse, kidnapped.
Car Rental
Driving in Mexico requires care, but renting a car is often an extremely good way of quickly seeing a small area that would otherwise take days to explore using public transport.
It's pretty challenging to drive in Mexico. If you're up for a challenge, a rental car provides an easier way of exploring small areas without the delays of buses or the risks of taxis.
You must be at least 23 and have an International Drivers' Permit to hire a rental car in the country.
If you're driving in Mexico, prepare to encounter negligent drivers who disregard basic road rules, make illegal turns, and regularly break speed limits.
Suppose you're visiting the rural parts of the country, you'll most probably have to navigate terrible roads, wandering farm animals, and large speed bumps frequently.
GPS technology is largely unreliable in these parts, so you may want to get clear directions before you set out. It's also not unusual for Mexican cops to stop foreign-driven rental cars for flimsy reasons to extract bribes.
Avoid driving at night as much as possible. Highway robberies and violence continue to be a problem. These challenges form part of the Mexican adventure experience, so it's better to look forward to them with excitement than unease.
Chauffeured Car
If you wish to move around but don't want to drive, you can hire a chauffeured car to drive you around. Local car rental agencies often have chauffeur packages at daily rates.
You'll be charged based on the number of days you'll be using the service and the type of car you choose.
Flying
Although public transport is frequent and reasonably efficient everywhere, taking an internal flight at least once may be worthwhile for the time it saves.
Mexico operates an extensive network of airports with airlines that take passengers across the country daily. The size of the country means that flying is sometimes the only way to get to a place quickly.
The competition among airlines in the country keeps airfares generally low. The most popular routes get more passenger traffic and are usually cheaper than routes with less traffic, even though they may be longer.
Cycling
Mexicans aren't big on cycling. The sheer size of the highways and the uncertain road conditions haven't created conducive cycling environments. Some tourists still find their way across Mexican cities on a bike – places with flat terrains like Veracruz, Cancun, Acapulco, and Campeche witness significant cycling.
If you want to cycle across the hilly terrains of rural Mexico, though, you should equip yourself with an efficient mountain bike, complete protective gear, and a bike repair kit before you embark on your adventure.
Mexico offers a lot to see and do. But if you only have time for a few things, here are our top five things to do while in the country.
Explore Chapultepec Park: One of the world's largest parks contains an amusement park and an anthropology museum that houses timeless relics from Mexico's rich past.
See the Aztec Pyramids at Teotihuacán: The Aztec Empire remains an integral part of Mexican history. The three massive pyramids at Teotihuacán tower over the landscape and leave visitors with a sense of awe and wonder.
Wander in Guadalajara: Stroll through one of Mexico's most renowned cities. Enjoy fine tequila and mariachi performances. Guadalajara is filled with museums and a maze of streets that remind you of a colonial past. Explore your spirituality at the famous Guadalajara cathedral as you walk through the works of some of Mexico's most renowned artists.
Visit Oaxaca: Enjoy art, food, and mezcal in this striking colonial city. Head over to Mazunte or Puerto Escondido for surfing and some delicious seafood.
Have Fun in Cancun: Cancun is a holiday destination that offers it all. Shop in the local market and party at sunset. See the ancient Mayan ruins and unwind at scenic and exotic resorts.
Use these tags to read more related posts and reviews:
---
Let us know if this article was useful for you