Cruises from Cancun: Caribbean adventure from Mexico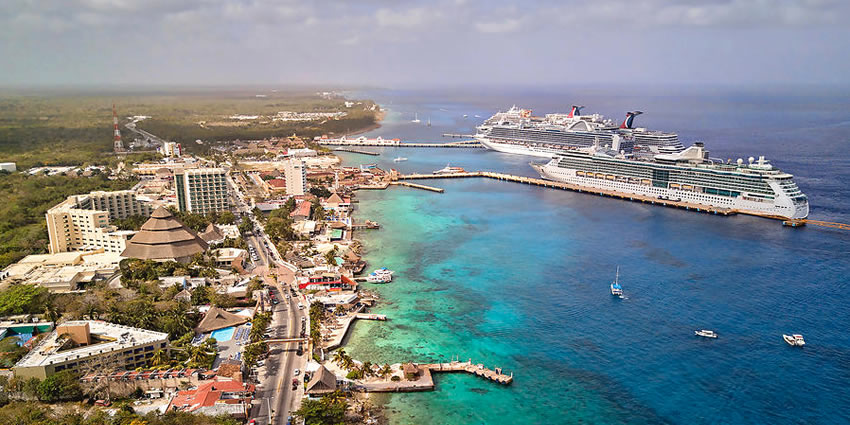 Embark on a thrilling adventure and set sail on a Caribbean cruise from the vibrant shores of Mexico. Cruising offers an incredible opportunity to explore multiple tropical destinations, indulge in luxurious amenities, and create unforgettable memories.
Caribbean cruises from Mexico are a gateway to a world of excitement, relaxation, and endless fun. Picture yourself basking in the warm sun, feeling the refreshing ocean breeze, and immersing yourself in the vibrant culture of the Caribbean islands.
One of the main reasons why Caribbean cruises are so enticing is the sheer variety of experiences they offer. From pristine white-sand beaches and crystal-clear turquoise waters to captivating historical sites and thrilling water sports, every day brings a new adventure.
Imagine snorkeling through colorful coral reefs, exploring ancient Mayan ruins, or ziplining through lush rainforests. Whether you're seeking relaxation or adventure, these cruises provide an enticing blend of both.
Onboard the cruise ship, you'll find a world of indulgence and entertainment. From world-class dining and live performances to rejuvenating spas and exciting casino games, there's something to satisfy every taste and preference.
Moreover, Caribbean cruises foster a vibrant and festive atmosphere.
Feel the rhythm of lively music, join in the dance parties on deck, and savor delicious tropical cocktails as you make new friends from around the world. The fun never stops, creating an unforgettable sense of camaraderie and joy.
Cruises from Cancun
Cruises from Cancun typically offer various itineraries and destinations, ranging from short trips to longer voyages. While specific routes and durations can vary depending on the cruise line and season, here are some common options:
Western Caribbean Cruise: This itinerary often includes stops at popular destinations such as Cozumel (Mexico), Belize City (Belize), Roatan (Honduras), and sometimes Grand Cayman (Cayman Islands). The duration of these cruises can range from 3 to 7 days.
Eastern Caribbean Cruise: This route may include visits to destinations like Nassau (Bahamas), St. Thomas (U.S. Virgin Islands), and St. Maarten/St. Martin (Caribbean island shared by two nations). The duration of these cruises typically ranges from 4 to 7 days.
Southern Caribbean Cruise: These itineraries may include ports of call such as Aruba, Curacao, Bonaire, and Barbados, among others. Cruises to the southern Caribbean can last anywhere from 7 to 14 days.
Panama Canal Cruise: Some longer cruises departing from Cancun may offer transit through the Panama Canal. These voyages often include multiple Central and South American ports, such as Cartagena (Colombia), Puntarenas (Costa Rica), and Puerto Quetzal (Guatemala).
The duration of Panama Canal cruises can range from 10 to 14 days or more.
It's important to note that cruise itineraries, routes, and durations can vary, and it's recommended to check with cruise lines or travel agencies for the most up-to-date information and specific details regarding available cruises from Cancun.
A Caribbean cruise from Mexico is more than just a vacation, it's a chance to immerse yourself in the beauty, culture, and excitement of the Caribbean islands. So, pack your bags and get ready for an unforgettable journey filled with endless fun and remarkable experiences.
Use these tags to read more related posts and reviews:
---
Let us know if this article was useful for you