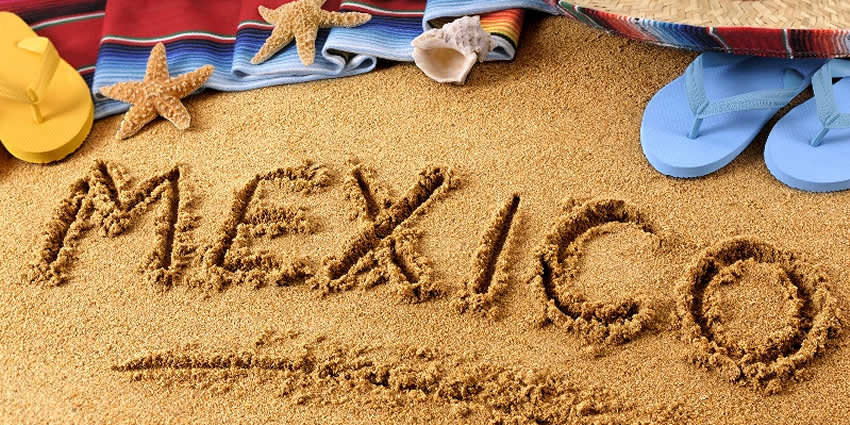 Great and unknown places to visit in Mexico
Places to visit in Mexico
Mexico is a touristic jewel. In fact, it is the 9th most visited country in the world. Most people arrive to enjoy beautiful beaches such as Cancun, Rivera Maya, Los Cabos and Puerto Vallarta.
However, we want to expand your vision of Mexico with 10 great places to visit that are mostly ignored.
Tolantongo
An eco touristic park set in the cliffs of the dry highlands in Hidalgo state. Its wonderful pools receive water directly from the mountain and offer a great view of the mountains covered by cacti.
These pools are man-made but feel like Turkey's Pamukkale.
Beside the pools, there is a cave to explore, a river to swim, a suspension bridge over the gorge and a hotel.
Try visiting during weekdays as it is very popular with locals during weekends.
There is no public transport to this place. It is located 115 km (2,5 hrs) away from Pachuca (the state capital) and 200 km from Mexico City airport (about 3,5 hrs).
Matacanes
One of the best places to do canyoning in the world, by far. It is a great wet canyon for those adventure junkies who love to jump over water, do some abseiling, swim in turquoise waters and enjoy nature at its finest. The place is really amazing.
Matacanes is a Spanish slang word to name the holes in the mountain through which water drills the rock helped by gravity until it reaches the river. They look like fantastic showers falling from the ceiling of small caves just by the river.
There is no way to find public transport to this site. However, it is close to Monterrey, an ideal base to adventure trips.
Baja Wine Country
Antony Bourdain once said, "Mexican wine country rivals Tuscany for gorgeousness". He might now a thing or two about the subject.
Valle de Guadalupe, close to Ensenada and 90min away from the border with USA, is where near 80% of Mexican wines are produced.
It is also home of the best wineries and restaurants. It is an amazing place as many wineries have invested in developing beautiful theme hotels. Also, a number of chefs have started solid restaurants, making this a great destination for foodies.
Check this tour around Baja Peninsula including tasting and visits to local wineries.
El Cielo
"Heaven" in English, this place certainly deserves its name. Protected by UNESCO and the Mexican government, this biosphere reserve is worth visiting. In a very reduced area, it is possible to find four different ecosystems: jungle forest, cloud forest, oak forest and desert.
Human activity has been limited for years, so you find an almost unspoiled landscape.
Waterfalls, caves, rivers, creeks fill its 1,400km².
Here you can find jaguars, black bears, ocelots, deer and pheasant.
It is a paradise for those looking for beautiful and romantic hikes.
However, hotel infrastructure is still limited so you will have to lodge in basic cabins with few dinner options.
Reaching the place can be time-consuming but well worth it.
Gomez Farías, in central Tamaulipas, is the closest town with public transportation. From then on you will have to rent a 4×4 driven by locals.
Look for accommodation in Alta Cimas, San José, La Gloria or Joya de Manantiales. They are the best spots for hiking.
Firefly Sanctuary
The monarch butterflies sanctuary in Michoacán is now world-famous. But how about a place that shines at night under the firefly lights? There is such a place in Nanacamilpa (Tlaxcala).
It is called the firefly sanctuary and it is sure to become a touristic attraction as famous as its butterflies cousin.
From June to August, the woods are covered by millions of these bugs creating a surreal landscape. Understandably, it is not possible to make photographs in the sanctuary. Besides, unless you have a great camera lens, your photos will look totally dark. It is one of those places you have to see to believe it.
Nanacamilpa is located close to 2,800m asl so nights can be rather chilly.
If you happen to do a CulinaryTour around Puebla in June to August, you might wish to visit this place.
Hiervelagua
One of the most original sites in the world, Hiervelagua is a waterfall without water. Yep.
For millennia, minerals have shaped this rock formation that looks like hanging stalactites on the cliff. At the top of this "petrified" waterfall, there is a small spring filling a natural endless pool with a wonderful view of the mountains.
It is located about 2hrs from Oaxaca City.
Many tours reach the place and stay only for 45 min. You will need at least 90 min to fully enjoy this place.
We strongly recommend taking the small hike to descend to the base of the waterfall and see it from below. The path also offers wonderful panoramic views.
It all takes time, hence our tip of a longer stay.
Zacatecas
Located right at the heart of the country, it is loved by Mexican tourists and yet few foreigners visit it. Zacatecas is a colorful, yet elegant colonial city filled with museums, restaurants, cafés and real Mexican vibe.
It was the main mining city of the Spanish Empire for centuries, a trade that left its print in many buildings and baroque churches.
Where else can you go clubbing inside a mine or sleep at a luxury hotel built in an ancient bullfight ring?
San Carlos
Cancun, Puerto Vallarta and Los Cabos get all the headlines when it comes to Mexican beaches. But with over 11,000kms of sea coast, you can bet there are many beautiful beaches. San Carlos in Sonora, is one of them.
It is surrounded by cactus desert and engulfed by one of the richest seas in the world. Either you are looking for a little know beach resort or for an exotic fishing weekend, San Carlos is a good choice.
Many Americans from Arizona head to this beach during wintertime. Maybe you should avoid these months to stay away from the crowds.
March to May and October – early December are the best times to stay here.
It is located 2hrs by car from Hermosillo, the state capital.
Michoacan Coast
If San Carlos has fancy hotels and restaurants, Maruata, Pichilinguillo, Faro de Bucerías and many more beaches in Michoacan are nothing but serene, rustic and wild. Their beauty is enhanced by the lack of big hotels and highways.
Awesome beaches great for surfing or to lay in a hammock under a "palapa" with nothing to worry but to choose your next fish for dinner.
Las Alamandas
It is a little known luxury hotel in Costa Careyes (Jalisco). Its decoration is in a true Mexican style with fuchsia and orange hues (yes, they can match together).
The Ocean Pacific looks amazing in this part of the coast and sunsets are always golden.
Many of the beaches close to the hotel are entirely virgin, offering a very intimate setting. Thus, it is a great place for romance and honeymooners.
More importantly, very few people know of this place, not even in Mexico.
Use these tags to read more related posts and reviews:
---
Let us know if this article was useful for you