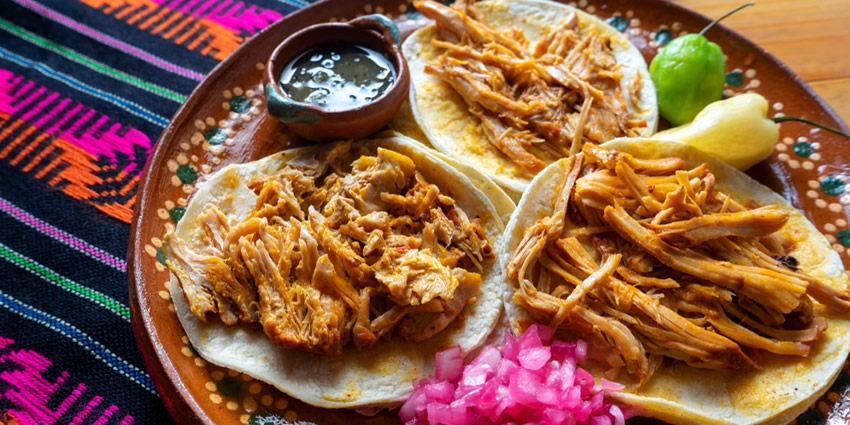 Some typical dishes in Yucatecan gastronomy
The flavors of Yucatan will conquer your palate
Yucatan is an important tourist point in Mexico thanks to its incredible nature and history.
Yucatecan cuisine is distinguished by the combination of ingredients such as oregano and its perfumed flavor, the acidity of oranges, and the heat of chili peppers such as the habanero that gives each dish a unique personality.
The gastronomy of Yucatan is one of the most delicious and valued in Mexico. Its origin, how could it be otherwise, is due to the Mayans, who liked to cook tasty, aromatic recipes with many seasonings.
In Yucatecan cuisine, spices and chilies are used to form a paste. Another fundamental factor of Yucatecan gastronomy is that it was able to adapt to the times and to the new ingredients that arrived from the Old World (wheat, beef, lettuce…) and from the Asian Continent (spices, rice…).
Cochinita Pibil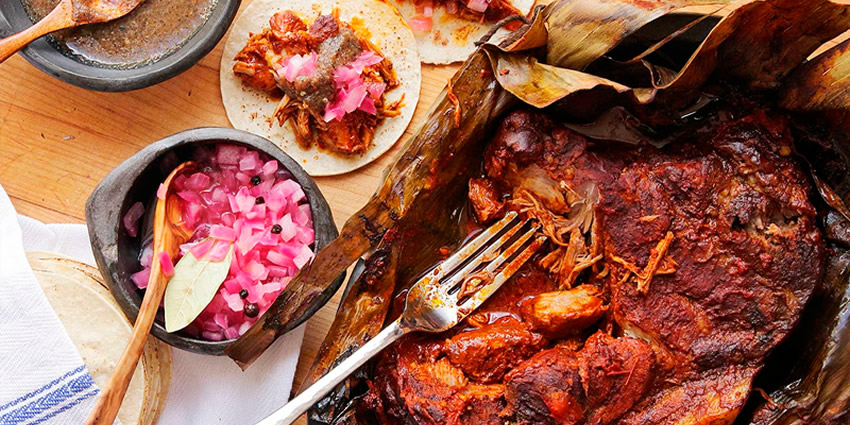 The "Cochinita Pibil" is one of the most famous dishes in Yucatecan cuisine. This delicacy is basically pork marinated in "achiote" which is traditionally cooked in an underground earth oven on embers and inside banana leaves.
It is usually eaten as is or served with tacos. It is also accompanied by habanero chili sauce, sour orange, and chopped purple onion.
Papadzules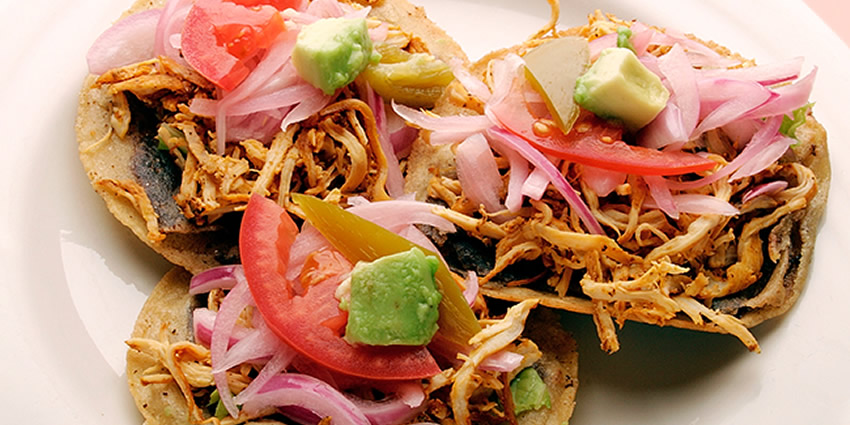 Papadzules are considered an endemic dish from Yucatan. These are not just simple enchiladas, "papadzules" are prepared with boiled egg, chicken, cheese, or pork and a green seed sauce with epazote that gives it a creamy texture.
The main ingredient of this dish is the sauce of pumpkin seeds and epazote (a pungent culinary herb and vegetable) with which some tortillas stuffed with eggs are accompanied, although they can also have other ingredients such as meat or cheese. They are served covered in tomato sauce.
Panuchos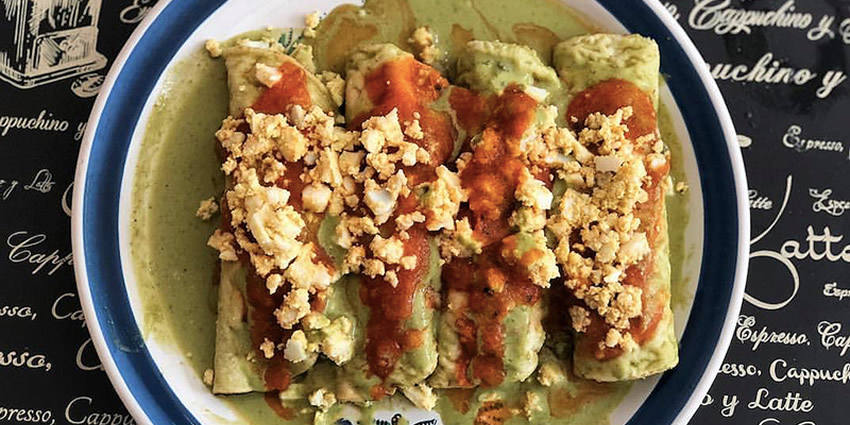 This simple but flavorful dish is one of the most popular in the region.
Panuchos are snacks made with fried tortillas with black beans and red onion. The secret of its flavor is in frying the tortilla with everything and beans, it can be accompanied by chicken, suckling pig, tomato sauce, lettuce, avocado, and cheese.
Lime soup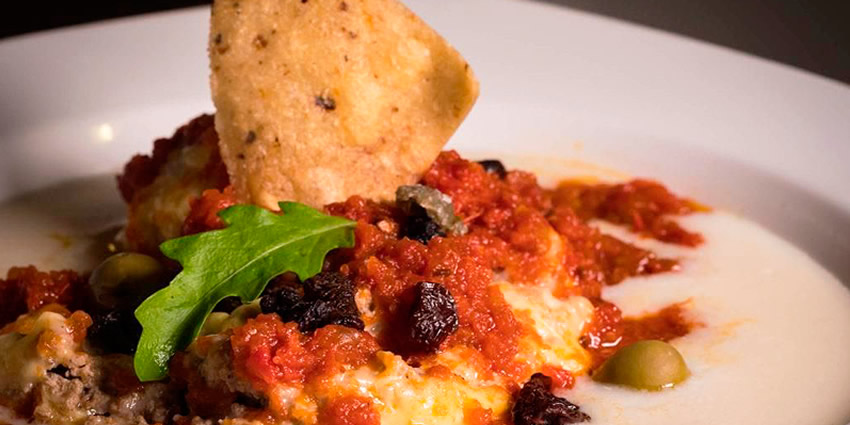 Another very typical dish from the Yucatan Peninsula. It is a soup that is prepared with lime juice, chicken, tortilla strips, onion, cilantro, avocado, chicken, and garlic. Lime soup is a true delicacy. Since all its ingredients generate a unique flavor.
Yucatan limes are characterized by having a less bitter taste and a slight sweetness. Therefore, lime soup becomes a must for gourmet travelers. Lime juice accompanied by chicken, garlic, onion, cilantro, and avocado create a perfect combination.
Stuffed Cheese
This stuffed cheese can only be found in this region of Mexico. Therefore, you can not stop trying it.
This could be the most original dish in Yucatecan cuisine. Basically, as its name suggests, it is an Edam-type cheese ball cooked in the oven and stuffed with beef and pork, bathed in a white sauce made from flour, chicken broth, and a touch of butter.
Huevos Motuleños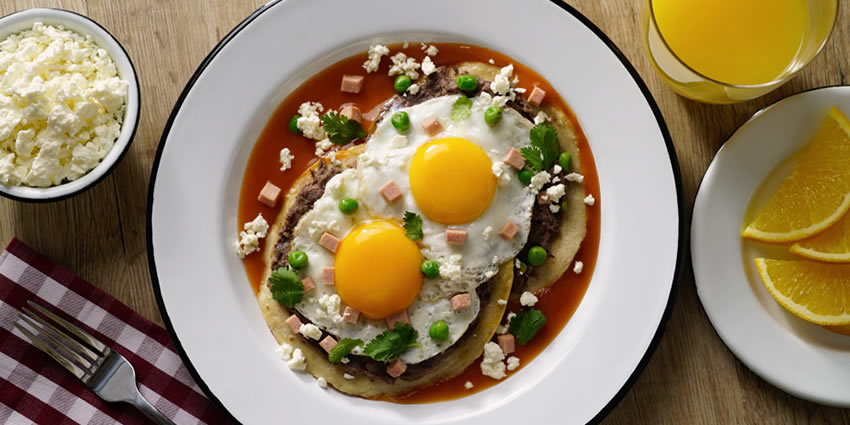 These fried eggs are possibly the most typical breakfast in Yucatan, they are accompanied by a chili and tomato sauce and with various toppings (cheese, ham, beans, chorizo…). They are served on top of tortillas.
Poc Chuc These are pork chops marinated in sour orange and cooked on the grill. It is served cut into pieces or whole, accompanied by rice, salad, beans, chopped grilled onion, tomato, cilantro, and a sauce prepared with sour orange, tomato, cilantro, and onion.
Queso Relleno
You will be very surprised to see that one of the typical dishes of Yucatan has European cheese as its main ingredient, but the Yucatecans incorporated many ingredients from the old continent in many recipes.
And this is a perfect example. The stuffed cheese is prepared with ball cheese that is cooked in the oven. The curious thing is that the cheese is filled with meat and spices and is served with a sauce made from broth, flour, and butter.
Escabeche Oriental
It is a dish that consists of chicken or turkey marinated in a sauce of coriander, anela, vinegar, cumin, salt, pepper, and garlic. The meat is then cooked in water and sour orange juice and finally fried in lard flavored with garlic and herbs.
Salbute
At first glance, it may look like panuchos, but they differ in the dough of the tortilla. In this case, it is fried and puffs up a little, remaining quite tender, while the panuchos are rather crunchy.
It is served with sauce and with various ingredients such as lettuce, tomato, onion, avocados, and meats.
Ceviche
It is not a typical Yucatan dish, but here it is also common and it also has a great secret… no, it is not the fish or seafood, but the local lime juice, much sweeter than the lime from other places.
Ceviche can be eaten as an appetizer or as a main dish, and for those who still don't know, it is raw seafood or fish that is marinated, and therefore cooked, in citrus juice. Don't leave Yucatan without trying it.
Use these tags to read more related posts and reviews:
---
Let us know if this article was useful for you