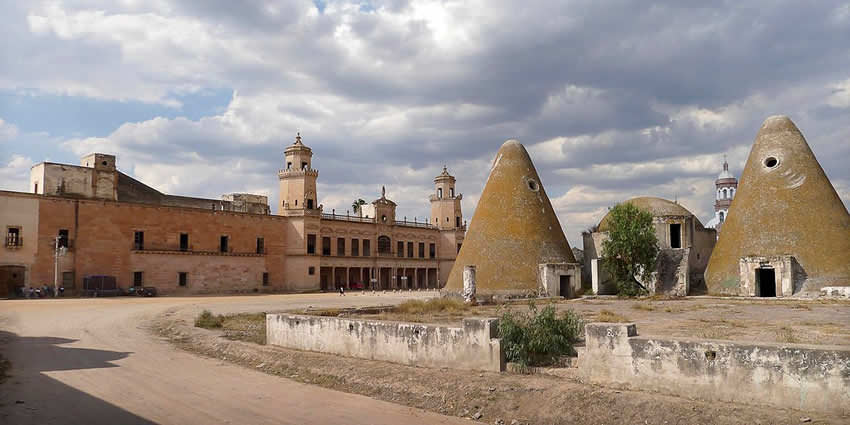 Hacienda del Jaral de Berrios
Hacienda del Jaral de Berrios is a significant historical estate located in the state of Guanajuato, Mexico.
Situated in the municipality of San Felipe, the hacienda holds a rich history dating back to the colonial era of Mexico. Its precise location is approximately 85 km northwest of the city of Guanajuato.
Founded in the 16th century, Hacienda del Jaral de Berrios initially served as a center for agricultural and livestock production.
These haciendas were essential components of the colonial economy, playing a pivotal role in the extraction and cultivation of various resources, such as crops, minerals, and animal products.
Over the years, the hacienda grew in prominence and wealth, becoming a hub for various economic activities.
The architectural features of this hacienda reflect the grandeur and opulence associated with colonial-era estates.
The hacienda complex often included a main residence, various outbuildings, chapels, and other structures. The hacienda's architecture showcased a blend of European and indigenous influences, creating a unique and captivating aesthetic.
Modern times and cultural importance
Hacienda del Jaral de Berrios has evolved beyond its historical role as an agricultural and livestock estate.
It has gained cultural and historical significance, attracting visitors interested in exploring Mexico's colonial past. The estate's architecture, artifacts, and surrounding landscape offer a glimpse into the country's history and heritage.
Hacienda del Jaral de Berrios often serves as a tourist destination.
March 2019: The hacienda is currently undergoing a change in ownership, tourists are not allowed in until mid/late summer.
Guided tours provide insight into its historical and architectural legacy. Visitors can learn about the daily lives of the people who once inhabited the estate, the economic activities that sustained it, and the cultural influences that shaped its development.
Efforts to preserve Hacienda del Jaral de Berrios have been instrumental in safeguarding Mexico's cultural heritage. By maintaining and showcasing the estate's historical value, these initiatives ensure that future generations can appreciate and learn from its legacy.
During its heyday, the massive estate boasted its own railroad station and post office.
The remains of the Hacienda del Jaral de Berrios, one of the largest in Mexico, still hint at its former grandeur. The old buildings beckon explorers willing to brave buckling floors and crumbling walls to step inside an estate rich with history.
The hacienda was appointed to the then-Mayor of Mexico, Miguel de Berrio y Zaldívar, in 1774. It housed several generations of the Berrio lineage. Among them was Juan Nepomuceno de Moncada y Berrio, who was considered the richest man in Mexico during the 1830s.
During its heyday throughout the 19th century, the estate housed somewhere around 6,500 people and boasted its own railroad station, post office, parish church, and two primary schools.
The main building featured frescoed walls and lavish furniture and was surrounded by numerous buildings with massive rooms and grand staircases.
One of the horses kept on the estate was called El Tambor. He was used as the model for the famous equestrian statue of King Carlos IV of Spain, which spent some time in the area before being moved to Manuel Tolsá Square in Mexico City.
The dilapidated estate that sits in what is now Guanajuato is still considered among the area's most beautiful buildings. It's currently a hotspot for paranormal investigators. The main building now houses a tequila factory.
To reach Hacienda del Jaral de Berrios in San Felipe (Guanajuato), follow these instructions:
Rent a car to reach the hacienda. The approximate driving distance from Guanajuato City to Hacienda del Jaral de Berrios is around 85 km, which can take around 1.5 to 2 hours depending on traffic and road conditions.
If you prefer public transportation, you can take a bus to the municipality of San Felipe, Guanajuato. Once you arrive in San Felipe, you may need to take local transportation or a taxi to reach the hacienda.
It's recommended to inquire about the specific directions to Hacienda del Jaral de Berrios from locals or at information centers once you're in the San Felipe area. These directions might include landmarks, road names, or other cues to help you find the hacienda.
Contact local tourism offices or visit their websites for up-to-date information about visiting Hacienda del Jaral de Berrios. They can provide guidance on transportation options, tours, and any special events that might be taking place.
Consider joining a guided tour to Hacienda del Jaral de Berrios. Many tour operators provide transportation and knowledgeable guides who can offer historical and cultural insights about the hacienda and its surroundings.
Always make sure to check for any travel advisories, road closures, or other factors that might impact your journey. It's a good idea to plan ahead and have a map, GPS, or navigation app to ensure a smooth trip to this historical site.
Use these tags to read more related posts and reviews:
---
Let us know if this article was useful for you