Legend of the Burnt Woman's street in Mexico City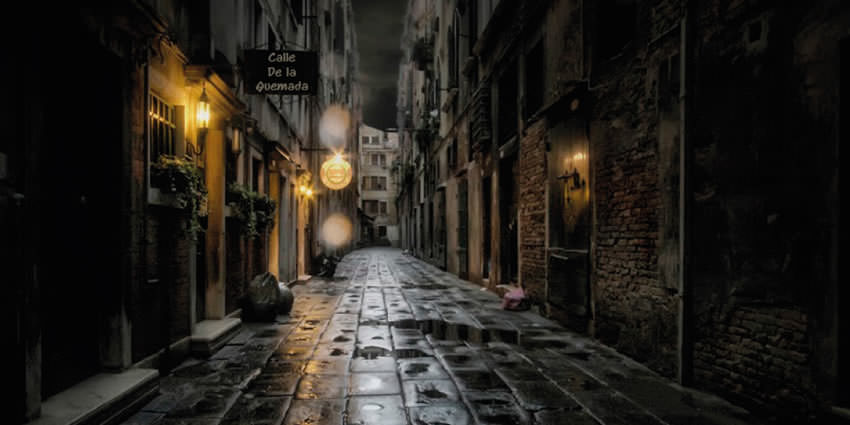 The urban legends of Mexico City
The urban legends of Mexico City have their roots in the past. During the Colonial era in Mexico, new narrations began to appear. Many of them were created from the mix of pre-Columbian indigenous and Christian-catholic mythology.
This fusion gave rise to a rich tapestry of narratives that continue to intrigue and captivate audiences today.
La Calle de la Quemada (The Burnt Woman's Street)
When Don Luis de Velasco I came to replace the Viceroy Don Antonio de Mendoza, Don Gonzalo Espinosa de Guevara and his daughter Beatriz lived in a big mansion.
She had a beautiful face, lovely eyes, with skin as white as lilies. Her lustrous, silky hair fell from her shoulders and cascaded like a waterfall down her fine back. She was also gentle: she used to care for the sick and the injured and to help poor people.
With such a noble, generous soul, beauty, and a large fortune, it was easy to understand that she had plenty of handsome lovers. Many gentlemen and noblemen fought in front of Beatriz's mansion, but she did not accept anyone.
Finally, a gentleman arrived at the mansion – a man whose destiny chose him to be Beatriz's husband.
His name was Don Martín de Scópoli, Marquis of Piamonte and Franteschelo, a handsome Italian gentleman who loved Beatriz since the first time he saw her, and his love for her grew with passion.
He fought bravely with every gentleman who wanted to marry Beatriz, showing his strong and eternal love for her. For this reason, many gentlemen proved themselves fighting for Beatriz trying to defeat the impertinent Italian man.
Don Martín fought days and nights under the moonlight, and he always won. When the sun rose, the police passing through Beatriz's street would always find a dead or injured gentleman, caused by the sword of the Italian suitor.
Beatriz loved Don Martin immensely because of his demeanor and handsomeness and because of his lovely words.
One night, after she had prayed to Santa Lucia (a martyred virgin took out her eyes so as to not be a temptation), she made a terrible decision that would make Don Martin Scúpoli love her no more.
The next day, after completing many tasks, such as helping poor people with medicines and food, she confirmed that her father had left and carried to her room a brazier, in which she put charcoal and lit a fire.
Suddenly the flames filled the room, and the heat became intense. She prayed to Santa Lucía, and saying Don Martin's name, she knelt down and put her beautiful face over the brazier.
A smell of burning flesh spread throughout the room, taking out the fresh smell of jasmine and almonds. A few minutes later, Beatriz screamed and fainted next to the brazier.
Father Marcos de Jesus and Gracia, who was a confidant of Beatriz, heard Beatriz's scream and ran into the house. He found Beatriz on the floor, he lifted her with care and tried to put some herbs and vinegar on her burnt face, asking her why she had done it.
She explained to him that with this event, Don Martin would finish with the fights and he would stop loving her. After she told him the reasons, Father Marcos explained to Don Martin what had happened. The Italian gentleman hurried to be where his lover was.
He found her sitting in an armchair with a black veil that covered her face. The veil was spotted with blood and burnt flesh.
Very carefully he took off the veil from his lover's face, but he did not jump back terrified when he saw her. He was worried, looking at her beautiful white face burnt by the cruel flames. Under the firmly arched eyebrows, there were two holes with burnt eyelids.
Her cheeks were open craters where blood drained and her lips which had been so sumptuous, worthy of a passionate kiss, were now a hole that formed a horrible grin. After he saw this, the Marquis of Piamonte knelt down and said with tenderness:
"Ah, Beatriz, I love you not for your beauty, but for your goodness. You are a noble, generous lady, and your soul is pure". Tears fell with these words, and both cried with love and tenderness.
The Marquis continued, "When your father comes back, I will ask for your hand in marriage."
The wedding of Beatriz and the Marquis de Piedmont was held at the temple "The Profesa" and was the most sensational event of those times. Don Gonzalo Guevara Espinosa spent his fortune on the celebrations and the Marquis of Piedmont gave the bride dresses, jewelry, and furniture brought from Italy.
Beatriz arrived at the altar with a white veil on her face in order to avoid the mad curiosity of the people. After this, she only went outside to go to the nearby church to hear mass, accompanied by her husband.
Since that day, the street in Mexico City where Beatriz's house was once located is now called Burnt Woman's Street.
Use these tags to read more related posts and reviews:
---
Let us know if this article was useful for you