Mexico bans great white shark tourism at Baja California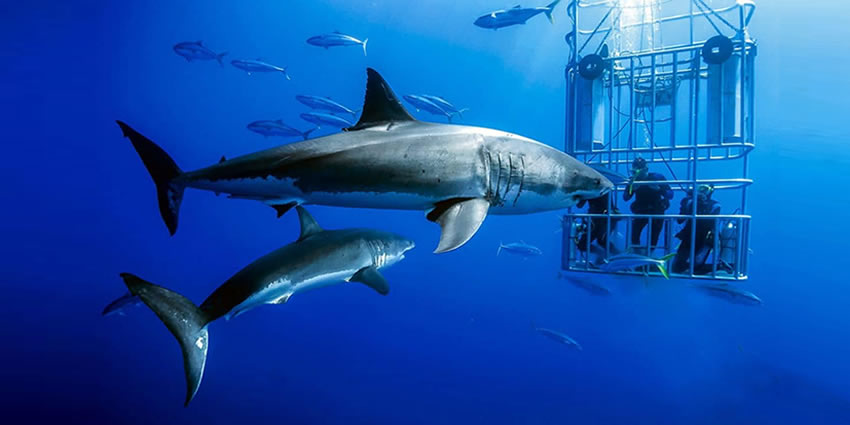 Shark tourism is a form of eco-tourism that allows people to dive with sharks in their natural environment. This benefits local shark populations by educating tourists and through funds raised by the shark tourism industry.
Local communities that previously relied on shark finning to make their livelihoods are able to make a larger profit from diving tours while protecting the local environment.
Visitors can get close to the sharks by free- or scuba diving or by entering the water in a protective cage for more aggressive species. Many of these dives are often baited to ensure shark sightings, a practice that is highly controversial and under review in many areas.
Guadalupe Great White Sharks
Guadalupe Island in Mexico is the top destination for great white shark encounters.
This small volcanic island, located in the Pacific 240 km off the west coast of Mexico's Baja California peninsula, outperforms both South Africa and Australia with shark-seeing consistency and conditions.
Only Guadalupe Island can boast shark viewing in beautiful clear blue water with 30-45 m of visibility.
Guadalupe Island off the coast of Baja California is a hotspot for great white sharks, with cage diving, sport fishing, and "shark watching" from pleasure boats among the activities on offer in the area.
Mexico bans 'shark tourism' at Baja California
Mexico has banned shark-related tourism activities at a popular Pacific Ocean destination. The Mexican government has opted to block shark-related activities and protect the sharks within the Isla Guadalupe Biosphere Reserve, which includes the island.
This decision effectively ends the once-busy Guadalupe Island tourism economy and impacts tour and charter companies that offer expeditions to the area, many of which are based in San Diego (USA), just north of the border.
The Mexican government cited cage diving experiences as particularly harmful, saying it was common practice for companies to put the bait or other "attractants" in the water to give guests a more thrilling underwater experience.
Drones have also been banned, except in limited cases where they are used to monitor plant and animal activity in the reserve.
Still, some tour outfitters are keeping their hopes up that the decision may not be permanent.
Great whites are considered a "vulnerable" species by the International Union for Conservation of Nature (IUCN), which is one classification level short of being endangered.
The goal of the biosphere isn't just to protect a shark habitat, though. Bottlenose dolphins, California sea lions, and the Guadalupe Island fur seal also call the area home.
Use these tags to read more related posts and reviews:
---
Let us know if this article was useful for you