Valley of Siete Luminarias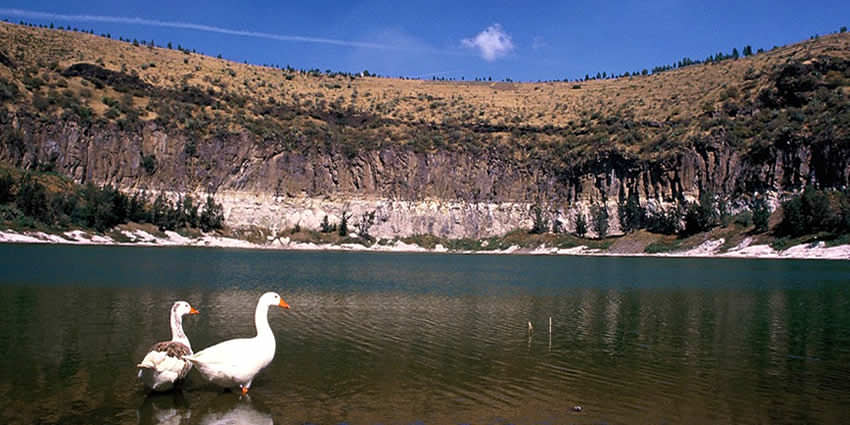 "Siete Luminarias" ("Seven Luminaires") is a set of seven inactive volcanic craters located in the northwest and southwest of the Santiago Valley.
On November 21, 1997 the Siete Luminarias Volcanic Region was declared as a protected natural area.
This protected natural area is 889 285 km2, and covers a perimeter of 66,673 m.
The name of "Siete Luminarias" comes from an imagined time when the seven volcanoes were active at once in prehistory. All seven extinct volcanoes are distributed in an area of ​​90 square km.
The Valley of the Seven Luminaires is a place full of mysteries. This area is famous for its theories and legends about giant vegetables, UFO sightings, stories and amazing phenomena.
The stories go from a supposed "cousin of Nessy", called Chac which lives in the underground tunnels that connect the craters, even sightings of UFOs, enormous size of vegetables and fruits or the fact that, according to the mexican astro-archaeologist Guadalupe Rivera de Iturbe, the luminaires are aligned with the constellation Ursa Major.
In the interior of most of the craters there are small lakes that the inhabitants of this region call "hoyos" ("holes").
Alberca is located within the urban area of ​​Valle de Santiago, with a crater rim 750 meters in diameter.
La Alberca (The Pool) is a crater lake with is open to the public for swimming, rowing or boating.
Locals say the salt water of Hoya de Cíntora heals some skin diseases.
Located in the heart of this fascinating topography it has an infinity of caves and in the interior of many of them there are enigmatic and mysterious rock paintings and other evidences that people once lived in these craters.
There are orchards of fruit trees like the orange tree, and abundant vegetation of absinthe and estafiate. Archaeological remains have been found here. Currently it is used as a growing area.
La Hoya de Flores, where there are remains of a pre-Hispanic ceremonial center, caves with cave paintings and springs that spring from the rocks. It is the largest of the craters. In its interior there are thermal waters and its fertile lands have produced great harvests. The first giant vegetables were given here.
Rincón de Parangueo, with alkaline waters, which can be reached through a tunnel, 500 meters long, excavated in the rock. Inside there is a lake with calm waters. You can also find countless caves that have hardly been explored. There are petroglyphs in some of them.
Contain cave paintings and evidence that people once lived in the craters
No all luminaries have water. The Alvárez and de Solís pits are dry-bedded and have been used since ancient times for agricultural purposes. The one of Alvárez is considered a privileged point of observation of the night sky, by its high edges.
Finally, in the Hoya de San Nicolás, there are records that its waters change color, as it does with the crater of the neighboring city of Yuriria.
Seen from above, Valle de Santiago presents a panorama that could belong to a lunar landscape full of craters, so that when you fly over the area, it is difficult to resist the temptation to evoke space mysteries. Maybe I miss this landscape, be the cause of so many stories related to aliens.
Perhaps the most unfathomable mystery that this Valley of the Seven Luminaries has is its giant fruits and vegetables.. Lettuce with a diameter of 90 centimeters, onions and radishes weighing 15 kilograms.. Two-meter chard.. How is that possible?
The locals talk about magical formulas, traditionally passed down from generation to generation since the pre-Columbian era.. Based on the positions of the stars, astrology.. All this creates the ideal circumstances to make these vegetables grow so disproportionately.
In 1977 the government decided to investigate that miraculous growth by establishing a "competition" between scientists and peasants.. Ones with their technology, others with their old knowledge. The result: the scientist's harvest weighed 8 tons and the harvest of the peasants weighted 1000.. one hundred tons!
From town Valle de Santiago.
You can dial 078 from any phone, where you can find free information about tourist attractions, airports, travel agencies, car rental companies, embassies and consulates, fairs and exhibitions, hotels, hospitals, financial services, migratory and other issues.
Or dial the toll-free (in Mexico) number 01-800-006-8839.
You can also request information to the email correspondencia@sectur.gob.mx
MORE EMERGENCY NUMBERS:
General Information: 040 (not free)
SNational Emergency Service: 911
Radio Patrols: 066
Police (Emergency): 060
Civil Protection: +52(55)5683-2222
Anonymous Complaint: 089
Setravi (Transport Mobility): +52(55)5209-9913
Road Emergency: 074
Cruz Roja: 065 o +52(55)5557-5757
Firefighters: 068 o +52(55)5768-3700
Use these tags to read more related posts and reviews:
---
Let us know if this article was useful for you