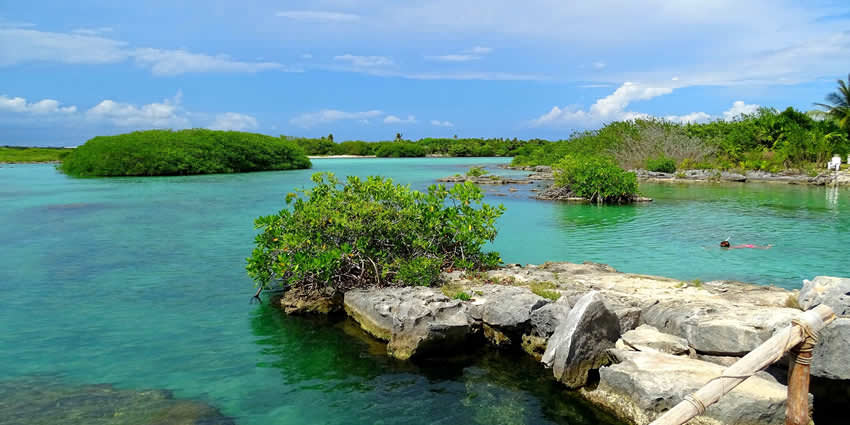 Yal-Ku Lagoon
Nothing comes close to the fantastic experience of snorkeling at Yal-ku Lagoon. It is a hidden, yet enchanting place of legend. It contains a mix of salt and fresh water, which is so calm and clear that you feel like plunging in.
Yal-Ku Lagoon holds historical and ecological significance in the Riviera Maya region. It was once a sacred site for the ancient Maya civilization, who believed in the mystical qualities of cenotes and underground rivers.
The Yal-Ku Lagoon's combination of freshwater from underground rivers and saltwater from the Caribbean Sea fosters a rich biodiversity, making it a prime habitat for various species of fish and other aquatic creatures.
Damselfish, sergeant majors, hamlets, parrotfish, blue tangs, and queen triggerfish, thrive in its waters. The submerged rock formations create an ideal habitat, allowing visitors to observe these species at close quarters.
Beyond its allure for casual snorkelers, Yal-Ku Lagoon has become a focal point for scuba diving and ecotourism. The underwater terrain, characterized by submerged rock formations, offers a captivating experience for divers.
The surge in ecotourism reflects the growing appreciation for the lagoon's ecological significance, positioning it as a destination that seamlessly combines adventure and environmental awareness.
Visitors can explore the lagoon's calm, shallow waters, and encounter a kaleidoscope of colorful fish, corals, and other marine life. The lagoon offers a serene and immersive experience amidst lush tropical surroundings.
The best time to visit Yal-Ku Lagoon is during the dry season, which spans from November to April. This period offers ideal weather conditions and visibility with less chance of rain and more comfortable temperatures.
Follow the short winding path to the lagoon entrance. Once in the water, you are immediately greeted by hundreds of colorful fish. Wonders can be observed at a depth of no more than 2 m, and there are few or no waves.
Submerged rock formations create a fascinating underwater terrain and the ideal habitat for the exotic marine creatures that you can see perfectly while snorkeling, whether you simply float on the surface or dive underwater.
Several species of tropical fish spend some time in the lagoon before they reach the proper size and maturity, after which, they move out into the immensity of the ocean and start their survival of the fittest.
Damselfish and sergeant majors are small but pugnacious so don't be surprised if they charge, they do that if they feel threatened. They are normally no longer than seven inches in length so there is nothing to worry about.
Bird watchers will be delighted with the area, which is abundant with various tropical species. Herons are especially prevalent but other water and shore birds are routinely sighted, such as cranes, pelicans, seagulls, and egrets.
In and around the lagoon are several contemporary sculptures by Francisco Zúñiga. They're not only hidden in the forest and gardens as you walk towards the lagoon, there are also some right out in the middle of the water.
Open from 9:00 to 17:00 (all days).
There is a small fee to enter the inlet.
It is not permitted to use sunblock or to bring any food or drinks.
Rental equipment is not available, so you'll have to bring your own.
If you opt to join a tour group, equipment will be provided for you.
You can go on a tour arranged by a tour desk at your hotel.
Yal-ku inlet is best reached via Akumal, a major development 105 km south of Cancun along the Cancun-Tulum Highway. If you get a good map and rent a car, however, you can go to Yal-Ku Lagoon by yourself.
From Playa del Carmen by bus and then taxi.
From Cancun by bus and then taxi.
Use these tags to read more related posts and reviews:
---
Let us know if this article was useful for you