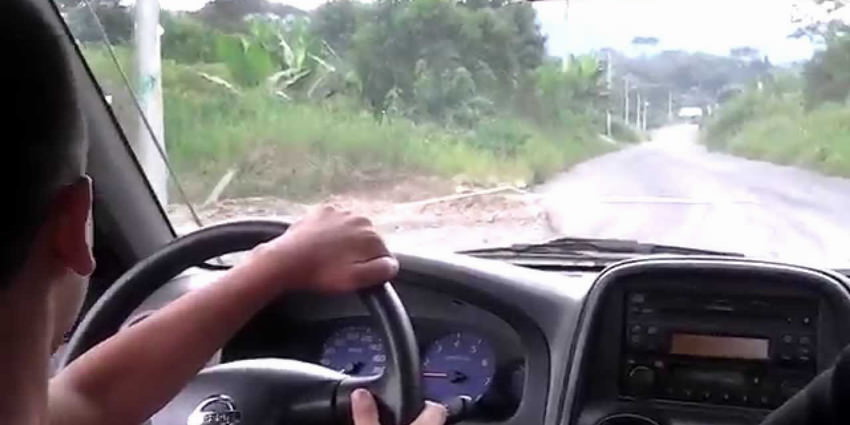 Should you drive in Mexico
Mexico is a huge country and driving can give you a lot more freedom than other forms of transportation in Mexico, but it has some downsides as well. You have to find your way on roads that may be in dubious condition and have poor signage.
You have to deal with other drivers who may make left turns from the right lane and vice versa and don't seem to know what a turn signal is, as well as a host of other hazards.
If you're considering driving in the Yucatan Peninsula or Baja California Peninsula, you'll find it fairly easy to get around, whereas driving in other areas can be a lot more challenging.
Planning your travel route
It's essential to plan out your route before you start out. Use a handy driving distance calculator to find out how far it is between destinations.
With that in mind, time and geography will be your biggest concerns when traveling to Mexico. If you're limited in time, it's best to stick to one region and do it properly. You'll have to decide what your priorities are when choosing where to go.
Are you looking for a touristic, cultural, historical city with awesome beaches, theme parks, and Mayan ruins?
That is Cancun. Here, we will let you know all you need about touristic attractions, historical places, parking lots, and types of transportation that you can find in the city and its surroundings.
Main attractions for tourists
Xcaret: this is an eco-archeological wonder and is one of the most visited. It is an ancient Mayan civilization that was a main commercial port.
Currently, it is a cultural and archeological attraction thanks to its buildings in ruins. This ancient city is located 42,2 miles south of Cancun, and if you want to access it, you have to take highway Tulum – Cancun, Mexico 307 with the route to Xcaret.
Xel-Ha: it is a particular ecological park, characterized by its two underground rivers, also known as "caletas" which flow into the Caribbean Sea. This park is located 76 miles south of Cancun, and you can access it through Tulum – Cancun, Mexico 307 highway and the exit to Xel-Ha.
Underwater Museum of Art: This museum located 7 miles south of Cancun exhibits many pieces of art. It is located in the Quintana Roo Bay and was founded in 2009. This place has more than 500 figurative sculptures on a natural scale.
So if you would like to live an artistic underwater experience, you have to take the access road for avenue Rodrigo Gomez and then the Tulum – Cancun, Mexico 307 highway.
Definitely, Los Cabos is the perfect fusion of natural wonders, historical places, and archeological places, those are reasons why you should visit this magical City.
But, it is important that you get to know the main touristic attractions, transport, parking lots, and other facts for your itinerary.
Main attractions for tourists
The Arch: this is an emblematic place in Baja California Sur State since it is a romantic destination for couples, especially for newlyweds.
It is a rock formation with the form of an arch that appears as a link between the Pacific Ocean and the Sea of Cortez, located specifically at Cabo San Lucas. If you want to access it by land, you need to travel to Tijuana, through the Trans-peninsular highway via Los Cabos.
Cabo Pulpo National Park: its great attractions are marine ecosystems and live reefs, unique in North America. Also, if you love diving and snorkeling, this place is ideal for you, because there are so many virgin islands and archipelagos.
Playa Amor: it is very close to Cabo San Lucas. This beach is part of the union between the Pacific Ocean and the Cortes Sea.
From this place, you can see The Arch. And as a curious fact, the locals tell a romantic story about a Japanese sailor that was rescued by a local woman, who saved his life.
Guadalajara is the second biggest city in Jalisco State and the country, after Mexico City. As a metropolis, it has many attractions for tourists to visit, some of them are:
Guachimontones ruins an important pre-Hispanic settlement, which represents today a touristic attraction for many visitors from around the world. It is located to the west of Guadalajara, about an hour's drive.
Among the ruins are several buildings that let you know a bit more about Teuchitlan culture.
Tlaquepaque: If you are a fan of handicrafts, this place you should visit. It is a sort of colorful market of crafts, so you'll find every kind of native craft from indigenous cultures, in many presentations and materials.
That is another way to know the pre-Hispanic roots of Mexico and part of Latin America.
Very close to Guadalajara you find Puerto Vallarta, the next destination you should include on your schedule.
It is a city full of beautiful attractions, all related to the sea, Mexican gastronomy, and touristic services. On your visit, you will get to know paradisiac beaches, swim with dolphins and see the most beautiful sunsets.
Main attractions for tourists
Yelapa: the queen of beautiful beaches in Puerto Vallarta, is located to the south and you can arrive by boat to spend the day enjoying the sand, while you look at the fascinating landscape of the Riviera Nayarit.
Nuevo Vallarta: because of the great arrival of tourists annually, Nuevo Vallarta has become a new favorite and most comfortable city for visitors, with 6 kilometers of coast, luxury hotels, and buildings, and a wonderful views of the sea.
The perfect place to spend your holidays.
Of course, we couldn't leave behind the most important city of this country, the center of culture and urban movement of the whole republic. Today we want to recommend you to visit…
Main attractions for tourists
Xochimilco: if you are visiting Mexico for the first time, please don't miss this place. It will leave you with a unique experience. Xochimilco offers a great tour through its beautiful canals and floating gardens full of flowers with many colors that express a wonderful part of their culture.
Just like you saw in the movie Coco.
Zocalo: It is one of the most important meeting places in the city, built on what was once the center of Tenochtitlan culture, which today houses a variety of architectural jewels, museums, and palaces worthy of admiration.
Use these tags to read more related posts and reviews:
---
Let us know if this article was useful for you