Las Coloradas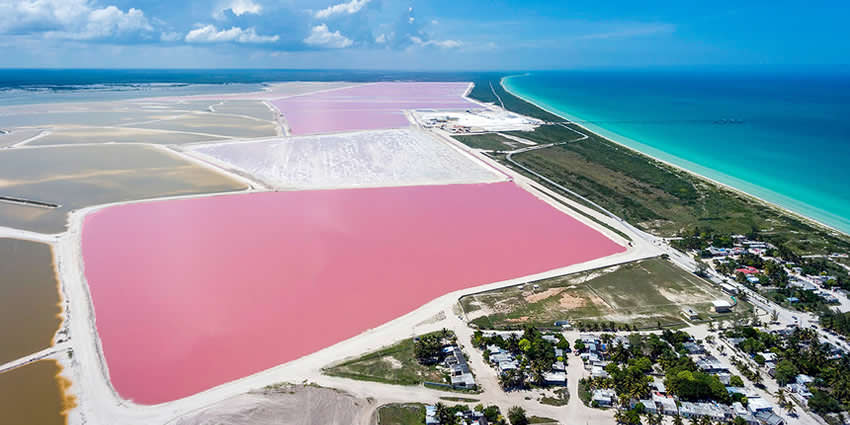 Las Coloradas is a port located on the north coast of the Yucatan Peninsula belonging to the municipality of Río Lagartos in the state of Yucatán.
Hidden away on the tip of Mexico's Yucatan Peninsula is a magical place full of color. These stunning cotton-candy pink lakes filled with salt are called Las Coloradas.
It is part of a fishing village, with a little over 1000 inhabitants. Most of them are dedicated to the salt industry since this site is also recognized for being a set of pools that make up one of the most important salt processing plants in the country.
Called the only pink lagoon in the country, it has become very popular in terms of exophilic tourism, due to the great biodiversity that can be found there.
Its virgin beaches, fauna, and flora (seabirds and abundant mangroves), are the main attractions.
The concentration of salt and microorganisms make the sea of La Colorada take on a peculiar tone that has made hundreds of tourists travel to this point to witness such a spectacle.
The proximity to Río Lagartos, the 80 km long estuary that runs parallel to the peninsular coastline, today declared a Natural Biosphere Reserve, contributes to the recognition of the place and increases the tourist flow that benefits it.
Huge salt evaporation ponds for sea salt extraction lie on this stretch of land, some of them showing peculiar colors due to microorganisms, like the pink lagoon Laguna Rosa. Flamingo and bird watching is common here, close to a bio reserve.
Las Coloradas means "the red" in Spanish. It's the name of a tiny Mexican fishing village with a population of 1000. Nearby, a series of brightly colored pink lakes cover the landscape on the edge of the Gulf of Mexico.
The region is part of the Ría Lagartos Biosphere Reserve, a protected wetlands area home to animals like flamingos, crocodiles, sea turtles, jaguars, and all kinds of sea birds. The reserve covers some 150,000 acres.
Swimming in the pink lakes around the factory is now off-limits for tourists. However, you can still book tours from Rio Lagartos that visit a different area where it's possible to float in the pink water & take a Mayan mud bath.
Use these tags to read more related posts and reviews:
---
Let us know if this article was useful for you