San Juan del Río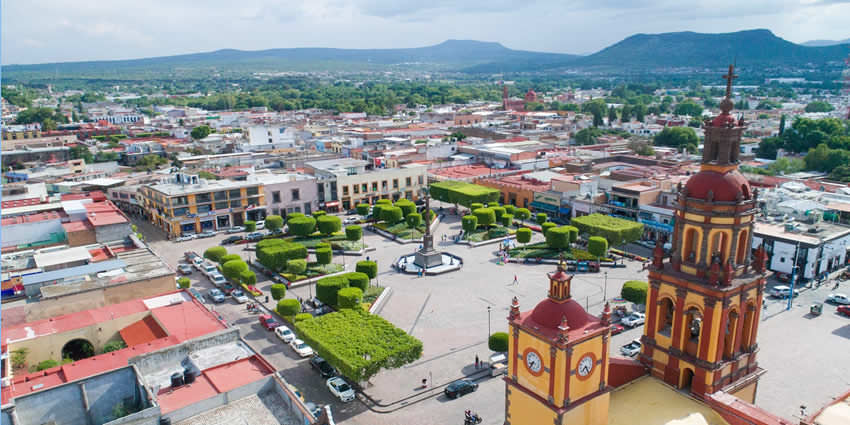 San Juan del Río is a city and administrative seat of the surrounding San Juan del Río Municipality (pop. 208,462) in the central Mexican state of Querétaro.
The population in July, 2007 is calculated in 128,270 for the city and 217,980 for the municipality.
Both the city and municipality have the second-highest population in the state.
The municipality has an area of 799.9 km2 (308.8 sq mi).
It is on the country's central plateau (altiplano), 50 km (31 mi) southeast of state capital, Santiago de Querétaro, at elevation of 1922 m.
Famous for its opals, mined at nearby La Trinidad, it is also an agricultural center (corn, wheat, sugarcane, beans, alfalfa, fruit, and livestock) and has some light industry.
A number of wineries are also located in the vicinity.
It is connected to Santiago de Querétaro and Mexico City by the mainline freight railway and Federal Highway.
The city was founded on the Feast of Saint John the Baptist June 24, 1531 by Fernado de Tapia, an Otomí chieftain that converted to Catholicism and dropped his Native name Conín.
San Juan was one of the first Spanish settlements outside the Valley of Mexico and thus marked the beginning of the colonisation of Northern and Western Mexico, including the city of Querétaro which was founded one month later.
The settlement became important since it was an obliged stop en route to the rich mining regions of Guanajuato, Zacatecas and San Luis Potosí.
Puente de la Historia ("Bridge of History") is the stone bridge construction started on the 9th of February 1710 by the Mexican architect Pedro de Arrieta.
The bridge was completed on the 23rd of January 1711 and soon became the most transited bridge in Mexico as it was the main connection between Mexico City and the northern states.
The bridge has a greater historical importance as it was the main way to get to Mexico City for all of those who fought during the Mexican Independence and Mexican Revolution.
January 17: Feast of San Antonio (Blessing of the Animals)
February 2: Day of the Candelaria (Blessing of the Seeds)
March 1: Jesusito de la Portería
March 3: Feast of the Holy Cross
Around June 24: City Fair, Feast of Patron Saint Saint John the Baptist and Anniversary of the City's Foundation
November 22: Feast of Santa Cecilia
December 11: Procession of the Farolitos
You can dial 078 from any phone, where you can find free information about tourist attractions, airports, travel agencies, car rental companies, embassies and consulates, fairs and exhibitions, hotels, hospitals, financial services, migratory and other issues.
Or dial the toll-free (in Mexico) number 01-800-006-8839.
You can also request information to the email correspondencia@sectur.gob.mx
MORE EMERGENCY NUMBERS:
General Information: 040 (not free)
SNational Emergency Service: 911
Radio Patrols: 066
Police (Emergency): 060
Civil Protection: +52(55)5683-2222
Anonymous Complaint: 089
Setravi (Transport Mobility): +52(55)5209-9913
Road Emergency: 074
Cruz Roja: 065 o +52(55)5557-5757
Firefighters: 068 o +52(55)5768-3700
Use these tags to read more related posts and reviews:
---
Let us know if this article was useful for you