Travel and explore Chiapas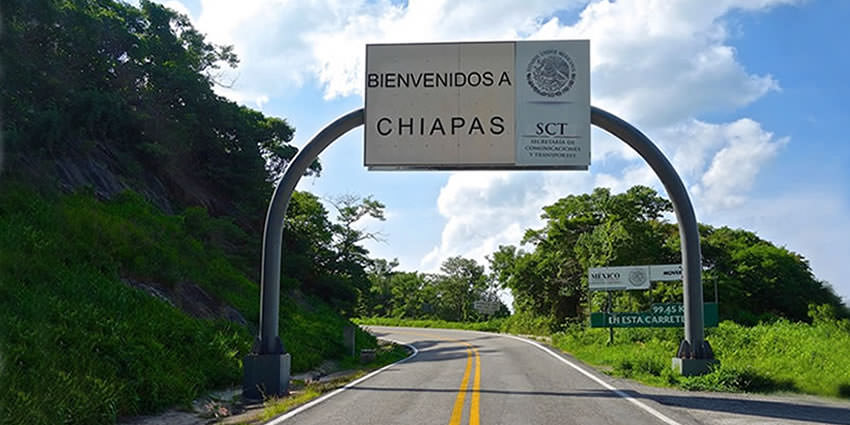 Chiapas is Mexico's southernmost state, a region awash with the legacy of Spanish rule and the remnants of ancient Maya civilization. Chiapas offers great biodiversity and remarkable landscapes as well as interesting cultural expression.
In Chiapas, you will find lovely and attractive colonial towns, important archaeological sites, scenic beaches, rainforests, lakes, high mountains, an active volcano, and a large Maya indigenous population.
The diversity of Chiapas extends to its geography and environment, a fertile green expanse of bird-rich tropical lowlands laced with hidden waterfalls, chilly high-altitude pine forests, and a Pacific coastline nested by lumbering sea turtles.
Nature lovers willing to venture off the beaten track will find in Chiapas frothy cascades and exotic animals of the Lacandón Jungle and the El Triunfo reserve.
Maya ruins, including some of the best archaeological sites in Mexico, lie scattered across its vast tracts of the misty jungle of Chiapas. Palenque and Yaxchilán are evocative vestiges of powerful Maya kingdoms, and the presence of modern Maya is a constant reminder of the region's rich and uninterrupted history.
Ruled from Guatemala during the Spanish colonial era, Chiapas didn't become part of Mexico until 1824, and a strong cultural identity persists because the indigenous population – one of the country's largest – still uses about a half dozen Maya languages as well as traditional local dress.
The colonial hubs of San Cristóbal de las Casas and Chiapa de Corzo give way to sandbar beaches and fertile plots of coffee and cacao in the Soconusco, and for outdoor adventurers, excursions to Laguna Miramar and the Cañón del Sumidero are unmissable.
Quick Facts about Chiapas
Capital: Tuxtla Gutiérrez
Area: 73 724 km²
Population: 4.3 million
Topography: volcanic mountain ranges, tropical rainforest, and coastal lowlands. The highest elevation is the Tacaná volcano at 4 110 m above sea level in the Sierra Madre de Chiapas.
Climate: subtropical with average temperatures between 20°C to 29°C in the lowlands; cool to warm with higher rainfall in summer in the mountain areas
Flora: mangroves, pastures, rainforest, and pine trees in the mountains
Fauna: porcupines, agoutis, jaguars, ocelots, monkeys, anteaters, crocodiles, turtles, and a great variety of birds
Major Festivals: Fiesta de Enero ("January Festival") in Chiapa de Corzo from January 8 to 23
Archaeological Sites: Palenque, Toniná, Yaxchilán, Bonampak
Tuxtla Gutierrez
The capital of Chiapas state, Tuxtla Gutierrez has a population of approximately half a million inhabitants. It is a busy modern city with a reputable zoo and an excellent archaeological museum.
San Cristobal de Las Casas
One of Chiapas' most charming cities, San Cristobal, was founded in 1528. A colonial city with narrow streets and colorful one-story houses with tiled roofs that enclose lovely courtyards.
San Cristobal offers the visitor not only a journey back in time with its many churches and museums but also a contemporary bohemian ambiance of art galleries, bars, and sophisticated restaurants catering to an international crowd of travelers and expats.
Colorfully dressed indigenous people from the surrounding villages sell handicrafts in the market and streets, rounding out the city's very lively atmosphere.
Town of Palenque
The small town of Palenque is the bustling hub for excursions to one of the most important and beautiful pre-Hispanic sites in Mesoamerica, surrounded by rainforest, and originally called La Kam Ha (the place of much water) before the Spanish renamed it Palenque.
Archaeological sites of Chiapas
Pyramids of Palenque sprout from the lush jungle in the ruins of the once-mighty Maya kingdom, which had its heyday from around AD 630 to 740.
The town of Palenque, especially the funky rainforest-set travelers' compound of El Panchán, also serves as a good base for other noteworthy archaeological sites and natural attractions.
And to extend your knowledge of Classic Maya cities, travel southeast along the border with Guatemala.
Cruise the Río Usumacinta by motorized launch to the prime riverside real estate ruins at Yaxchilán, where leafcutter ants file across walking paths and the complex reverberates with the throaty roars of howler monkeys, then detour by a Lacandón village to see the renowned frescoes and carvings at Bonampak.
For those who would like to immerse themselves more in the history of Mesoamerica, there are more amazing archaeological sites in Chiapas that can be visited from Palenque: Toniná and Bonampak with its unique wall paintings as well as Yaxchilán, right on the banks of the Rio Usumacinta, Mexico's largest river.
The latter two are situated in the middle of the Selva Lacandona which forms part of the Montes Azules Biosphere Reserve.
If you love nature and wildlife here are more reasons to visit Chiapas:
Rainbow Falls at El Chiflon is enormous and cascades into a beautiful turquoise pool
Sima de las Cotorras – thousands of green parakeets make their home in this huge sinkhole
The Lagos de Montebello
Horseback riding is the perfect way to explore the countryside
Misol-Ha and Agua Azul
Riding a boat through Sumidero Canyon
Cañon del Sumidero (Sumidero Canyon) is a must-see. This is a 25-mile-long river canyon with cliffs over 3000 feet in height and abundant wildlife, that can best be explored on a two-and-a-half-hour boat trip from Chiapa de Corzo or Embarcadero Cahuare.
Heading to the southwest of the state, you can follow the Ruta del Café (coffee route), hike Tacaná Volcano, or simply head off for some leisure to the Pacific coast with its mostly grey-black beaches at Puerto Arista, Boca del Cielo, Riberas de la Costa Azul or Barra de Zacapulco.
Use these tags to read more related posts and reviews:
---
Let us know if this article was useful for you