Mexico Travel Guide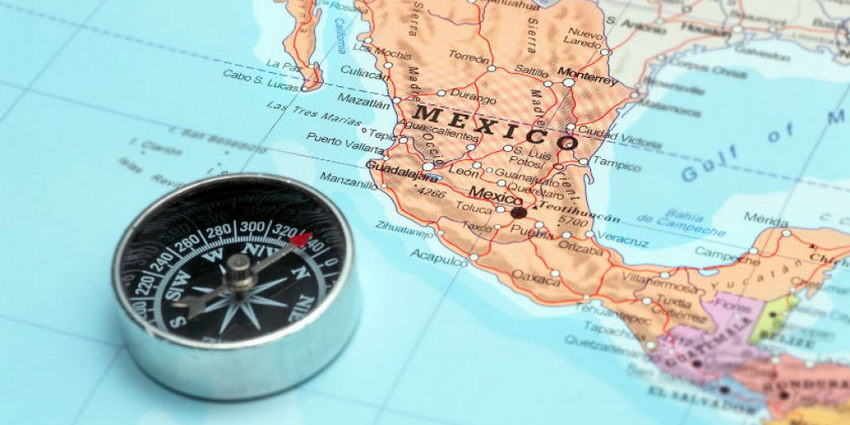 Reasons to visit Mexico
Ancient pyramids and modern skyscrapers, stunning coastlines and dreams beach resorts, breathtaking natural areas reserves, underground grottos, and high mountains.
Mexico is the home of tacos, Aztecs, Maya, sombreros, and tequila – not to mention Pancho Villa, Salma Hayek, and Frida Kahlo – almost everyone knows something about Mexico. Yet there's a lot more to this country beyond the stereotypes.
One of the world's great civilizations, Mexico offers a tantalizing blend of Mesoamerican cultures, Spanish traditions, and contemporary arts.
Its landscapes range from the shimmering blue coastline of Baja California and the iconic cactus-strewn deserts of the north to the Maya villages and gorgeous palm-smothered beaches of the south.
You can climb volcanoes, watch whales, and tour agave farms. And sprinkled throughout you'll find richly adorned colonial churches, giant pyramids, and sophisticated cuisine.
The population of Mexico is 122 million, and communities of full-blooded indígenas represent around ten percent of the population, with the Nahua, Maya, Zapotec, Mixtec, Otomí, and Totonac the largest groups.
The great majority of the population (over eighty percent), though, is mestizo, combining in themselves European and indigenous traditions with, to a greater or lesser extent, a veneer of urban sophistication.
Add in a multitude of distinct regional identities, from the cowboy culture of the northern deserts to the Mesoamerican traditions of the south, and you have a thrilling, constantly surprising place to travel.
Despite the inevitable influence of the US, looming to the north, and close links with the rest of the Spanish-speaking world (an avid audience for Mexican pop and soap operas), the country remains resolutely individual.
The music that fills the plazas in the evenings, the buildings that circle around them, even the smells emanating from a row of taco carts: they all leave you without any doubt about where you are.
Mexico has a robust economy, the world's fifteenth largest, a remarkably thorough and efficient internal transport system, and vibrant contemporary art and music scene.
Indeed, in the last twenty years or so Mexico has finally become a middle-class society, perhaps the country's greatest achievement since Independence.
Traveling to Mexico
Endless options along with incredible experiences are what Mexico can offer if you are planning a vacation trip out there. The colorful colonial towns, the ancient pre-Hispanic cities, amazing beaches, and modern cities. All this in one trip sounds amazing.
While you take a look at the map you can have thoughts that this country is small enough which are for sure deceiving.
Visiting Mexico is like visiting all of Europe. Well, if you have the constraints of time in your visit then the recommended thing is to make the contemplations selecting one region and visiting the same property.
Setting your priorities before the trip will help you explore the best sites. Decide what you want to visit. The beaches or cultural sites? The adventures or big cities? And if you are confused about the same let us decide for you.
One of the best ideas is to visit Mexico as a backpacker. Using all the local transport to roam around entire Mexico in a car and make this tour become an unforgettable road trip.
Backpacking in Mexico
The idea of backpacking can your trip worth just a few bucks. Well, the transport in the region of Mexico is cheaper than in any of the other countries. You can find different hotels and hostels that will make your entire trip less expensive and a memorable one.
Road trip in Mexico
Road trips are the best kind of high for a lot of people and this is what could be inexpensive as well.
Road trips will make you able to move on your own as well as they will give you the freedom to stop wherever you want. This is proven to be the best solution for traveling around the Mexican region.
You can rent a car, choose the destinations, and roam all around Mexico without depending on anyone and that is what all vacations are about. A restriction-free traveling with some thrills to the places that bring some literal chills.
Budget accommodation
Finding accommodation in Mexico is pretty easy. Inexpensive hotels and budget hostels are often located around the main square (zócalo) or near the local market, train, or bus station.
If you are a fan of nightlife and parties, you should pay attention to party hostels. The party hostels are aimed at nightlife lovers, as well as cultural and historical places.
Are you planning to have a vacation in Mexico City?
Mexico City has a lot of amazing hostels. PartyHostelGuru will help you in finding a party hostel for your next travel destination.
With PartyHostelGuru you can easily find all party hostels in Mexico City. All you need is just to make sure that you stay in a hostel that fits your needs.
Party hostels offer all kinds of entertainment. There is often a bar or pub inside such a hostel, which is also great for meeting friends.
Mexico online travel guide
Today there are a lot of online guides, no need to get a pocket travel guide with you. All information is updated and accessible from your phone.
Its the best solution for backpacking, or if you travel in Mexico by car or just came to spend a week in one of the multiple all-inclusive hotels, even then if you want to spend one day out, an online travel guide can suggest you best nearest destinations and you get all information about the history, tourist attractions, etc.
Mexico is very large so if you are limited in time, it's best to stick to one region and do it properly. You'll have to decide what your priorities are when choosing where to go. Are you interested in cultural sights, adventures, beach time, or big cities?
It's not easy to plan the route but MexicanRoutes.com will help you make the best route and give you some ideas for how to plan your trip.
The most complete online travel guide
No blinking ads, no register, no subscription, it's free
Mobile friendly
All necessary tourist information: historical facts, tourist points of interest, how to get there, tourist recommendations, local traditions, holidays and festivals, cuisine, and much more.
The best solution for a backpacking trip, for a road trip around Mexico and just to have an idea about where to move and what to see.
More than 250 Mexican destinations: towns and villages
More than 100 archaeological zones
Suggested travel routes for your visit to Mexico
All you need is just a smartphone and the internet, the website is the mobile-friendly and very intuitive interface.
Use these tags to read more related posts and reviews:
---
Let us know if this article was useful for you