Best ziplining destinations in Mexico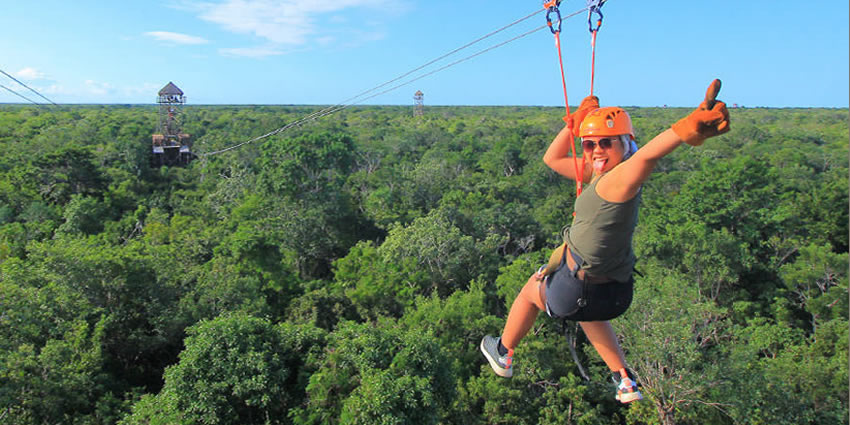 Many of us love a thrilling adventure, especially if that means ziplining into a water-filled cave, gliding over lush and dense jungles, or soaring above amazing cascading torrents of towering waterfalls in Mexico.
If you're an adventure lover seeking an adrenaline rush, ziplining is a must-try activity. Mexico offers many ziplining opportunities amidst its stunning natural landscapes, ensuring an exciting adventure for thrill-seekers.
Best ziplining destinations in Mexico
Grutas de Tolantongo is a hot springs tourist center a few hours north of Mexico City.
Isla Mujeres: ziplining at Royal Garrafon Park above the crystal-clear blue ocean waves.
El Chico National Park is a protected area in the state of Hidalgo with ziplining tours.
Cancun and Riviera Maya both offer ziplining experiences with amazing ocean views.
Parks such as Xplor, Xel-Ha, and Selvatica are popular for the ziplining experience.
Ziplining in Puerto Vallarta will take you through dense jungles and scenic river canyons.
Ziplining in Los Cabos allows you to glide over the desert landscapes of the Baja Peninsula.
Why choose ziplining in Mexico?
Mexico's ziplining locations are set in some of the most beautiful natural settings, from tropical forests to arid deserts. The zipline operators adhere to strict safety standards, ensuring a secure experience for all adventurers.
Whether you prefer ziplining over forests, canyons, or even cenotes, Mexico offers diverse options to suit your taste.
Tips for an amazing ziplining experience
Wear comfortable clothing and closed-toe shoes.
Follow the guide's instructions for a safe and enjoyable adventure.
Don't forget your camera to capture the breathtaking scenery.
Check the weight and age restrictions for each ziplining tour.
Book in advance, especially during peak tourist seasons.
If you're ready for an exhilarating adventure in Mexico, ziplining is the perfect way to combine adrenaline with the natural beauty and culture of this incredible country. Make your trip memorable with a ziplining tour.
Is ziplining safe?
Ziplining can be a safe activity when conducted by reputable operators who follow strict safety standards and guidelines. Before participating in a ziplining adventure, it's essential to consider the following safety measures:
Choose a reputable operator
Follow instructions
Use safety gear
Check weight and health restrictions
Inspect equipment
Weather conditions
Research and select a ziplining tour or company with a good safety track record. Check for certifications, and ensure they follow industry standards. Pay close attention to the instructions provided by the ziplining guides.
Always wear the provided safety gear, including a helmet and harness. Ensure that the equipment is properly fitted and maintained. Ziplining tours often have weight and health restrictions to ensure participant safety.
Before starting, inspect the ziplining equipment to ensure it's in good condition.
Ziplining should not take place during thunderstorms or high winds.
If you have any concerns or questions about the ziplining experience, don't hesitate to ask the guides or staff for clarification. When these safety measures are followed, ziplining can be a thrilling but safe adventure.
Always prioritize your safety and choose operators who prioritize safety as well.
Use these tags to read more related posts and reviews:
---
Let us know if this article was useful for you