Getting into Mexico in a car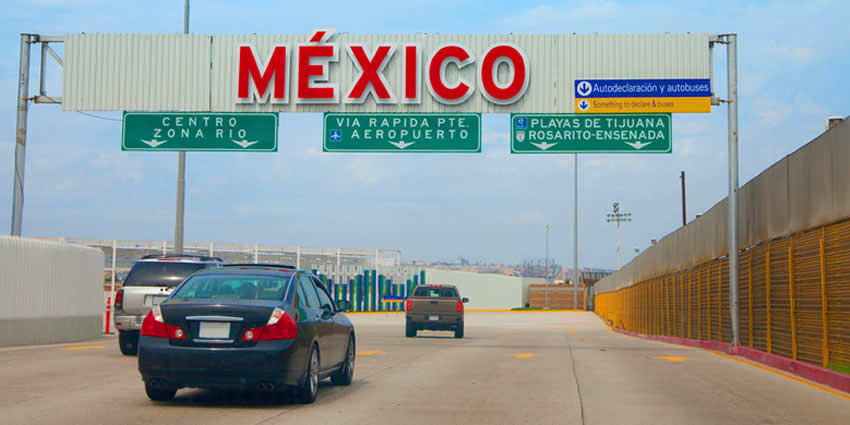 To drive your own car into Mexico, you'll need a tourist card and a temporary vehicle importation permit, which you can get on arrival at the border. In some tourist border areas, you don't need this permit or a tourist card. Just ask at the border if you have any doubts.
Documents you need to get Mexico vehicle permit & tourist card:
Proof of car ownership
Proof of American registration
An affidavit from any lien holders authorizing temporary importation
A valid American driver's license
Proof of citizenship (like a passport). Consider bringing your marriage certificate if the name on your passport is different than the name on your driver's license.
Vehicle Permit
As of 2018, the vehicle permit costs $44USD and you must pay with a credit card; if you don't have a credit card, you'll have to pay a bond and a processing fee. Keep the permit on your windshield while you're in Mexico.
Tourist Card
Get a tourist card (an arrival/departure card) at the border with a U.S. driver's license and proof of citizenship. Fill out a simple form at the border immigration office declaring information (your purpose in Mexico, for instance), pay approximately $20, and then hang onto the card! It's good for up to 180 days and you should carry it with you at all times while you're in the country.
Crossing the Mexico Border From the U.S.
At the U.S.-Mexico border, you'll drive through one of several lanes (the number of lanes depends on how much traffic the border crossing handles). Traffic lights hang above the lanes; stop your car — if the traffic light in your lane turns green, welcome to Mexico!
If the border crossing traffic light is red, you'll be directed to an area where you'll park, and a Mexican customs official may ask you some questions or search you and/or your car. As long as your papers, like your Mexico vehicle permit and tourist card, are in order and you are carrying nothing illegal like switchblades or illicit drugs, you'll be fine.
U.S. Customs
Avoid any problems with U.S. customs at the Mexico border by declaring exactly what you have brought back from Mexico with you and, obviously, don't bring back anything illegal.
What you can and can't bring back from Mexico, plus US tax info:
There is a $400 exemption for gifts and personal articles you've purchased in Mexico; anything over that amount will be taxed
One liter of alcoholic beverage per person over 21 is okay — more will be taxed; note that the state of Texas taxes all alcohol brought back from Mexico
No steroids, period; make sure you have a prescription for any other medication
No illegal drugs; if you have the slightest amount, you can be fined and sent to jail — your car may even be confiscated
No switchblade knives
So many fruits from Mexico are prohibited in the U.S. that you may as well not bring any back
No guns of any kind; even ammo is a no-no. You can get documentation showing that you legally purchased a firearm you're carrying in the U.S.
Fish you caught in Mexico are okay
No clothing, purses, wallets, or shoes/boots made of endangered species, like sea turtles
If in doubt, leave it behind
Crossing the Border
If you'll be driving your own car across the border, you can drive within the border zone (roughly 20 km from the border) without doing any special paperwork, but if you intend to travel farther, you will need to do some paperwork before you cross.
You will need to purchase Mexican car insurance (the insurance you have in the U.S. or Canada will not cover you), and you need a temporary import permit.
You will have to post a bond either in cash or by leaving your credit card information, which will be returned to you when you leave the country with your car. Be aware that you must drive your car out of Mexico within the given time frame to get your money back, so plan accordingly.
If you are caught driving in Mexico without your paperwork in order, you could face hefty fines and possibly having your vehicle confiscated, so in this case, do things by the book.
Drivers Licenses and Documents
A driver's license from the United States or Canada is valid for driving in Mexico, and you can rent a car in Mexico with your driver's license. You might consider getting an international driving permit, especially if you'll be driving in other countries besides Mexico.
You should always have your driver's license on you when driving and it's a good idea to have your passport and tourist visa handy as well, just in case you get stopped by the authorities.
As for your vehicle, you should have proof of your car insurance and registration and either your temporary import permit or rental agreement if it's a rental car.
Use these tags to read more related posts and reviews:
---
Let us know if this article was useful for you