Mexico's romantic honeymoon escapes for newlyweds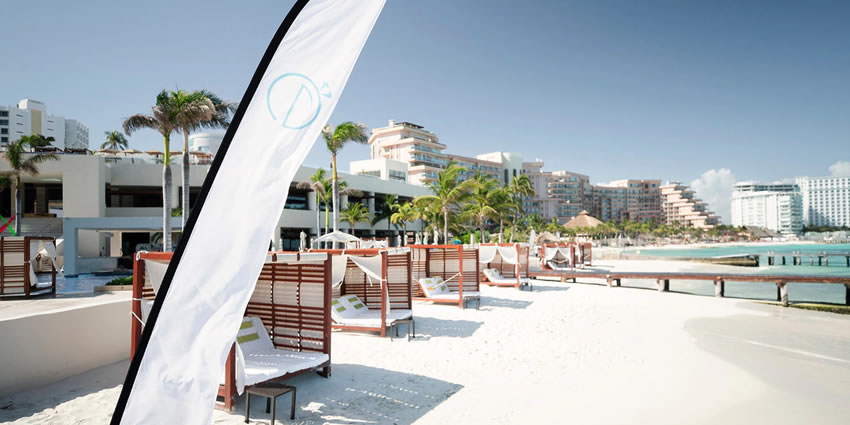 After the wedding is over and confetti has fallen, the newlyweds are about to embark on the perfect journey together. With a combination of beauty, romance, and adventure, Mexico is the perfect honeymoon and wedding destination.
Mexico is a tropical paradise that has everything a couple could want from private villas, sunset cruises, azure lagoons, and overwater bungalows. Planning a dream wedding in Mexico can be both exciting and overwhelming.
Are you wondering if is Mexico a good honeymoon spot, and what part of Mexico is best for a honeymoon?
The average cost of a destination wedding in Mexico
Couples may wonder about the average cost and what's included in destination wedding packages. Don't worry, destination weddings in Mexico are more affordable than you might think.
The average cost ranges from $2,000 to $10,000 for a beautiful wedding. The allure of destination weddings lies in the all-inclusive packages offered by resorts, making the entire experience hassle-free and cost-effective.
When you book a destination wedding in Mexico, you'll enjoy a host of amenities and services.
A dedicated on-site wedding planner to ensure your big day runs smoothly.
Access to a private wedding venue for both your ceremony and reception.
Professional photographers capture every special moment throughout the day.
Beach wedding ceremonies with cake cutting and serving.
Entertainment, such as a DJ or live music, for your cocktail hour and reception.
All necessary event setup and decoration, sparing you from renting these items separately.
Flowers arranged by the resort's florist to add a touch of romance.
LGBT or gay wedding options are available at select resorts.
Timing is key when it comes to destination weddings. Choosing the right date and resort can significantly impact costs.
Consider these tips to save on your dream wedding:
Plan your wedding during non-peak seasons for potential discounts.
Research resorts offering packages that fit your budget.
Check out alternative options to find the perfect match for your dream wedding.
Why are Mexican destination weddings so popular?
Destination weddings in Mexico are on the rise and for good reason.
They provide an easy and stress-free solution for busy couples who live far from family and friends. Plus, with luxurious resorts offering top-notch amenities, couples can enjoy their special day without any worries.
Many destination weddings in Mexico offer both ceremony and reception spaces at the resort. This convenient option includes set up, decoration, and various amenities, eliminating the need to bring your own items.
If you prefer a more private and intimate experience, some resorts do allow outside vendors for customization.
Furthermore, Mexico's diverse landscapes and stunning backdrops make for picture-perfect weddings, whether it's a pristine beach setting, a lush tropical garden, or a historic colonial town.
When it comes to destination weddings in Mexico, get ready for a delightful surprise with these five stunning garden venues. Spanning the Caribbean and Pacific coasts, these venues offer lush foliage and breathtaking settings that will captivate any wedding party.
Are you wondering if is Mexico a good honeymoon spot, and what part of Mexico is best for a honeymoon? So, let's explore these picturesque destinations and Mexico honeymoon resorts.
Dreams Tulum
Nestled amidst the lush jungles of Tulum, Dreams Tulum is an oceanfront resort boasting colonial architecture and powdery sand beaches. Guests can explore nearby Mayan ruins or unwind in balcony hammocks included in each room.
A recent addition is the Dreams Tulum secret garden, a fully enclosed space perfect for ceremonies, cocktail hours, and receptions.
Sandos Finisterra Los Cabos
Perched dramatically along the Baja Peninsula's cliffside, Sandos Finisterra takes destination weddings to new heights. Once graced by Keith Richard's ceremony spot in the 80s, the resort has undergone significant upgrades and renovations.
Guests can enjoy breathtaking ocean views from rooms high up or admire the lush desert garden venue featuring cacti and otherworldly flora near the beach, creating an unforgettable experience.
Hyatt Ziva Puerto Vallarta
Secluded within a private cove along Puerto Vallarta's coast, the all-inclusive Hyatt Ziva offers a dreamy setting for scenic destination weddings, surrounded by pristine natural beauty.
Guests will relish the tranquil beach and vibrant resort grounds, while couples will appreciate the dedicated wedding department. The unique garden venue sits amidst drooping mangrove trees, occasionally revealing secret ocean views through the foliage.
Dreams Huatulco
If you seek an extraordinary Mexico wedding garden venue within a unique resort, look no further than Dreams Huatulco. Tucked between majestic mountains on Tangolunda Bay, this resort offers a serene escape from bustling tourist destinations.
While travel time may be slightly longer for guests, it's worth it for the picturesque garden venue set against a cliffside and adorned with a wooden pergola, providing a magical and enchanting atmosphere.
Sandos Playacar
Situated in Playa del Carmen within a gated community, Sandos Playacar charms with its breathtaking white-sandy beach. The resort boasts numerous wedding venues, as well as cat hotels, a-la-carte restaurants, and discos.
Check out their lovely garden venue leading directly to the beach, providing mesmerizing turquoise ocean views.
"Destify" is an award-winning wedding and travel service dedicated to helping every couple create meaningful memories for their destination wedding. "Destify" helps with weddings in Jamaica, Mexico, Costa Rica, and the USA.
Use these tags to read more related posts and reviews:
---
Let us know if this article was useful for you