Rio Secreto: an underground river of extraordinary beauty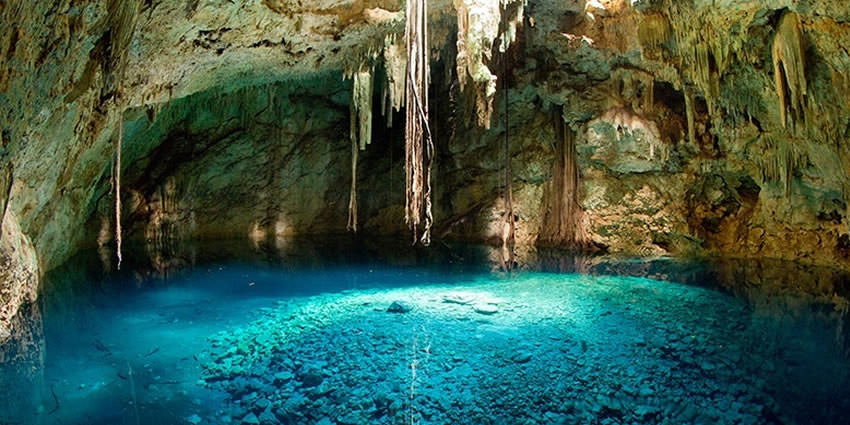 Sandwiched between the Caribbean Sea and the Pacific Ocean, Mexico is no short of attractive destinations in its jackpot to plan a visit anytime around the year.
Historic ruins, colonial architecture, impressive culture, electrifying beaches, savory cuisine, and the list goes on.
Mexico is all set to be on your bucket list for all the exciting reasons.
The endless travel guides and online blogs come to mind for a minute. Should you visit Chichen Itza, the most popular Mexican destination, or would Cancun prove more exciting?
These thoughts are bound to cross the mind. Take a back seat and relax. Do not worry anymore as we are here with the most thrilling destination of Mexico which you would not mind going to again and again.
Rio Secreto: an underground river of extraordinary beauty
Rio Secreto is a natural reserve, a semi-flooded cave system, and an underground river of extraordinary beauty where avant-garde balance and care for nature converge.
Located in Playa del Carmen, this extensive 38 km limestone cave system on Riviera Maya is carved out of stalagmites, stalactites, helictites, and many other structural forms.
Since its discovery in 2004, several conservation plans have been running to protect the originality of the place. For 2.5 Million years old Rio Secreto is cherished as a natural reserve with only 10% of the total area being open for ecotourism.
This is the place you should visit to experience the mesmerizing beauty of this hidden gem.
The cultural value of the place
The footprints of Maya Civilizations are found all over southern Mexico but it was a wonderful incident when archaeologists found traces of this ancient civilization in the underground river system.
Mayans used to praise Rio Secreto as a sacred place and a secret connection to the underworld. The traces of several different religious sacrifices were found with the discovery of two alters in the Rio Secreto caves.
Several unique rock formations and hidden passageways hint toward the daily life practices of Mayan civilization (catching rabbit-like rodents for food).
The discovery of Cave paintings and vessels dating back to the postclassic period offers a glimpse into the lifestyle, rituals, and beliefs of the ancient Mayans.
A home to biodiversity
Rio Secreto is otherwise known as "Secret River". It is regarded as the ecological inspiration of Mexico. The impressive caverns and caves carry a geomorphological stamp and offer a unique value to the tourists yearning for an eco-yet historic travel destination.
This semi-flooded cave chain harbors rich biodiversity by homing bats, silkworms, Mexican tetra, amblypygi (also known as whip spiders and tailless whip scorpions), and catfish.
Local authorities take extra measures to protect the fauna and flora of the place. Only guided tours are allowed inside the caves with no more than 10 people on one trip.
Hike on the rocky karsts, or swim in the cold clean water, this exotic yet enchanting eco-trip is the perfect treat from nature to celebrate on your Mexico travel journey.
Explore the underground cave system on the Rio Secreto tour
Rio Secreto caverns are present deep down in the jungle and so can only be arrived at by a guided tour. Tour vans take you from the entrance point to the caves' location.
Take a break there, leave behind your important item and documents in secured lockers, and slip into a swimsuit. You will be provided with water shoes, a life jacket, and a helmet with a lamp.
Next, you will be taken to a traditional Mayan ceremony which is considered an essential ritual before stepping into the caverns.
Only one km of one of the caves is open to ecotourism. You will get to know about the history, minerals, and wildlife of this secretive place through your guide. The journey through the caverns is a mix of swimming and hiking.
An interesting snippet of the journey is the moment when all people turn off their lights and listen to the mysterious sounds of the caverns.
Cameras are officially not allowed but don't worry as an official cameraman accompanies each guided trip to capture all your special moments behind the lens.
There is also a live light show where light is projected on mineral carves.
The Rio Secreto tour is an interesting, electrifying, and exciting than it could be ever bound in words. Don't think anymore and plan your travel itinerary right away.
Use these tags to read more related posts and reviews:
---
Let us know if this article was useful for you